Thirukkoloor – Sri Vaitha Maanitha Perumal 
Birth Place of Madhura Kavi Azhvaar
A visit to this Divya Desam will help one recover lost wealth
Located 2 kilometers South East of Azhvaar Thirunagari is  the Vaitha Maa Nidhi Divya Desam at Thiru Kolur. The Lord is seen in a reclining posture (Bhujanga Sayanam) facing East.
Recover Lost Wealth
Legend has it that Kubera, the protector of the nine forms of wealth, once went to have a Darshan of Lord Shiva. He is said to have cast an evil eye on Goddess Parvati, who cursed him as a result of which he lost an eye as well as the power of being the protector of the wealth. To be liberated from the curse, Kubera is said to have come down to Thiru Kolur to undertake penance.
Lord Vishnu is said to have appeared in a sleeping posture and taken care of the nine forms of wealth from the banks of Taamaraibarani. Hence the Lord is called 'Vaitha Maa Nidhi'.
Another story goes that Dharma Gupta, a brahmin, was in financial distress not being able to even feed his children. He invoked the blessings of his Guru Sage Bharadwaja.
The Sage explained to him the reasons for his current state- Dharma Gupta who had been wealthy in his previous birth had become arrogant and did not share his wealth with the poor.
The sage asked Dharma Gupta to proceed to Thiru Kolur to undertake penance in front of Vaitha Maa Nidhi Perumal. He is said to recovered his lost wealth at this place.
It is said that a visit to this temple will help one recover lost wealth. The Lord here is said to help his devotees in distress.
This sthalam is also called as "Adharma Pisunam". It means Dharman wars agianst the Evil (Adharmam) and it permanently stayed in this sthalam by riding out the adharmam.
Vaithamanidhi perumal stands still here in this sthalam to ride of the Adharmam to protect the wealth which cannot be taken out.
This perumal has thirusangu in the left hand and in the right hand he has thiru Chakkaram by which he destroy the Adharma.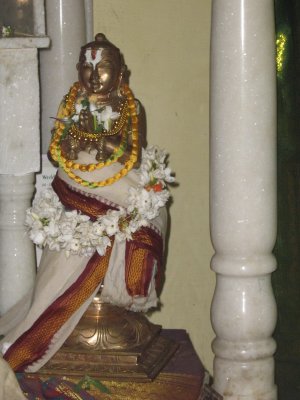 This thiru stalam is also avatara stalam of  Madhurakavi azhwar , Who then because the sishya (student) of Nammazhwar. Madhurakavi Azhwar is said to be the Gnana Nidhi.
Quick facts :
Moolavar  –  Sri Vaitha Maanidhi Perumaal, Bhujanga Sayam, East facing.
Thayaar – Amudhavalli and Koloorvalli and they have their own separate sannadhis.
Mangalasasanam:  Nammalwar – 12 Pasuram (3293-3303 and 3473)
Pratyaksham : Kuberan , Madhurakavi Azhwar
Pushkarani: kubera pushkarani
Vimanam: Sri Hara Vimaanam.
Route : This sthalam is situated  2 km away from AzhwAr Tirunagari or 3 km from Then tiruperai.
Time : 730am-12noon and 4pm-8pm
Contact : Balaji Bhattar @ 90472 17914
Srinivasa Bhattar @ 99429 31701 or 04639 273806.
Source: prtraveller