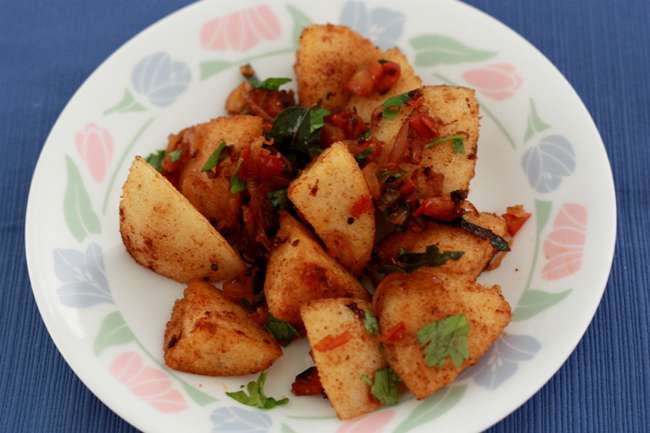 Ingredients
Idli – cut into small pieces
Beans (chopped) – 100 gram
Capsicum – 2 medium sized
Carrot (chopped) – 2 medium sized
Tomatoes (chopped) – 3-4
Mustard seeds – 1/4 teaspoon
Red chillies – 2-3
Red chilli powder – 1/4 teaspoon
Salt to taste
Oil – 2-3 tablespoons
Method
Cut idli into small pieces.
Heat oil in a pan. Add whole dried red chillies and mustard seeds and allow them to crackle.
As they crackle, add chopped capsicum, beans and carrot.
Fry them for around 5-10 minutes. As they turn soft add chopped tomatoes to these vegetables.
Now cook these tomatoes with the vegetables till the mixture starts leaving oil.
Add salt, red chilli powder and mix well.
When the above mixture is ready, add a little water and bring it to a good boil to make a thick gravy.
Now, add chopped idli to this mixture. Mix them well and cook for another 5-10 minutes.
Fried masala idli is ready to serve.
Courtesy: Vaishnavacooking
General guidelines for healthier food – Both body and mind:
One should be thinking about Perumal (Nama Smaranam) while cooking, and the purpose should be to offer the preparation to Him.
Once the food is prepared, it should be offered to Perumal first. While offering, one should make sure that the food is neither too hot nor cold. It should be offered with love and affection.
Please do not offer either pre-cooked food bought from outside or any pre-consumed food.
Please follow thiruvaradanam kramam as instructed by your respective acharya. (http://anudinam.org/2012/03/08/bhagavad-tiruvaradhanam/)
Follow ahara niyamam as much as possible. Atleast make sure that onion and garlic are not used at all.(http://anudinam.org/2012/06/11/srivaishnava-ahara-niyamam/)
Please ensure that food which are not prasadams are not consumed.