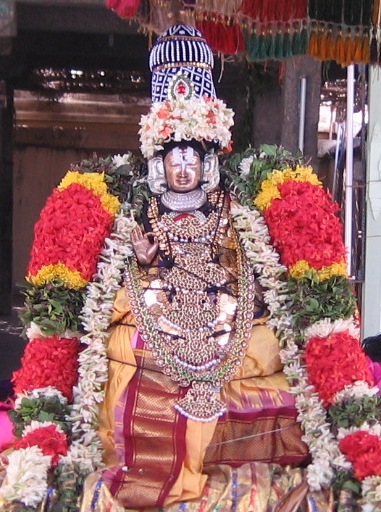 Nathamunigal took avatharam in the holy city of VeeraNarayanapuram, (Kattumannarkoil), in the illustrious Shadamarshana gothram, in the Tamil year Shubhakrith (Kaliyugam-3985) on an Aani Anusham day. He was the amsam of a Nityasuri called Gajanana.  He was named Ranganatha and called Natha.  He was raised in Bhaghavatha bhakthi by His father Ishvara Muni. He had all the sanskaras done at the appropriate age and studied the Vedas and Sasthras and was married to Aravindapavai. He was adept at ashtanga yoga and dedicated his days serving Mannanar the presiding deity of Veeranarayanapuram. In due course a son Isvaramuni was born and Natha taught him ashtanga yoga as also Vedas and sastras.
The whole family left on a pilgrimage of the divyadesams in North India and started living there till Natha was commanded by Mannanar in His dream to return to Veeranarayanapuram. After completing the divya desa yatra  Natha returned to serving Mannanar. One day a group of minstrels came to Veeranarayanapuram (Kaatumannarkoil) and sang in chorus "Aravamudhe, adiyen udalam!" Nathamunigal was simply spell-bound by the beautiful creation which declared at the conclusion that these ten verses were part of thousand verses. His quest for the thousand took Him to Kurugur as the verses revealed that the creator of the masterpiece belonged to Tirukurugur. Swami made enquiries and discovered that there was one Parankusa dasa, a second generation disciple of Nammazhwar was living there. Nathamunigal eagerly enquired if Parankusa dasa knew the thousand verses mentioned. Nobody knew it but Parankusa knew by heart the ten verses of Kanninum Siruthambinal sung by Madhurakaviazhwar about  his acharya Nammazhwar.  By chanting these verses 12,000 times it was believed that Nammazhwar sakshathkaram (divine vision) could be obtained. With absolute faith Sri Nathamunigal sat infront of the sacred tamarind tree under which Nammazhwar had lived, and did 12,000 times of chanting of Kanninum Siruthambu. Nammazhwar blessed Nathamunigal not only with Tiruvaymozhi (the thousand verses sought) but also his other creations and the creations of all azhwars. Nathamunigal was elated at discovering such a treasure and wanted to share it with all humanity. The residents of Azhwar Tirunagari rejoiced at this happening and recollected that they had heard that in his times Tirumangaiazhwar used to take the divyamangalamurthi of Nammazhwar to SriRangam during Shuklapaksha ekadashi in the Tamil month of Margazhi when Tiruvaymozhi used to be sung for 10 days infront of NamPerumal.
On hearing this Nathamunigal thought that He was given a divine command so He   revived the practice and infact extended it to 21 days of Tiruadhyayana utsavam. Starting on Prathama (the day after amavasya) for 10 days 2000 verses of Azhwars were chanted. From ekadashi (Vaikunta ekadashi) onwards for ten days Tiruvaymozhi was chanted and one day was devoted to the remaining thousand verses. The practice continues till date. Because of this practice the Divya prabhandham was not chanted in homes (except for  Tirupalliezhuchi and Tiruppavai in Dhanur masam) starting Karthigai Kritthikka (Tirumangai Azhwar Tirunakshatram) to Thai Hastham (Koorathazhwar Tirunakshatram).  The period got the name Anadhyayana kalam and the utsavam Adhyayana Utsavam.  SriNathamunigal next went to Tirukudunthai to express His gratitude to Aravamudhan whose pasurams sent Him on the path of discovery.   He did prathistai of Nammazhwar at the temple. He established the tradition of Adhyayayana Utsavam at Tirukudanthai.   Since Aravamudhan was responsible for retrieving the Four thousand divya prabhandham, Nathamuni called Perumal as Aravumudhazhwar.  After taking leave of Aravamudhazhwar Sri Nathamunigal returned to serve Mannanar at Kattumannarkoil.  It was here that He taught what He had discovered namely the Divine Four Thousand to His nephews Melagathazhwan and Kizhagathazhwan after setting them to music and choreographing it.  This was the beginning of the Araiyar Tradition which continues to date. Incidentally Sri Nathamunigal was very knowledgeable in music. Once He was the judge for a competition between two professional singers. While one was an adept in manushya gaanam (human music) the other was an expert in Deva gaanam (divine music) .The king of that time judged the singer of manushya gaanam as the better exponent.  Nathamuni who recognized the superiority of Deva Gaanam  explained its intricacies to the king .The king understood, became a disciple of Nathamuni and offered plenty of rewards but Nathamuni refused these offers and went back to serving Mannanar.
In sum Nathamunigal can be called The Father of  SriVaishnava tradition. He brought back to life the divya sukthis of Azhwars  set them to music and dance and spread it systematically. He established that Divya Prabhandhams were at par with The Vedas. He taught the rahasyas of The Brahma Sutras and placed SriVaishnava Sampradhya on a firm footing. His works include Nyaya Tatva and Yoga Rahasya.  Many were the Thaniyans composed by Him. The Tiruvaymozhi Thaniyan "Bhakthamritham Vishvajananunumodanam" as also both the Tamil and Sanskrit Thaniyans for Madurakaviazhwar's Kanninum Siruthambhu were Sri Nathamunigal's  compositions. His prime shishya was Uyyakondar. Every Srivaishnava should remember Nathamunigal and express his gratitude to the Sage who has bequeathed to us the treasure-box of SriVaishnavism . As Swami Desikan observes we would have been without a Natha(Protector) if Nathamuni wasn't there. Let us conclude with Swami Desikan's accolades in Yathiraja Sapthathi –
"Nathena muni nathena ,bhaveyamnathavan aham
Yasya Naigamhikam tatvam Hasthamalaka ghatam "
Nathamuni is the preceptor, the guardian who gave to us the correct meaning of the Vedas in a simple language accessible to all (It was as easy as carrying a  gooseberry in one's palm)