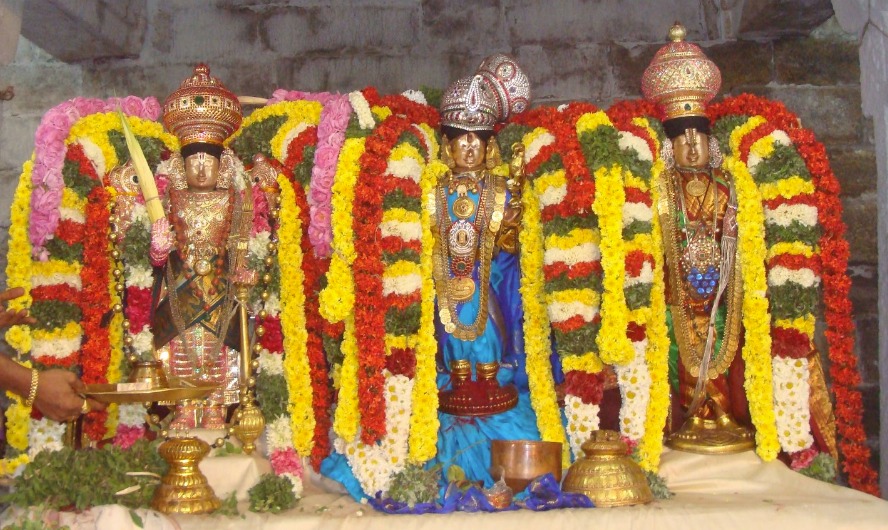 Today, January 8, 2014 is Day 24 of Margazhi masam. The twenty fourth pasuram of Thiruppavai, Andru Ivulangam Alanday, is to be recited today.
அன்றுஇவ் உலகம் அளந்தாய் அடிபோற்றி
சென்றங்குத் தென்இலங்கை செற்றாய் திறல்போற்றி
பொன்றச் சகடம் உதைத்தாய் புகழ்போற்றி
கன்று குணில்ஆ வெறிந்தாய் கழல்போற்றி
குன்று குடையாய் எடுத்தாய் குணம்போற்றி
வென்று பகைகெடுக்கும் நின்கையில் வேல்போற்றி
என்றென்றுன் சேவகமே ஏத்திப் பறைகொள்வான்
இன்றுயாம் வந்தோம் இரங்கேலோர் எம்பாவாய்.
Margazhi month assumes special significance for Srivaishnavas. Lord Krishna in Bhagavad Gita says masanam margashirso aham (of months, I am Margazhi). Of the 12 sub-Vyuhas which are representative of the 12 months beginning from the Tamil month of Margazhi, Kesava is the lord for the month of Margazhi.
Most importantly, the month derives its auspiciousness primarily due to its association with ThiruppAvai. It was during Margazhi that Sri Andal observed the pious Pavai Nombu for Sriman Narayanan and composed the 30 pasurams of Thiruppavai for  the ujjeevanam (upliftment) of jeevatmas like us. Thiruppavai is very sacred and all our Acharyas have given commentaries on this prabhandam. The very fact that Swami Ramanuja was called 'ThiruppAvai Jeeyar' because of his deep attachment to this, illustrates the special place Thiruppavai had with Swami Ramanuja. In this Vijaya Varusham, the Margazhi month began on December 16, 2013.
For the benefit of Anudinam readers, we bring detailed Tamil commentary, musical recitation and detailed upanyasam audio by various vidwans (scholars) for each pasuram. It may be noted that the audio files are also available at www.sravanam.org
The following is an article about the twenty fourth pasuram (Andru Ivulangam Alanday)…
Seeing Sri Krishna walk upto the throne Andal and her band of devotees burst into a series of praises. Praise to the feet that measured the three worlds! Praise to the valour that built a bridge on the ocean and took Him Southward to conquer the demons of Lanka! Praise to the Baby who kicked the asuran in the form of a cart (Shakatasuran) to his end!
Praise to the mighty shoulders that killed the asura who came in the guise of a calf (Vatsasuran) and the asura who took the form of a woodapple (Villampazham)!
Praise to the compassion which made Him hold on His little finger the Govardhana hill like an umbrella to protect the gopa-gopis and cattle of Vrindavan.
Praise to the spear that Krishna holds to protect His devotees! Bestow us with Your compassion and shower Your benevolence on us.
*அன்று இவ்வுலகம் அளந்தாய்!, அடி போற்றி*
சென்றங்குத் தென்னிலங்கை செற்றாய்!, திறல் போற்றி*
பொன்றச் சகடம் உதைத்தாய்!, புகழ் போற்றி*
கன்று குணிலா எறிந்தாய்!, கழல் போற்றி*
குன்று குடையய் எடுத்தாய்!, குணம் போற்றி*
வென்று பகை கெடுக்கும் நின் கையில் வேல் போற்றி*
என்றென்று உன் சேவகமே ஏத்திப் பறை கொள்வான்*
இன்று யாம் வந்தோம் இரங்கேலோரெம்பாவாய் (௨௪)
*anRu ivvulagam aLandaay!, aDi pORRi*
SenRangkut tennilankai SeRRaay!, tiRal pORRi*
ponRac SagaDam udaittaay!, pugaL pORRi*
kanRu kuNilaa eRindaay!, kazhal pORRi*
kunRu kuDaiyay eDuttaay!, guNam pORRi*
venRu pagai keDukkum nin kaiyil vEl pORRi*
enRenRu un SEvagamE Ettip paRai koLvaan*
inRu yaam vandOm irangkElOrempaavaay (24)
*అన్ఱు ఇవ్వులగం అళందాయ్!, అడి పోఱ్ఱి*
శెన్ఱఙ్కుత్ తెన్నిలంకై శెఱ్ఱాయ్!, తిఱల్ పోఱ్ఱి*
పొన్ఱచ్ శగడం ఉదైత్తాయ్!, పుగళ్ పోఱ్ఱి*
కన్ఱు కుణిలా ఎఱిందాయ్!, కళల్ పోఱ్ఱి*
కున్ఱు కుడైయయ్ ఎడుత్తాయ్!, గుణం పోఱ్ఱి*
వెన్ఱు పగై కెడుక్కుం నిన్ కైయిల్ వేల్ పోఱ్ఱి*
ఎన్ఱెన్ఱు ఉన్ శేవగమే ఏత్తిప్ పఱై కొళ్వాన్*
ఇన్ఱు యాం వందోం ఇరఙ్కేలోరెమ్పావాయ్ (౨౪)
*ಅನ್ಱು ಇವ್ವುಲಗಂ ಅಳಂದಾಯ್!, ಅಡಿ ಪೋಱ್ಱಿ*
ಶೆನ್ಱಙ್ಕುತ್ ತೆನ್ನಿಲಂಕೈ ಶೆಱ್ಱಾಯ್!, ತಿಱಲ್ ಪೋಱ್ಱಿ*
ಪೊನ್ಱಚ್ ಶಗಡಂ ಉದೈತ್ತಾಯ್!, ಪುಗಳ್ ಪೋಱ್ಱಿ*
ಕನ್ಱು ಕುಣಿಲಾ ಎಱಿಂದಾಯ್!, ಕಳಲ್ ಪೋಱ್ಱಿ*
ಕುನ್ಱು ಕುಡೈಯಯ್ ಎಡುತ್ತಾಯ್!, ಗುಣಂ ಪೋಱ್ಱಿ*
ವೆನ್ಱು ಪಗೈ ಕೆಡುಕ್ಕುಂ ನಿನ್ ಕೈಯಿಲ್ ವೇಲ್ ಪೋಱ್ಱಿ*
ಎನ್ಱೆನ್ಱು ಉನ್ ಶೇವಗಮೇ ಏತ್ತಿಪ್ ಪಱೈ ಕೊಳ್ವಾನ್*
ಇನ್ಱು ಯಾಂ ವಂದೋಂ ಇರಙ್ಕೇಲೋರೆಮ್ಪಾವಾಯ್ (೨೪)
Thiruppavai Pasuram 24 Musical/Recitation
Thiruppavai Pasuram 24 Upanyasams
Tamil Upanyasams
HH 45th Srimath Azhagiyasingar

HH Thirukkudanthai Andavan
Sri U.Ve. Madhavachar

Oragadam Sri U.­Ve. Lakshmi Nar­asimhachariar

Sri U.Ve. Velukkudi Krishnan

Sri U.Ve. Kuruchi Narayanan

Sri U.Ve. M.V. Ananthapadmanabhachar

Sri U.Ve.M.A Venkatakrishnan

Sri U.Ve. P.B. Annangarachariar




Sri U.Ve. K.B. Devarajan
Sri U.Ve. E.S.Boovarahachar
Telugu Upanyasams
Sri U.Ve. Aachi Srinivasacharya

Sri U.Ve. Sribashyam Appalacharya
Sri U.Ve. Santhana Gopalacharya