Sri Nammazhwar's Thiruvaimozhi is essence of Sama Veda. In that great work, in 7th decade of 2nd centum (2-7 of Thiruvaimozhi) Azhwar describes the meanings of Kesavaadhi Dwadasa Thirunamam of Emperumaan. Each pasuram of this set is dedicated to the meaning of each of twelve names – Kesava, Narayana, Madhava, Govindha, Vishnu, Madhusoodhana, Thrivikrama, Vamana, Sridhara, Hrishikesha, Padmanabha, Damodhara and last pasuram is additional pasuram which can also be considered as Phala pasuram of total 13 pasurams in this set (which is different from others as all have 11 each). The phala pasuram states that those who sing or read these set of pasuram describing greatness of Lords name will surely attain the Lords Lotus feet.
When a Jivatma/person undergoes a sacred initiation into Srivaishnavam (Pancha samskaram), the second Samskaram performed by Acharyar is Pundra Samskaram – adorning twelve Thiruman Kappu or Urdhra Pundaras  at the twelve important points on the body where Lord Narayana resides. We chant the above twelve names of Lord and also the name of the Thayar who lives with him. The white portion is called as Thiruman and represent the Lotus feet of lord and should always be pointing up. The centre line represents the Consort of Lord Narayana. Its adorned with Srichurnam.
For related posts on Thiruman Kappu, please visit the following links:
The Sequence of adorning the holy Urdhra Pundaras and the Lord's name, Thayar's name with the description of weapons of Lord residing there are:
On Forehead – Keshava. Lord holds Chakra in all four hands and his consort name is Sri
Above Belly button – Narayana. Lord holds Shanka in all four hands and his consort name is Amruthodbhava
At the centre of Chest – Madhava. Lord holds Koumodhaka in all four hands and his consort name is Kamala
Centre of front Neck – Govinda. Lord holds Saranga in all four hands and his consort is Chandrasodari
Right side above belly button – Vishnu. Lord holds Ploughshares in all four hands and his consort name is Vishnu Patni
Right shoulders in line with the namam on the chest in terms of length and width – Madhusudhana. Lord holds pounding rod in all four hands and his consort name is Vaishnavi
Right side of neck – Trivikrama. Lord holds sword in all four hands and his consort name is Vararoha
Left side above belly button – Vamana. Lord holds Thunder Bolt in all four hands and his consort name is Hari Vallabha
Left shoulders in line with the namam on chest in terms of length and width – Sridhara. Lord holds Axe in all four hands and his consort name is Sharngini
Left side of neck – Hrushikesha . Lord holds Crow-bar in all four hands and his consort name is Devadevika
On the back on spine above the hip joint – Padmanabha. Lord holds all his weapons in 8 eight hands and his consort name is MahaLakshmi
Behind & centre of neck – Damodhara. Lord holds Whip in all four hands and his consort name is Surasundari
Also these twelve names are chanted during Achamanam.
Lets now enjoy and concentrate the pasurams sang by our Nammazhwar on Panniru Thirunamam of our Lord. First pasuram starts with the first name and ends with next name similarly next pasuram start with the name that came in the end of previous pasuram and ends with next name.
கேசவன்தமர்க்கீழ்மே லெமரேழெழுபிறப்பும்,
மாசதிரிதுபெற்று நம்முடைவாழ்வுவாய்க்கின்றவா,
ஈசனென்கருமாணிக்கமென் செங்கோலக்கண்ணன்
விண்ணோர் நாயகன், எம்பிரானெம்மான்நாராயணனாலே
kEsavan_thamar* kIzmElemar EzezupiRappum,*
maasa thirithupeRRu* nammudai vaazvu vaaykkinRavaa,*
Isan en_karumaaNikkam en seNGkOlak kaNNan* viNNOr
naayakan,* empiraan emmaan* _naaraayaNanaalE.       2.7.1
Meaning:
Kesavan thamar….emmaan Narayanale…..All my relatives in my lineage over seven generations above and seven generations below have all become the BhAgavatOttamALs of Kesavan. They have been blessed to obtain the grace of Him; With this grand grant, our lives have become and grown to a great extent. My Lord is the Black Emerald Sriman Narayanan. He, the Chief of NityasUris- He is so merciful to us for me and my relatives.
நாரணன்முழுவேழுலகுக்கும் நாதன்வேதமயன்,
காரணம்கிரிசை கருமமிவைமுதல்வனெந்தை,
சீரணங்கமரர்பிறர் பலரும்தொழுதேத்தநின்று,
வாரணத்தைமருப்பொசித்த பிரானென்மாதவனே.
naaraNan muzuvEzulakukkum* naathan vEthamayan,*
kaaraNam kirisai karumamivai* muthalvan endhai,*
sIraNaNGkamarar _piRar palarum* thozuthEththa_ninRu,*
vaaraNaththai marupposiththa piraan* en maathavanE.                2.7.2
Meaning:
Naranan….piraan en Madhavane….Narayanan -the Chief of seven lOkAs; the embodiment of vEdAs; the essence of vEdAs; the fruit of our bhakti; the Primordial Chief; He, the One who is always worshipped be NityasUris and others, is the One who broke the tusks of "kuvalayApeetam" elephant during krishNAvathaaram; That Madhavan is my father.
மாதவனென்றதேகொண் டென்னையினியிப்பால்பட்டது,
யாதவங்களும்சேர்க்கொடேனென் றென்னுள்புகுந்திருந்து,
தீதவம்கெடுக்குமமுதம் செந்தாமரைக்கட்குன்றம்,
கோதவமிலென்கன்னற்கட்டி யெம்மானென்கோவிந்தனே

maathavan enRathEkoNdu* ennai ini ippaal paddathu,*
yaathavangaLum sErkodEnenRu* ennuL pukundhirundhu,*
thIthavam kedukkum amutham* sendhaamaraikkaN kunRam,*
kOthavamilen kannal katti* emmaan en kOvindhanE.     2.7.3
Meaning:
Maadhavan enRathE…emmaan en Govindhane..  ..The moment I uttered Madhavan, He entered into my heart; He showered so much grace and mercy and ensured that "In future no kind of ills and sorrows shall come near me". His Beautiful Red Lotus Eyes are like the sweet nectar. His Divine Body (thirumEni) is like a Big Mountain; He is Blemishless and is like a "kalkaNdu" (Sugar stone) to me; He is that Govindhan.
கோவிந்தன் குடக்கூத்தன் கோவலனென் றென்றேகுனித்து
தேவும்தன்னையும் பாடியாடத்திருத்தி, என்னைக் கொண்டென்
பாவந்தன்னையும் பாறக்கைத் தெமரேழெழு பிறப்பும்,
மேவும்தன்மைய மாக்கினான் வல்லனெம் பிரான்விட்டுவே.

kOvindhan _kudakkooththan* _kOvalanenRenREkuniththu*
thEvumthannaiyum* paadiyaadaththiruththi,* ennaikkoNdu en
paavandhannaiyum* paaRakkaiththu emar Ezhezhu piRappum,*
mEvum thanmaiyamaakkinaan* vallan empiraan vittuvE.              2.7.4
Meaning:
Govindhan…empiraan VittuvE (vishNuvE)..  ..The Most Strongest Emperumaan Vishnu has made me the most capable person; He has enabled me to call Him as "Govindha! Gopala!" and address His most auspicious attributes and His strengths; He has granted me with His mercy and enabled me dance singing His Glories all the time; He has enslaved me and has destroyed all my sins accrued over the ages; All my relatives from all my previous janmams(births) have been blessed by Him to reach His LotusFeet;
விட்டிலங்குசெஞ்சோதித் தாமரைபாதம்கைகள்கண்கள்,
விட்டிலங்குகருஞ்சுடர் மலையேதிருவுடம்பு,
விட்டிலங்குமதியம்சீர் சங்குசக்கரம்பரிதி,
விட்டிலங்குமுடியம்மான் மதுசூதனன்தனக்கே.

vittilaNGkusenchOthith* thaamaraipaatham kaigaL kaNgaL,*
vittilaNGku karunchudar* malaiyE thiruvudampu,*
vittilaNGku mathiyamsIr* saNGkusakkaramparithi,*
vittilaNGku mudiyammaan* mathusoothanan _thanakkE.            2.7.5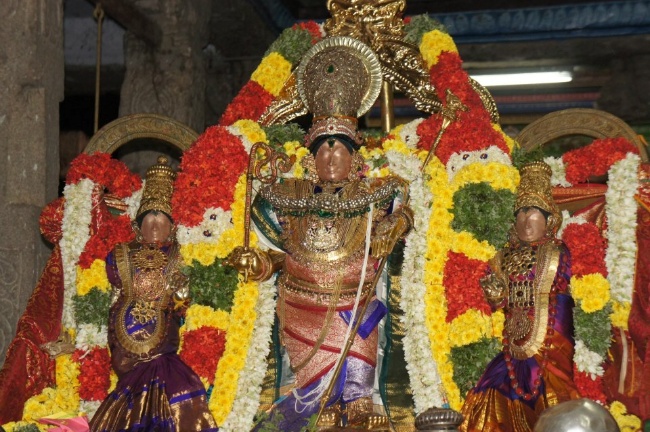 Meaning:
Vittilanghu…Madhusoothanan thanakkE..  ..Madhusoodhanan-the One who has the most lustrous shining face and head, has got His Feet, Limbs and Eyes like Red Lotus Flowers; His Divine Body is like a Big Group of Light. His Lustrous Divine Conch is like a shining moon; His Divine ChakrA is like the Sun.
மதுசூதனையன்றிமற்றிலேனென் றெத்தாலும்கருமமின்றி,
துதிசூழ்ந்தபாடல்கள் பாடியாட நின்றூழியூழிதொறும்,
எதிர்சூழல்புக்கெனைத்தோர்பிறப்புமெனக்கேயருள்கள்செய்ய,
விதிசூழ்ந்ததாலெனக்கேலம்மான் திரிவிக்கிரமனையே.

mathusoothanaiyanRi maRRilEnenRu* eththaalum karumaminRi,*
thuthi soozndha paadalgaL paadiyaada* ninRooziyoozithoRum,*
ethirsoozalpukku enaiththOr _piRappum* enakkE aruLgaL seyya,*
vithi soozndhathaal enakkEl ammaan* thirivikkiramanaiyE.          2.7.6
Meaning:
MadhusoodhanaianRi…ThirivikkiramanaiyE…..I have no other refuge other than Madhusoodhanan; and There is no use even from others; hence, forever, I shall continue to pray to Him dancing and singing His Glories to obtain the opportunity for mOksham; When I was trying for all other 'Wordly" matters (AzhwAr says "izhavu" for materialistic pursuits – an excellent- most appropriate word- :"andha izhavukkutthAnE naam naayaa alaiyarOm"), He intervened in between and came in front of me; To capture me, He took so many Excellent Avataars; With the Grace of Thrivikraman, I was destined to fall into His trap; How merciful is he, my Lord Thrivikraman!  (wow! What a usage and How nicely put by AzhwAr about the "MaarjAla saraNagathi" here- while it is actually a Combination and the Cross Breed of Maarjaalam and Matkatakam that does the trick for all; Bhagavathaal, Sisters and Brothers!- It is correct that mother knows to feed the kid but the cry only will bring the mother to its attention to get the milk)
திரிவிக்கிரமன்செந்தாமரைக்கணெம்மானேன்செங்கனிவாய்
உருவில்பொலிந்தவெள்ளைப்பளிங்குநிறத்தனனென்றென்று,
உள்ளிப் பரவிப்பணிந்து பல்லூழியூழிநின்பாதபங்கயமே,
மருவித்தொழும்மனமேதந்தாய் வல்லைகாணென்வாமனனே

thirivikkiraman _sendhaamaraikkaN* emmaan en _seNGkanivaay*
uruvil polindha veLLaip paLiNGku* _niRaththananenRenRu,* uLLip
paravip paNindhu* pallooziyoozi _ninpaathapaNGkayamE,*
maruvith thozum manamE thandhaay* vallaikaaN en vaamananE.            2.7.7
Meaning:
Thrivikraman senthAmaraikkaNN..en Vaamanane..  ..Thrivikramane-the Red Lotus Eyed Lord measured the World in three Feet(measures); His Red Coral lipped mouth has got the miky whitish crystal like Teeth which is most beautiful to look at; (seyya vaai aiyO en sinthai kavarndhadhuvE); He is the One, who granted me the Mind to keep thinking of Him, to keep singing about Him and to keep paying obeisances to Him; My Vaamanaa! I can say that You Are  the Only One who is capable of Everything.
வாமனனென்மரகதவண்ணன் தாமரைக்கண்ணினன்
காமனைப்பயந்தாய், என்றென்றுன்கழல்பாடியேபணிந்து,
தூமனத்தனனாய்ப் பிறவித்துழ திநீங்க, என்னைத்
தீமனங்கெடுத்தா யுனக்கென்செய்கேனென்சிரீ தரனே.

vaamanan en marathakavaNnan* thaamaraik kaNNinan-
kaamanaippayandhaay,* enRenRu un_kazal* paadiyE paNindhu,*
thoomanaththananaay* piRaviththuzathi_nINGka,* ennaith
thImanaNGkeduththaay* unakken_seykEn? en_sirItharanE.      2.7.8
Meaning:
Vaamanan en maragatha vaNNan…en SirIdharanE..  ..Vaamanaa! The Colour of Sapphire! The Red Lotus Eyed Lord! the Father of Cupid! – Like that, I sang and prayed at Your Lotus Feet and became Pure. You granted me the mind to keep thinking of You for ever and let me het rid of the Bad Hear (which ran after sensual pleasures!) and of the disease of Births; My Sireedharaa! How can I pay you back for that you have done to me, Lord.
சிரீஇதரன்செய்யதாமரைக்கண்ணனென்றென்றிராப்பகல்வாய்
வெரீஇ, அலமந்துகண்கள்நீர்மல்கி வெவ்வுயிர்த்துயிர்த்து
மரீஇயதீவினைமாளவின்பம்வளர வைகல்வைகல்
இரீஇ, உன்னையென்னுள்வைத்தனை யென்னிருடீகேசனே.

sirIitharan _seyyathaamaraikkaNNan* enRenRu iraappakalvaaY
verIi,* alamandhu kaNgaL _nIrmalki* vevvuyirththuyirththu,*
marIiyathIvinaimaaLa inpamvaLara* vaikalvaikal
irIi,* unnai ennuL vaiththanai* en irudIkEsanE.   2.7.9
Meaning:
Sireedhara  seyya…en Irudeekesane..  ..My Irudikesaa!( HrishikEshA!) You have encaptured Yourself in me and stayed there; After having got rid of the sins accrued (and the consequences arising out of them!), and the Greatest Bliss and Enjoyment of Your anubhavam has been Growing day by day since then exponentially and You are Ensuring these things by staying in my heart Perennially without leaving me. I shall pray to You, sing about You; call You "Sreedharaa!, Senthaamaraikkannaa! (Red Lotus Eyed Lord!)" and day and night- I shall pay obeisances to You with Tears rolling down the cheeks and my mouth and lips uttering your names always; Heart sighing heavily to see you with my eyes physically;
இருடீகேசனெம்பிரா னிலங்கையரக்கர்க்குலம்,
முருடுதீர்த்தபிரானெம்மா னமரர்பெம்மானென்றென்று,
தெருடியாகில்நெஞ்சே,வணங்கு திண்ணமறியறிந்து,
மருடியேலும்விடேல்கண்டாய் நம்பிபற்பநாபனையே
irudIkEsan empiraan* ilaNGkai arakkarkulam,*
murudu thIrththapiraan emmaan* amarar _pemmaanenRenRu,*
therudiyaagil _nencEvaNaNGku* thiNNam aRi aRindhu,*
marudiyElum vidElkandaay* nampi paRpa_naapanaiyE. 2.7.10
Meaning:
Irudeekesan empiraan…Parpanaapanaiye(PadmanAbhanaiyE) ..Oh mind! Since you have become wise, do not leave PADMANABHAN and pray to Him; Even if you get totally confused and come across so many distractions, Do not get carried away; firm with your wisdom Stand (AzhwAr is telling his mind (or us?)!) Always meditate on Him; Always pay obeisance to Him and say "Irudeekesaa! My Lord! The One who destroyed LankA! the Chief of dEvAs!"
பற்பநாபனுயர்வறவுயரும் பெருந்திறலோன்,
எற்பரனென்னையாக்கிக் ¦ காண்டெனக்கேதன்னைத்தந்த
கற்பகம், என்னமுதம் கார்முகில்போலும்வேங்கடநல்
வெற்பன், விசும்போர்பிரா னெந்தைதாமோதரனே.

paRpa_naapan uyarvaRavuyarum* perundhiRalOn,*
eRparan ennaiyaakkikkondu* enakkE thannaiththandha
kaRpakam,* ennamutham kaarmukilpOlum* vENGkada_nal
veRpan,* visumpOr_piraan* endhai thaamOtharanE.     2.7.11
Meaning:
Padmanaabhan….enthai Damodharane….  ..Padmanabhan- the One who has got Lotus Flower in His navel- has Got the Greatest of Greatest Glories and Strengths; He has enslaved me; He offered himself too to me; He is like the kaRpaka vruksham (kaRpaka tree- in dEvalOkA- that is capable of everything one wishes!) and is of Blue Hued Lord and stands at ThiruvEnkadam; He is My father who is also the Chief of NityasUris- (Akila jagadh swamin- and asmath swamin- Sriranga nAtha and mama nAthA!) He is Damodharan- the One who has got the marks of the rope (which was tied to His Body by the most luckiest Yasodha for His stealing butter!- in fact, there is an interesting anecdote that uopn Mahalakshmi's request, when Lord Sriman Narayana at Sri Vaikuntam helped Himself to get some fruits  from the tree, the "utthriyam"(upper piece of cloth) fell and exposed His marks of the rope to MahAlakshmi and She saw the marks; Our "poor" Sriman Narayana had to say all sorts of stories to cover up His mischiefs and stealing acts (but failed)- Since then it seems He makes it a point to wear the Golden waist band (OttiyaaNam) in order not to further embarassment to Him- How Sweet it would have been to witness the Primordial Chief- Sarva Vallabhan – getting Himself tied down by a small simple rope by the "Arivondrumillaadha Aykkulathu" yasOdhA- It appears all dEvAs including Brahmaa and Sivan assembled at the sky and saw this most sowlabhya event; What a Lord! What a Lord! What a Lord is Our Sriman Narayanan!)
 தாமோதரனைத்தனிமுதல்வனை ஞாலமுண்டவனை,
ஆமோதரமறிய வொருவ ர்க்கென்றெதொழுமவர்கள்,
தாமோதரனுருவாகிய சிவற்கும்திசைமுகற்கும்,
ஆமோதரமறிய எம்மானையென்னாழிவண்ணனையே.

thaamOtharanaith thanimuthalvanai* NYaalam undavanai,*
aamOtharamaRiya* oruvarkkenRe thozumavargaL,*
thaamOtharan uruvaagiya* sivaRkum thisaimukaRkum,*
aamOtharamaRiya* emmaanai en aazivaNNanaiyE.         2.7.12
Meaning:
Damodharanai..en Azhivannanaiye..  ..Who can understand my Emperumaan?- the One who created the world and is the origin of Every being; the One who kept everything in His stomach- He is Damodhara; Like that Sivan and Brahmaa have been uttering while paying obeisances to Him; Even they-who  are in His body cannot attempt tocomprehend His calibre;
வண்ணமாமணிச்சோதியை யமரர்தலைமகனை,
கண்ணனைநெடுமாலைத் தென்குருகூர்ச்சடகோபன்,
பண்ணியதமிழ்மாலை யாயிரத்துள்ளிவைபன்னிரண்டும்,
பண்ணில்பன்னிரு நாமப் பாட்டண்ணல்தாளணைவிக்குமே.

vaNNamaamaNichchOthiyai* amarar _thalaimakanai,*
kaNNanai _nedumaalaith* then_kurukoorchchadakOpan,*
paNNiya thamizMaalai* aayiraththuL ivai pannirandum,*
paNNiR panniru_naamap paattu* aNNalthaaL aNaivikkumE.       2.7.13
Meaning:
vaNNamaa..aNNal thaaL aNaivikkumE..  ..the Thirumaal-the Nedumaal-the Chief of NityasUris is the Most Beautiful Kannan; These 12 pAsurams out of SadagOpar's 1000 pasurams which have been sung about KaNNan, will enable its singers (or readers) reach His lotus feet without fail – not to worry.
Commentary by Sri Madhava Kannan