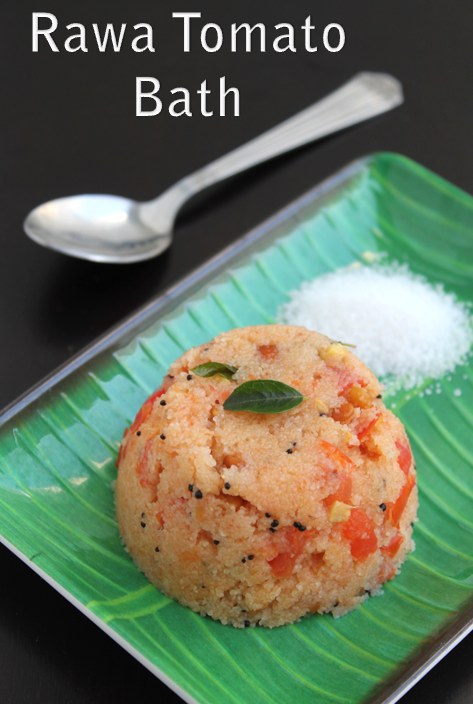 Rawa Tomato Bath is nothing but upma with a lot of tomatoes or rawa cooked in tomato puree. It is very easy and simple to make with very simple ingredients and it gets done in no time.
You will Need
One small cup of Rawa or Sooji
One large Tomato
Two Green chillies
One small piece of Ginger
Few Curry Leaves
One tbs of Oil
One tsp of Mustard Seeds
One tsp Of Channa dal
A generous pinch of Asafoetida.
How to
Heat a pan and dry roast the rawa for two to three minutes.do not let it brown.
Chop the tomato,chilli and the ginger as shown in the picture.
Heat oil in a pan and crackle mustard seeds and add channa dal let it brown
Add the chopped tomato,chilli,ginger,asafoetida and curry leaves.Add salt and cook it covered till the tomatoes are mushy.
Add two cups of water and allow it to boil or add hot water to fasten the process.
Add the roasted rawa slowly and keep stirring with other hand to avoid any lumps.
Cover and cook for two minutes and it is ready. Mix well and drizzle a tsp of ghee on top.If you wish you can add some broken cashew nuts fried in ghee to add to the taste.

Source: Jaya's Recipies
General guidelines for healthier food – Both body and mind:
One should be thinking about Perumal (Nama Smaranam) while cooking, and the purpose should be to offer the preparation to Him.
Once the food is prepared, it should be offered to Perumal first. While offering, one should make sure that the food is neither too hot nor cold. It should be offered with love and affection.
Please do not offer either pre-cooked food bought from outside or any pre-consumed food.
Please follow thiruvaradanam kramam as instructed by your respective acharya. (http://anudinam.org/2012/03/08/bhagavad-tiruvaradhanam/)
Follow ahara niyamam as much as possible. Atleast make sure that onion and garlic are not used at all.(http://anudinam.org/2012/06/11/srivaishnava-ahara-niyamam/)
Please ensure that food which are not prasadams are not consumed.