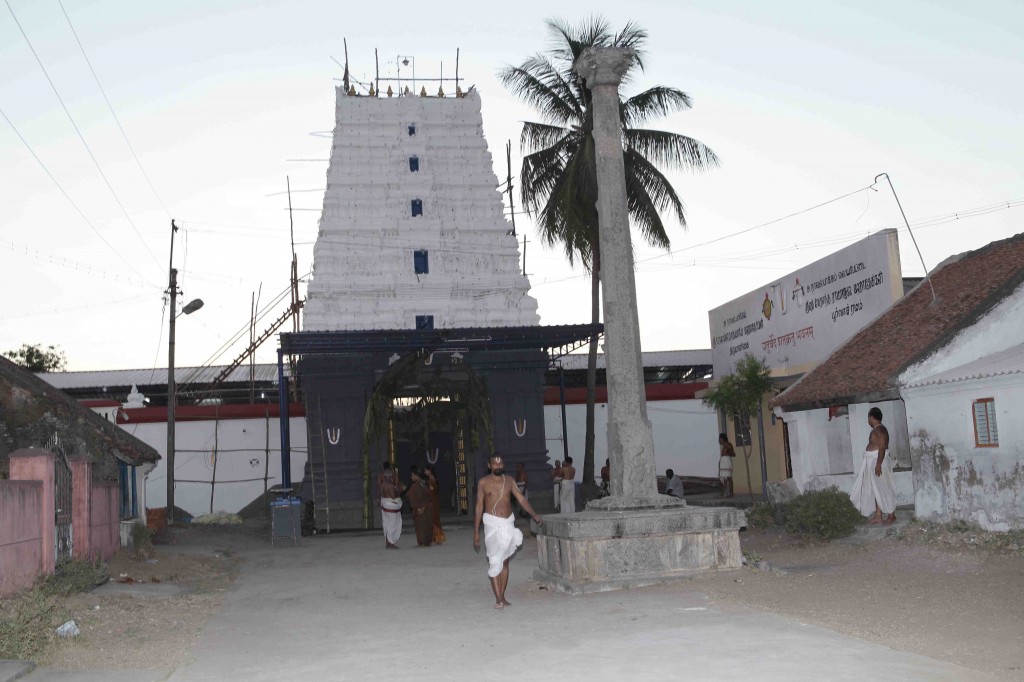 Samprokshanam and Brahmotsavam was recently conducted at Navalpakkam Sri Srinivasa Perumal temple.
More details about the utsavams can be read from:
http://anudinam.org/2012/05/07/sri-srinivasa-perumal-brahmotsavam-navalpakkam/
http://anudinam.org/2012/04/14/samprokshanam-of-srinivasa-perumal-temple-at-navalpakkam/
Some of the photos taken during the Samprokshanam can be viewed in the slide show presented below
How to reach Navalpakkam:
LOCATION:
Navalpakkam is a small village located at North Arcot District, approx. 100 Kms away from Chennai or 35 Kms from Kancheepuram. The village is 5 kms away from the Wandavasi town. Bhagavathas after reaching Wandavasi, may either go by buses that shuttle between Wandavasi to Dhindivanam or may hire an auto and pay nominal amount of Rs.70/- to reach Navalpakkam Village. The route to main town Wandavasi is given below :
Route 1 : There are direct buses plying from Madras to Wandawasi. The frequency of the bus is every one hour leaving from Chennai Main Bus stand. These buses generally follow the route : Madras – Tambaram – Chingleput – Uttiramerur – Wandavasi. It normally takes 3 hours to reach Wandavasi.
Route 2 : The Bhagavathas may go to Kanchipuram and from there the buses are frequently available to Wandavasi. Many tourists prefer to go in the previous day to Kanchi and visit divyadesa temples there and stay overnight. The next day, after having vishvaroopa darshanam at Varadar temple may visit Navalpakkam. It is also suggested to take a taxi from Kanchi and visit as many divyadesams in Kanchi during morning session and then proceed to Navalpakkam in the noon. On their way, they may visit sevilimedu, salaikinaru, Thennangoor and finally reach Navalpakkam before evening. They can have darshan immediately as the bhattar is staying there itself and return back on the same day to Kanchi for visiting rest of the temples in the evening.
Contact telephone number 0954183-50081, to find out the timings of perumal dharshan or may contact Sri Santhana Bhattar at Navalpakkam (0954183 – 203029) in inform their arrival.
(Wandawasi STD Code :0954183 Bhattar Residence at NPKM : 203029 )