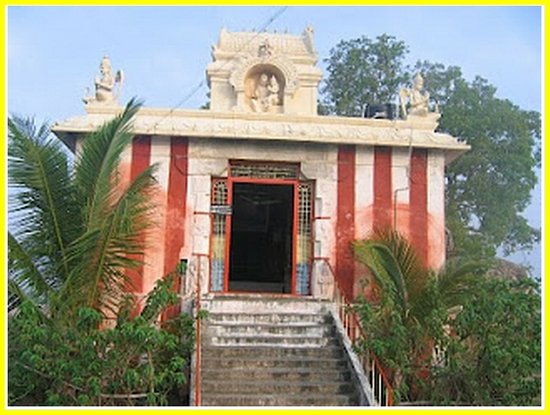 Located 195kms South West of Madras off the Villupuram-Thiru Kovilur SH7 on the banks of then Pennai River is the 1600 year old Lakshmi Narasimha temple in Anthili. This is one of the four Narasimha temples in this region, the others being at Parikkal, Poovarasan Kuppam and Singiri and is part of the Eight Prominent Narasimha temples in Tamil Nadu(others being Namakkal, Sholingur, Singaperumal Koil and Sinthalavadi).
Garuda's Anger
As he did during the Gajendra Moksham episode, Lord Vishnu, skipped his vehicle(Garuda) on his way to kill Hiranya. This act of his Lord angered Garuda and he left Vaikuntam and reached the rock here at Anthili. Sitting atop the rock, he undertook severe penance that sent heat waves every where that over time generated raging fire.
Anxious at this development, Brahma and the Devas sought the help of Lord Vishnu to cool down his exclusive vehicle, Garuda.
Lord Vishnu set out on a mission from Vaikuntam along with Goddess Lakshmi, finally reaching the rock where the angry Garuda was undertaking penance. An inquisitive Lakshmi questioned her Lord's reasoning for leaving Garuda behind on such an important trip to kill the Asura and she also suggested that it was unreasonable to put Garuda to such hardship.
Lord Vishnu explained the urgency of his task and the immediate need to put an end to Asura Hiranya's wrong doings meant he had to leave without Garuda.
Pleased with Garuda's penance, Lord Vishnu provided darshan here as Narasimha with Lakshmi on his lap. Garuda immediately cooled down on seeing his Lord once again, especially in the Narasimha form which he had missed earlier as he did not accompany the Lord at the time of killing Hiranya.
He requested the Lord to remain here in this cool form (shantha roopi) and provide darshan to all devotees. Also, having missed taking him on the trip to kill Hiranya, Garuda sought the opportunity now to carry the two of them around this place.
An overjoyed Garuda is said to have taken them around Thiru Kovilur, Mugaiyur, Arakandanallur and Paranur, among others.
Swathi Thirumanjanam
Narasimha Jayanthi
Hanuman Jayanthi
Vaikunta Ekadesi
Pooja is performed at this temple as per Madhwa Sampradaya. Some of the sculptures inside the temple seem to indicate that there may be a Karnataka connection to the construction.
Quick Facts
Moolavar: Lakshmi Narasimha
Temple Time : 7am-6pm
Priest: Srikanth Bhattar
Telephone Number : 94867 89200
How to reach
Anthili is 35kms West of Villupuram and 1km East of Arakandanallur/ ThiruKovilur Railway Station
(Villupuram-Mugaiyur-Thirukovilur route)
Buses every half hour between Villupuram and Thiru Kovilur Divya Desam.
One can get down at Arakandanallur Police Station (2kms before Thiru Kovilur) and walk one km or take an auto.
Source: