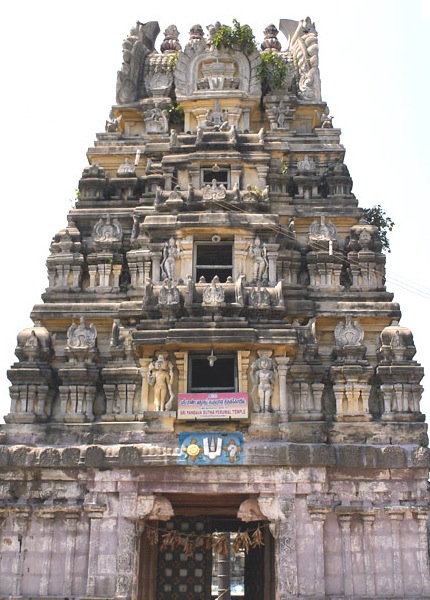 Pandava Dhootha Perumal
A majestic 25 feet Lord Krishna
Among the 108 Divya Desams, the Lord here was referred to as the 'Lord in Sitting Posture'
The first one looks at Pandava Dhootha Perumal Temple, located a km West of Kanchipuram Bus Stand. This temple is said to have been renovated by the Great Chola King, Kulothunga Chola I.The entrance to the temple through the very old looking temple tower is rather sedate. This leads one to a very small sized sanctum sanctorum. However, this modest entry sets one up for quite an unexpected surprise – A gigantic over 25 feet tall Lord Krishna in a majestic sitting posture (facing East), almost suggestive of the Lord's Vishvaroopam.
The Story
In order to make peace with the Kauravas, Krishna goes to Hastinapura to the court of Duryodhana on behalf of the Pandavas.
With a plot to kill Krishna and thus to put all hopes of a peace treaty, Duryodhana digs a pit and tops it with bamboo sticks. On this bamboo topped pit, he puts up a grand stage, thus setting up Krishna for a mega fall.
Once he enters the hall, the all knowing Krishna presses the stage with his little toe to send it crushing below. And immediately after, Krishna displays his Vishwaroopam to the blind Dhirdharashtra (and only to him), by giving him the vision.
Seeing the Lord in his full divine form, a delighted Dhirdharashtra requests Krishna to make him blind again, for he does not want to see anything else after having seen the Lord himself. Says Dhirdharashtra to Krishna, "I have seen you in your full form. This is enough. No more do I want the vision."
Years after this episode, Arjuna's Grandson Janmejaya, who listened to the Mahabharata story from Vaisampaayana wanted to relive the moment (that of Lord Krishna displaying his Vishwaroopam) and undertook penance at this place. Krishna is believed to have provided Darshan to Janmejaya, as 'Pandava Dhootha', in the same way he had in the Mahabharatha episode.
Name of the Lord
Having played the role of a messenger for the Pandavas, Krishna, here at this temple, is known by that same name- Pandava Dhootha Perumal.
Azhvaars
Four Azhvaars in their 6 Paasurams have praised the Lord here – BhoothathAzhvaar, PeyAzhvaar, ThirumangaiAzhvaar and ThirumazhisaiAzhvaar.
Thirumazhisai Azhvaar refers to 3 temples in Kanchipuram as representative of the 3 postures of Lord Vishnu. Among the Divya Desams, this temple (ThiruPaadagam) was just referred to as ' Lord in Sitting Posture' in those days, while ThiruOorgam was referred to the Lord in standing posture and thiruVekka as the Lord in Sleeping Posture(both of these temples will be seen later in this series). It was only later that other Azhvaars referred to Lord Vishnu and his 3 postures.
"Ninrathenthai ooragathu, Irunthathenthai Paadagathu
Anru Vekkanai Kidanthu Ennilaatha Munnellaam
Anru Naan Piranthilen Piranthapin Maranthilen
Ninrathum Irunthathum Kidanthathum En Nenjulle"- ThirumazhisaiAzhvaar(815)
Just in the way Krishna protected the Pandavas, it is believed that the Lord here will protect devotees who pray with sincerity and unflinching devotion.
There is said to have been a 18 day debate between Ramanuja and a Saivite Scholar. Having lost the debate to Ramanuja, the Saivite Scholar is said to have become his discipline and changed his name to Arulaala Perumal Emberumaanar. His descendents are the ones currently managing the temple.
Quick Facts
Deity : Pandava Dhootha Perumal
Goddess : Rukmini
Azhvaars : 4 Azhvaars have praised this Lord
Thirumazhisai(814-815), Thirumangai(1541,2674)
Bhoothath(2275), Pey(2311)   Total 6 Pasurams
Manavala maamuni also did mangalasasanam here.
Pushkarani: Matheesya Theertham.
Vimanam: Bathra Vimanam and Vetha kodi vimanam.
Timing : 7am-11am and 4pm-730pmContact : TV Srinivasan Bhattar @ 94438 84698Address : 28B/75 Pandava Perumal Koil Street, Kanchipuram 631502Festivals : Krishna Jayanthi, Vaikunta Ekadesi, Panguni Uthiram and Deepavali/Karthigai