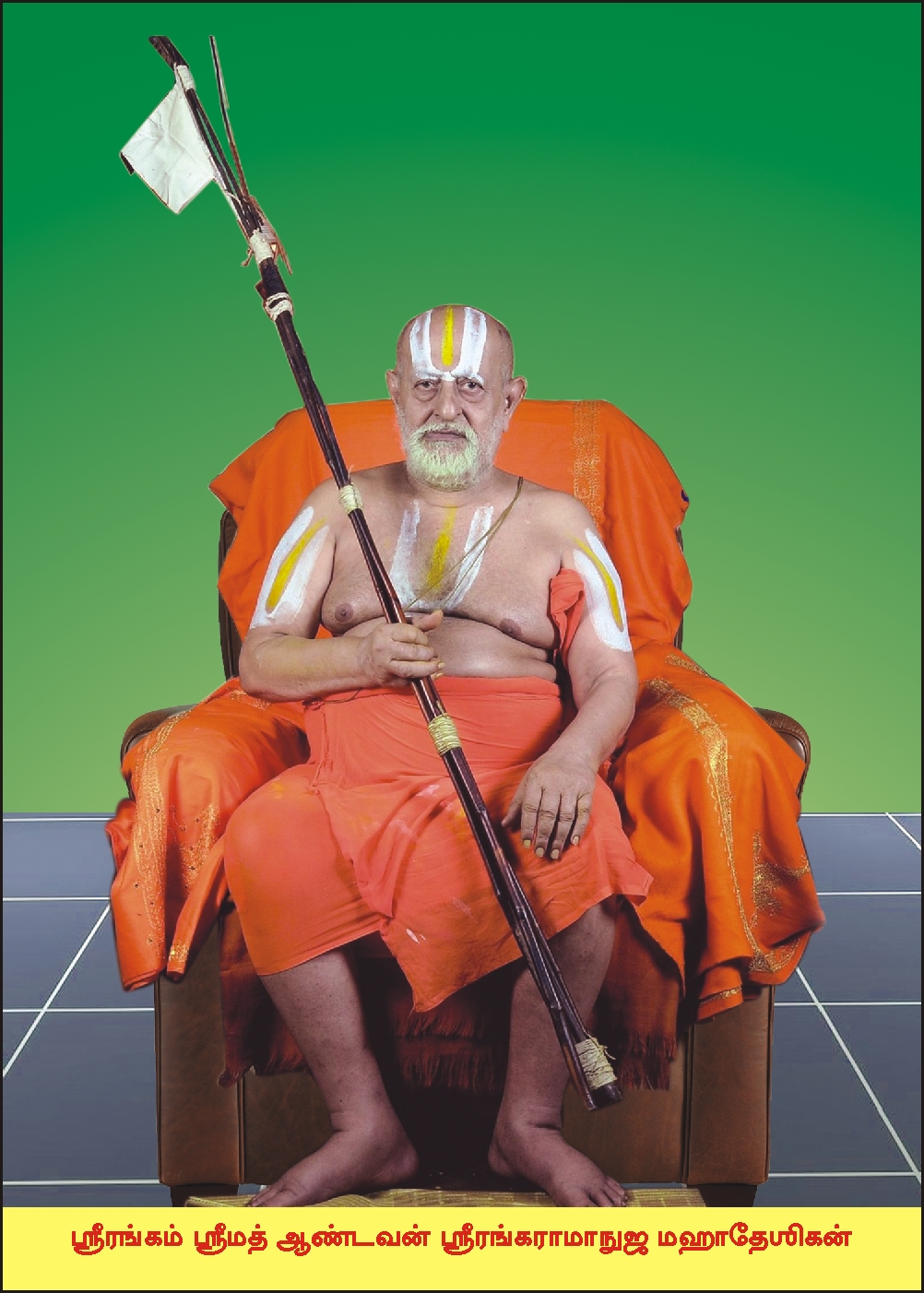 HH Srimath Srimushnam Andavan Vaibhavam is a three-part article series carried in Anudinam in 2013. Today one of the greatest Acharyans has attained acharyan thiruvadi. Let us remember HH's vaibhavam this day…
Thaniyan:
VedhAntha lakshmana muneendra krupAtthabOdham
ThadpAdha yugmasaraseeruha brungha rAjam
Thraiyantha yugma kruthaboori parisramamtham
Sriranga lakshmana munim saranam prapadhyE
We prostrate at the holy feet of Sri Ranga Ramanauja Maha Desikan who had his Bhara samarpanam at the holy feet of Vedhantha Ramanuja Maha Desikan. Having gained with enormous involvement, the wealth of Sri sampradayic knowledge/Ubhaya Vedhantham granthas from his Acharya, he whirrs as a honeybee at His lotus feet. Salutations to Srimath Ranga Ramanuja maha Desikan
Prakrutham Srimad Andavan was born in Srimushnam, a swayam vyaktha Kshethra, in south arcot district, on a Vaikasi –ArudrA day in Yuva varusham  03-06-19  35 to U .Ve. Srinivasachariar and sri Kumudhavalli, belonging to to the illustrious lineage of swayamAchArya purushAs. His great great grand father Sri Nadu nattu Narayanachar was the prime disciple of annarya Maha Desikan. The pooravasrama name of Srimushnam Andavan was Varahan. Varahan's, UpanayAthi samskAram were performed at the right age.
His father was a disciple of Sangeetha kalanidhi late Tiger Varadhachar swamy. Young Varahan used to sit by the side of his father during those music lessons and assimilated the nuances of Carnatic music to an astonishing degree which enabled Him to sing ragas with mellifluous voice.
Sri Varahan swamy became well qualified in vEda and divya prabhanda adhyayanams at an young age. His periappa Sri U.Ve. Srimushnam puranam Narayanachariar taught him kAvya and nAtaka alankarA granthAs. Swamy went to kAkumAni charity pAtasAlA (affiliated  to  Madras   University) in Chennai for his initial education in SastrAs.
In a quest to learn more about sAmAnya sAstrAs swAmy came to sriperumbudur and learnt fully the nyAya and tharka sAstrAs. The yong Varaha swamy qualified himself as Tharka sironmani, trained under great teachers in Sriperumbudur Sanskrit patasala like Sri Krishna Desika Thathachariar (father of great N.S.R. swamy) and others. Seeing swamy's remarkable knowledge and extreme brilliance learned wise men who had interacted with swamy at that time, predicted that swamy would become a maHa vidwAn and a sampradhAya pravarthakaA.
For some time, swami went to Andhra Pradesh and taught in Sanskrit colleges located in Jeetical and AlwAl, close to Hydrabad. His lucid and brilliant teaching earned a lot of accolades and he learnt to speak and read Telugu very fluently. Swamy came back to Sriperumbudur and passed in Tamil VidwAn exam and served as Such in Tamilnadu Government educational service for 27 years. He lived in malayangulam for many years and settled down at Velamur, the Birth place of Upanishad Bhashyakkarar H.H. Ranga Ramanuja Maha Desikan.  Sri Varahachar swamy renovated and maintained the temple and performed nithya Aradhanam all by himself for the Divya Dampathies.
His Holiness 44th Jeer of Sri Ahobila Mutt once conferred a special sambavanai appreciating his extra ordinary knowledge, Vidvath and lucid presentation. Sri srimushanam Varahachar, a tamil pandit in Govt Secondary Education service for 27 years  had His Prapatti under His holiness Thirukkudanthai Andavan and Grantha chathushtya Kalakshepams under His Holiness during the same time.
The divine message from Padukas to revered Acharya Thirukkudanthai Andavan was that "Srimushnam Varahachariar will be your successor , Rest assured that this Padukasramam so beautifully nurtured by you, will be safe in his hands  and will reach much greater heights."  The Acharya directed sri Varahachariar swamy  that when the time comes he should come forward to protect and preserve the Andavan Asrama Paramparai meaning , that he should become his successor probably knowing in advance that His successor H.H. Mysore Andavan may not live long.
Two Great Acharyas attaining Paramapadam in quick succession in April and May 1989, H.H.Srimadh Thirukkudanthai Andavan adorned ThirunAdu on 10.04.1989. His successor H.H.Srimad Mysore Andavan also adorned Thirunadu (within 42 days) on 22.05.1989. Lakhs of disciples were worried, over the continuation of Andavan Asrama Acharya parampara When the Disciples of the Ashramam approached Sri Varahachar swamy, He had whole heartedly accepted the call to the religious order though he had a large family to support.
Exactly on the 10th day, i.e. 01-06-1989, upon the holy command made by H.H. Thirukkudanthai Andavan earlier, Sri Varahachar Swamy with devotion, took ascetic order, by taking the ochre ascetic robes of sanyasam from PeriyAndavan sannadhi on Sukla Varusham- Vaikasi 19th as Sri Ranga Ramanuja Maha Desikan, in memory of his affection towards the illustrious Great Acharya from Velamur "Sri Upanishad Bhashyakarar"- H.H. Sri Ranga Ramanuja Maha Desikan.
The disciples of the Asramam got convinced that H.H.Sri Mushnam Srimad Andavan can not only carry aloft the banner of Ashramam  but also take it to further heights. H.H. is a versatile exponent in many other sAstras such as sculpture , sangeetham, alankAra sAstra, Astrology, Jyothisham, politics, construction,Ayurvedha to name a few. Swamy's pandithyam in VedhanthA and vyAkaranA is well known. It is also well known that His Holiness Srimadh Andavan talks with Slesha in appropriate moments with amazing timing and precision. It could be said that there are no literatures left out in Tamil that swami is unaware of. It is swamy's special quality to quote Thiruvalluvar,Kamban,IlangO and Bharathi in His anugraha Bashanams as and when required.
Srimad Andavan once beautifully sculpted a sAlagrAma perumal (which was a little broken) to Lakshmi Hayagreeva Perumal. So many people  have wondered about His Holiness's amazing knowledge in a wide variety of subjects. Srimadh Andavan is well versed in Telugu also and gives anugraha bhAshanams in that language to sishyas and abhimanis whenever an opportunity arises. His holiness is a scholar of unfathomable depth in many subjects under the sky.
Srirangam Srimath Andavan Ashramam has been the center for spreading "The philosophy of VisistAdvaitA " which is a  very ancient one having come down to us through ages as an unbroken tradition. It has the authority of eternal vEdas, Upanishads, in Sanskrit and Divya Prabhandams in Tamil, as well as the Lord's own words "PancharAthra".  It is the true Philosophy of religion unassailable , dear to Divya dampathis , dear to seers , dear to Alwars and Acharyas.
His holiness initiated efforts to spread this message of Srivaishnavism and Prapathi margam founded and propagated by Sri Bhagavath Ramanuja and nurtured by Sri Nigamantha Mahadesika several centuries ago and performed samasrayanam and saranagathi to thousands of sishyas. His Holiness Offered Mangalasasanams to the Divya Dampathis of most of the 108 Divya Desams, imparted Grantha Chathustya Kalakshepams and Anugraha Bhashanams to countless audiences.
In Bhagavath Geetha ,Chapter7-16 Lord Krishna says to ArjunA
"ChathurvidhA  bhajanthE mAm janA:   sukruthinOrjunA
ArthO   jignAsurarthArthi   GnAni cha  bharatharshabha;"
(Four types of devotees of noble deeds worship me
1. The seeker after worldly possession,
2. afflicted,
3. the seeker of knowledge, and
4.man of wisdom, Gnani, oh, best of Bharathas)
 Chap 7-17
ThEsham   Gnani nithyayuktha Eka bhakthir vishishyathE
PriyO hi GnaninOthyartham  aham  cha mama priya:
(Of these, the best is man of wisdom (Gnani) ever established in identity with me and possessed exclusive devotion for me , I am extremely dear to Gnani,  and gnani is extremely dear to me)
Acharyas are Gnanis, who are dearer to God.  Acharyas dispel the darkness of mind and enlighten with knowledge for which even God himself cannot find substitute as repayment,for the matchless upakaram the Acharya has done, as quoted by Swamt Desikan in "Yetri manathezhil" in 38th pasuram of Adhikara Sangraham.Praising Acharya's glory retaining Acharyas teachings in mind, and spreading AcharyAs greatness etc. are only very very small and insignificant, when compared to the greatest help, the Acharya has done to the sishya earlier.
It is our purva janma punyam that we have our Acharya to guide us in the righteous path to spread the fragrance of Arulicheyals and Divya sukthis of Alwars and purvacharyas and philosophy of Visihtadvaita, tarvelling far and wide throughout the country.Sishyas and Abhimanis living abroad in USA UK, Middle east, Singapore and Australia are blessed by His Tele –Upanyaasams every month for the last 6 years. His holiness is a Charismatic mentor, and his soulabyam, souselyam and His impartiality etc. won the appreciation of several thousands of his sishyas.
The following are some of the many Hymns authored by His Holiness Srimushnam Andavan which were composed more than 30 years ago in His purvasramam.
1. VeerAchala Sri RAmachandra SuprabhAtham (This work is sung in praise of Sri Ramar At Veerachalam. Veerachalam is a place in present day Andhra pradesh where Srimath Andavan Swamy served as a Sanskrit professor for many years.)
2. Prapanna Navaneetham (In this sthothram, the first letter of each slokam is highlighted. All the highlighted letters if read in a sequence gives a very special meaning pertaining to the sthothram)
3. PanchAnana PanchAmrutham
4. Krishna ThArakam (In this sthothram, the first letter of each slokam is highlighted. All the highlighted letters if read in a sequence gives a very special meaning, "Pranava kAra" in this case.)
5. VAkyAnvayAdhikarana vishayaha
6. PAdukavihAra sabhA prabhAvaha (This was composed by our Swamy on the greatness of PadukA vihAra sabhaconducted regularly. It was the 29th sabha on which he wrote this work and some mathematics in the slokams enshrined in this sthothram yield the number 29. In the last slokam, Swamy uses a special variant of rhythm known as "PadachaturUrdhvAbhidam vruttam".)
His Holiness is not only continuing what had commenced during the time of Poorvacharyas but also adding to the same and expanding the activities which are mentioned below.
His Holiness took up the project of building Brindavanams for HH Srimath Thirukkudanthai Andavan and HH srimath Mysore Andavan and renovated Brindavanams of other poorvacharyas for which samprokshanam took place in 1990.
H.H. also built Ashramams at Aurangabad , Azhvar Thirunagari, KR koil st (west Mambalam Chennai), Secunderabad , Oppiliappan Koil, Royampettai, srimishnam, Sripuram, (Bangalore) Thirumalai, Thiruchanur, Thiruvahindrapuram, Thiruppullani, Vaduvoor, (1&2). HH named the the vaduvoor Ashramam as "Sri Sakshath Swamy Mandapam" which accommodates Veda patasala for 30 students as of now. Renovation  of  Ashram Structures at Chennai, Jayanagar, Kanchipuram, Kumbakonam, Melkote, Rishikesh, and Secundrabad (maarappalli) were also done by HH Srimath srimushnam Andavan.
Construction of Sannidhi for Gopalarya Maha Desikan,(1700-1783)-Munitraya Siddhantha Sthapanacharyar, on his 301st birthday at his birth place Royampettai. Construction of Kalyana Mandapamat Ashramam premises in Kanchipuram for the convenience of devotees.
Constructions /Renovation of of temples, at Dombiville, Jayanagar, Kadal-mangalam,Kurugaikavalappan koil, New Delhi, Perumpetrapuliur, Sripuram, Thirukkandiyur, Uthiramerrur also took place during the past 15 years.
Starting of Veda Patasalas, at Vaduvoor, Kanchipuram, Thiruchanur, thiruvahindapuram and SriMushnam.  Starting of Aghama sAstra training, for the students at Srirangam patasala , nominating Koothapakkam Kannamachariar to train and award dheekshas, to deserving students.
Srimad Andavan arts and science college:  H.H. being a learned scholar and a teacher by profession before adorning the peetam, has a strong faith  that Education, should reach the downtrodden irrespective of cast ,creed or sex, paved way for funding this temple of education,declared open by The President of India Dr. Sankar Dayal sarma on 26th Oct 1996 which has 1250 students and 80 faculty members now that will upgrade as Deemed to be University with in 8 years.
Kalyanapuram R. Aravamudhachariar, Asthana Vidvan,Srimad Andavan Ashram under the advice of HH set  up  Harikatha training for students as optional in 2002 and 21 students were undergoing training.
HH has offered a Vajra kavacham for Perumal at sripuram temple in Bangalore
HH under His direct supervision made the utsava moorthies of sri Bhashyakarar and sri Rukmani sathyabhama sametha sri Venugopalan and sent them to USA for performing Thirumanjanam and Dolothsavam respectively for the grahams of Sevarthees.
A silver lined wooden simhasanam costing 3.5 lakhs, was offered by His Holiness to Thooppul Desikan during Purattasi Thiruvonam  in 2001.
Installation of new utsava Moorthy costing about 1 lakh at Vaikundanathji  Mandir in New Delhi .
Starting of a fund for offering Nithya Thatheeyaradhanam to the devotees visiting the Andavan Ashram at Thirumalai  and Kanjipuram during Brahmothsavam and so on.
Starting of a corpus fund for the maintenance of Ashram establishment that includes emoluments for the kainkarya paras, Life Insurance for them and their family etc.
Thus concluding this series with the  poem written by Poigaiadiyan on Srimushnam Andavan
வைகாசி ஆதிரைநன்னாளில் அவதரித்தவரே,
வையமுய்யநல்வழிகளைகாண்பிப்பவரே!
வைகாசி…
கலைகள்அறுபத்தாறுநன்குஅறிந்தவரே,
அலைபோன்றசம்சாரத்தில்மூழ்கியவரை;
நிலையானபதம்காட்டிஅருள்தனைபுரிபவரே,
தலையால்நின்தாள்நான்பணிந்திடுவேனே!
வைகாசி….
சரணடைந்தவர்கள்மனக்குறைகள்கேட்டு,
மரணபயத்திலிருந்துஅவர்களையும்மீட்டு;
சரணாகதிமார்கத்தைஅவர்க்குஉபதேசிப்பரே,
சரணடைந்தேன்நின்பொற்பாதங்களையே!
வைகாசி…..
It is our purva janma punyam that we have our AchAryAs to guide us in the righteous path and spread the fragrance of Arulicheyal and Divya sukthi of Alwars and PurvAcharyas and the philosophy of VishistAdvaitA, traveling far and wide throughout the country. As periAzhwAr says pallAndu pallAndu to perumAL, let us pray to the Divya Dhampathis for blessing our AchAryA, His Holiness Srimath Srimushnam Andavan, Sri Ranga rAmAnuja mahA dEsikan for Longevity with Good health to guide us all in the years to come.
Source for this article: www.ramanujamission.org