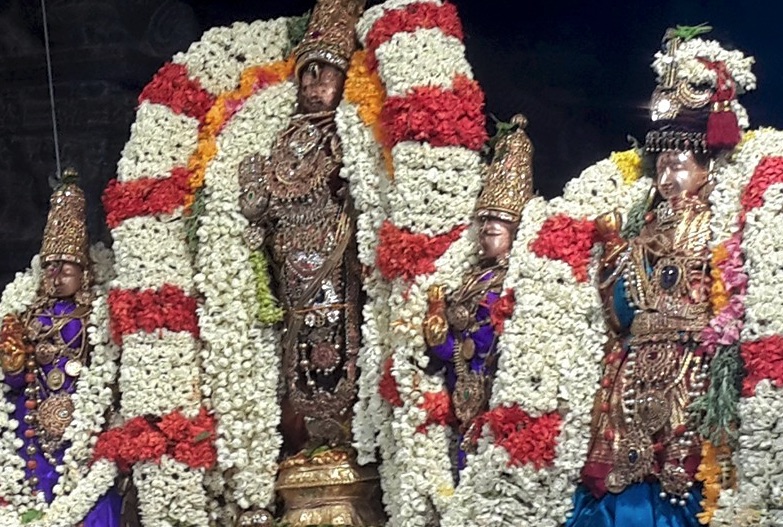 23rd March 2016 Manmatha Panguni Utthiram was a day of hectic activity at Varadaraja Perumal temple Kanchipuram. In the morning there was Tirumanjanam for Varadan and Consorts along with Malayala Nachiyar. Women devotees had mangala snanam(oil-bath) on this day  and wore new sarees. Their hands were decorated with marudhani(henna). Kalyana thaligai was prepared in homes and elaborate kolams were made at the temple and houses.
In the evening Varadan and His ubhayanachimars and Malayala Nachimar went in purappadu on Sannidhi street and after returning kalyanam(wedding) took place. Perumal and ubhaya nachimars were in the four legged mandapam near dwajha sthambam and Malaya Nachimar was inside the four legged mandapam at the gopuram entrance. Exchange of garlands was a beautiful ceremony wherein aradhakar swamis with the silk cloths around their nose carried garlands on their head accompanied by umbrellas and chamarams waving and performed 'malai-matrutthal' with care. This was followed by oonjal and then akshatai-aashirwadam' took place to the accompaniment of vedic chants.
After this ubhaya-nachimars and Malayala Nachimar were taken to the sanctum of Perundevi Thayar. Andal came to Thayar sannidhi too. The Five of them waited for Perumal's arrival. At the hundred-pillar mandapam 'ekanthaTirumunjanam' (behind the screen) took place and it was almost midnight when The 'Bridegroom' was ready in sarvalankaram. He moved slowly with the accompanient of music to Thayar sannidhi where He was offered nalangu(turmeric and lime) and welcomed inside. The crowds were huge and the wait was long as aradhanai and thaligai offerings were many. Every time the door opened the crowd grew eager but it was to let in or let out people carrying thaligai. It was almost 1.00 a.m when we managed to squeeze and shove and make our way inside. Oh the Sight we were lucky to behold was worth the waiting we felt. Infront of Moolavar Thayar was Varadan with ubhayanachimars, Behind them on either side were Andal and Malayala Nachiyar and at the side casting Her Divya Kataksham on all was Perundevi Thayar. Inspite of their busy schedule the priests gave theetham, Srisathari and turmeric to everyone cheerfully. Though it was very late when we came home the feeling of satisfaction was great and Bliss it was to be present at Satyavrathakshetram on the holiest of holy days.
To view the previous days Utsavam please visit:
The following are the photos taken during the Utsavam:
Courtesy: Sri Tirumundi Krishnan, Sri Krishna Durai, Write – up: Smt Vyjayanthi Rajan