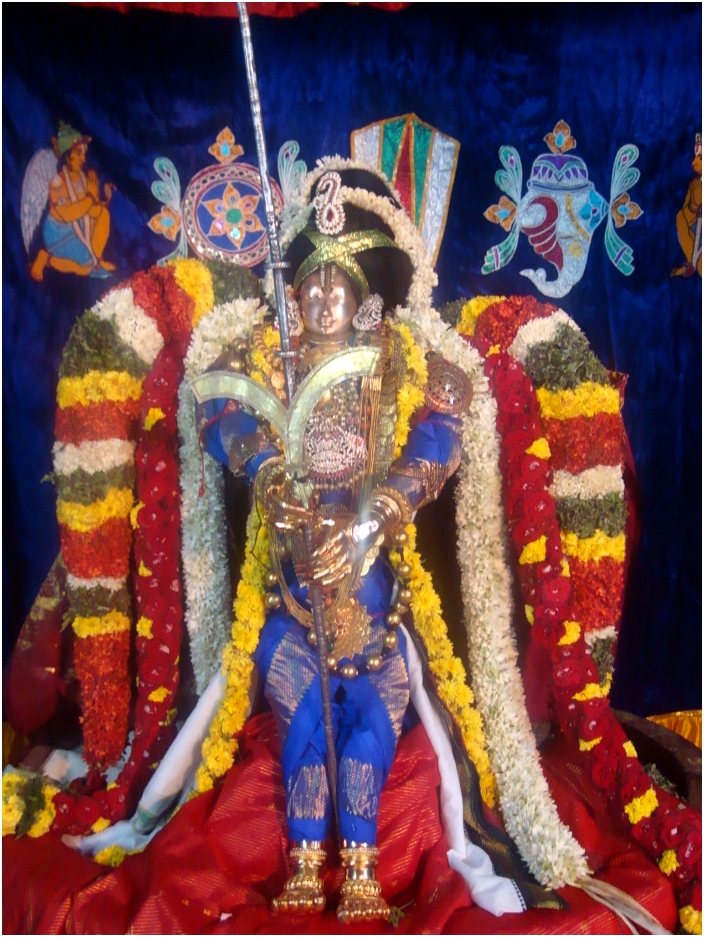 Today, December 22, 2013 is Day 7 of Margazhi masam. The seventh pasuram of Thiruppavai, Keesu Keesenru Engum, is to be recited today.
Margazhi month assumes special significance for Srivaishnavas. Lord Krishna in Bhagavad Gita says masanam margashirso aham (of months, I am Margazhi). Of the 12 sub-Vyuhas which are representative of the 12 months beginning from the Tamil month of Margazhi, Kesava is the lord for the month of Margazhi.
Most importantly, the month derives its auspiciousness primarily due to its association with ThiruppAvai. It was during Margazhi that Sri Andal observed the pious Pavai Nombu for Sriman Narayanan and composed the 30 pasurams of Thiruppavai for  the ujjeevanam (upliftment) of jeevatmas like us. Thiruppavai is very sacred and all our Acharyas have given commentaries on this prabhandam. The very fact that Swami Ramanuja was called 'ThiruppAvai Jeeyar' because of his deep attachment to this, illustrates the special place Thiruppavai had with Swami Ramanuja. In this Vijaya Varusham, the Margazhi month began on December 16, 2013.
For the benefit of Anudinam readers, we bring detailed Tamil commentary, musical recitation and detailed upanyasam audio by various vidwans (scholars) for each pasuram. It may be noted that the audio files are also available at www.sravanam.org
The following is an article about the seventh pasuram (Keesu Keesenru Engum)…
This Pasuram begins with keesu. keesu – the shrill notes produced by Bharadwaja birds. They create so much noise that it is impossible to sleep. The other sound is produced by the churning of curds by the cowherdesses. Added to the churning sound is the sound produced by their amulets and necklaces. The gopis with fragrant tresses are busy with their churning which is done early in the morning. Andal addresses the friend as their leader and invites her to sing about Narayana and Kesava. Kesavan means the slayer of Kesi- the asura who came in the guise of a horse. Kesava also means One with beautiful tresses. Kesava nama destroys klesham (sadness). It is a practice to repeat Kesava before going out of the house. Describing the multitude of sounds both outside and inside this girl is urged to wake up.
கீசு கீசென்று எங்கும், ஆனைச் சாத்தன்* கலந்து
பேசின பேச்சரவம் கேட்டிலையோ? பேய்ப் பெண்ணே!*
காசும் பிறப்பும் கலகலப்பக் கை பேர்த்து*
வாச நறுங்குழல் ஆய்ச்சியர்** மத்தினால்
ஓசை படுத்த, தயிர் அரவம் கேட்டிலையோ?*
நாயகப் பெண் பிள்ளாய்! நாராயணன் மூர்த்தி*
கேசவனைப் பாடவும் நீ கேட்டே கிடத்தியோ?*
தேசமுடையாய்! திறவேலோரெம்பாவாய்  (௭)
kISu kISenRu engkuM, Anaich Saattan* kalandu
pESina pEccharavaM kETTilaiyO? pEyp peNNE!*
kASuM piRappuM kalakalappak kai pErttu*
vaaSa naRungkuzhal aaycchiyar** mattinaal
OSai paDutta, tayir aravaM kETTilaiyO?*
naayagap peN piLLaay! naaraayaNan mUrtti*
kESavanaip paaDavuM nI kETTE kiDattiyO?*
tESamuDaiyaay! tirxavElOrempaavaay  (7)
కీశు కీశెన్ఱు ఎఙ్కుం, ఆనైచ్ శాత్తన్* కలందు
పేశిన పేచ్చరవం కేట్టిలైయో? పేయ్ప్ పెణ్ణే!*
కాశుం పిఱప్పుం కలకలప్పక్ కై పేర్త్తు*
వాశ నఱుఙ్కుళల్ ఆయ్చ్చియర్** మత్తినాల్
ఓశై పడుత్త, తయిర్ అరవం కేట్టిలైయో?*
నాయగప్ పెణ్ పిళ్ళాయ్! నారాయణన్ మూర్త్తి*
కేశవనైప్ పాడవుం నీ కేట్టే కిడత్తియో?*
తేశముడైయాయ్! తిఱవేలోరెమ్పావాయ్  (౭)
ಕೀಶು ಕೀಶೆನ್ಱು ಎಙ್ಕುಂ, ಆನೈಚ್ ಶಾತ್ತನ್* ಕಲಂದು
ಪೇಶಿನ ಪೇಚ್ಚರವಂ ಕೇಟ್ಟಿಲೈಯೋ? ಪೇಯ್ಪ್ ಪೆಣ್ಣೇ!*
ಕಾಶುಂ ಪಿಱಪ್ಪುಂ ಕಲಕಲಪ್ಪಕ್ ಕೈ ಪೇರ್ತ್ತು*
ವಾಶ ನಱುಙ್ಕುಳಲ್ ಆಯ್ಚ್ಚಿಯರ್** ಮತ್ತಿನಾಲ್
ಓಶೈ ಪಡುತ್ತ, ತಯಿರ್ ಅರವಂ ಕೇಟ್ಟಿಲೈಯೋ?*
ನಾಯಗಪ್ ಪೆಣ್ ಪಿಳ್ಳಾಯ್! ನಾರಾಯಣನ್ ಮೂರ್ತ್ತಿ*
ಕೇಶವನೈಪ್ ಪಾಡವುಂ ನೀ ಕೇಟ್ಟೇ ಕಿಡತ್ತಿಯೋ?*
ತೇಶಮುಡೈಯಾಯ್! ತಿಱವೇಲೋರೆಮ್ಪಾವಾಯ್  (೭)
Thiruppavai Pasuram 7 Musical/Recitation
Thiruppavai Pasuram 7 Upanyasams
Tamil Upanyasams
HH 45th Srimath Azhagiyasingar


HH Thirukkudanthai Andavan


Sri U.Ve. Madhavachar

Oragadam Sri U.­Ve. Lakshmi Nar­asimhachariar

Sri U.Ve. Velukkudi Krishnan


Sri U.Ve. Kuruchi Narayanan

Sri U.Ve. M.V. Ananthapadmanabhachar

Sri U.Ve.M.A Venkatakrishnan

Sri U.Ve. P.B. Annangarachariar



Sri U.Ve. K.B. Devarajan

Sri U.Ve. E.S.Boovarahachar

Telugu Upanyasams
Sri U.Ve. Aachi Srinivasacharya

Sri U.Ve. Sribashyam Appalacharya

Sri U.Ve. Santhana Gopalacharya