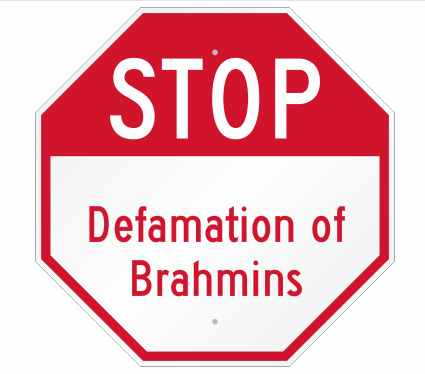 Letters to the Editor:
From a Anudinam Reader
After many decades of Tamil film industry mocking and degrading Brahmins in the films, now its the turn of TV channels to get into that sinful act, and to lead this defamation act is none other than Vijay TV.
After their successful sledding of Brahmins in last years dance program, now its time for them to use their singing program which was aired 10 days before to poke the Brahmins again.
In the name of Entertainment and jovialness, hurting ones practices and beliefs has become a common thing for the Film and TV industry – Do they care about others?
Who has given them the authority to do this? Or is it something that everyone in TamilNadu takes it for granted to mock the practices, beliefs and slang of the Brahmins Or are Brahmins soo tolerant or negligent to see them getting mocked.
In olden days, the King of any rule, used to protect the Brahmins and serve them, as the entire wealth and the happenings of his kingdom is based on the activities of the Brahmin. Let it be to bring rain or getting advised for war or what not, they consulted the Brahmins and their Vedic knowledge. But as everyone knows, gone are those days and past few decades has been particularly against our culture, due to the combined effort of soo called intellectual (ignorant and arrogant) politics.
This singing program in Vijay TV, starts with two buffoons (Comperes) trying to showoff as Brahmins in their attire and pejorative speech followed by introduction of the soo called judges of the program. These anti-cultural elements, seems to forget that there is some other judge who is evaluating all their actions. A famous singer and the compere buffoon has their wigs with Shikha/kudumi and they think, as if its a playing toy. Do they know the significance of Shikha/kudumi? Can they do a similar mockery of any other sect or religion for that matter? Do they dare to do it? Certainly not! These TV channels in the name of  reviving old culture and traditions mock at the Brahmin culture with their immature compering. Another beauty of this program is that of spoiling the young kids in the name of bringing out their talents.
Are we ourselves culprit ?
Who are those Brahmin ladies present during this show? Are they real Brahmins or actresses? My observation sees them as ladies from Brahmin families. If its true, are we ourselves degrading us and helping others degrade our community.  Can't we realize that these westernized TV channels are trying to make money by selling our rich culture and heritage. Do these parents really care about their children's future. Just providing them education and richness in wealth alone their duty? Don't they mind transferring the age old traditions and heritage of ours, in an unpolluted way. In the name of open mindedness and modernism, are we ourselves spoiling what our ancestors has preserved for ages together and we ourselves becoming self-destructive! Are we ourselves motivating these just money minded channels to produce such programs, by showing our interest towards such unethical shows degrading Brahmin community. These TV channels deceive the parents by showing off that they are bring out the talent of their kids, but in this process heavy damage is done in various other aspects of those kids life!
These TV channels derive interest to broadcast cheap shows due to a part of the Brahmin community encouraging them by allowing their kids to participate in such shows.
How can these (Brahmin) ladies in that program see some anti-cultural elements mocking them and still enjoy it? Are these people from Alien land or from our own age old culture and traditions? Are we following double standards in the name of conservativeness and modern outlook?
Tambraas – Brahmin Association – Are they sleeping? Their website reads as follows: "In the everyday life of a Brahmin, Thambraas is playing a constructive role with a view to protect the interests of our community from all dimensions." – Is it so? If yes, have you filed a defamation case against Vijay TV for airing such a program?
Just to increase their revenue, TRP and viewership rating these third-rated and cheap TV channels are ready to do anything, and they have already succeeded in the process of selling our values and traditions.
What Britishers couldn't completely achieve in their 350 years of spoiling our traditions and culture, What the politics of Tamilnadu couldn't completely achieve in the last 60 years, these TV channels had done it in just 15 years. Kudos to their destructive nature and the vulnerability of our own people.
By: JK
Voice your opinion!
If the video doesn't play click the link below to view it in youtube:
http://youtu.be/EdyH9yCKl_c