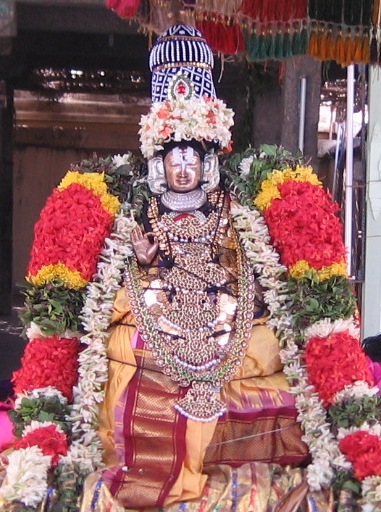 Today, 1st of July 2012, Aani Anusham, is the Thirunakshatram of Srimath Nathamunigal.
If Vaishnavism has a global appeal today, it is due to the great Nathamuni who literally recovered from oblivion the hymns of the Alwars and inaugurated devotional Vaishnavism. Ranganathamuni as Nathamuni was originally called was born at Veera narayana puram near Kattu Mannar Koil. His other names are Shadamarshana Kula Tilakar and Sottai Kulathu Arasar. He is believed to be the Amsam of Gajaananar, one of the Nityasuris in Paramapadam and one of the ministers of Vishwaksena -( not to be confused with the elephant headed son of Siva).(PPM)
His period has been placed at Kaliyuga 3684 (according to Katapayati Samkhya) which corresponds to 584 AD of Christian era . PTA, however, places him at Kali 3264 which corresponds to 164 AD. All are, however agreed, that he was born in the year Sobakrit, Ani month, in the constellation of Anusham in Krishna Paksha, Thithi 7, a Wednesday (GLE and PRA).
The following passage foretells his birth: " There will arrive one Natha, a great Yogi who by his yogic power will restore to the world the long lost sacred collect of Sri Satakopa" (Vriddha Padma Purana quoted by PPV and referred in GLE) According to PPM, he lived for 340 years from 593 AD to 933 AD.
It was a period when the reign of Buddhism and Jainism had lost their influence due to the glorious efforts of the devotional hymnology of Alwars and Nayanmars. People had retired in smug satisfaction forgetting the Alwars and their monumental works.
While Nathamuni was worshipping at the local temple, he heard a few pilgrims reciting a decad of Nammalwar's Tiruvoimozhi praising Lord 'AraVamudhan'- the unsatiating nectar. This concluded saying " those who recited these ten which formed part of my 1000 psalms "would become the darling of the Gods." Nathamuni was so impressed with the poetic beauty of the decad and asked them whether they knew the full text of Tiruvoimozhi or at least point out anyone who could help. They directed him to one Parankusa daasa in Kurugur who was a disciple of Madhura kavi.
Natha muni made straight to Kurugur but Parankusa daasa also could not help. But, he suggested that if Natha muni could recite the " Kanni nun Siruthambu" of Madhura kavi 12,000 times at one stretch in front of the famous tamarind tree in Adhi natha temple, he might get an insight into the original verses. This Natha muni did with utmost devotion. He obtained in his trance a vision of Nammalwar himself who personally taught him not only his own compositions but also those of all the other Alwars. Since he got his insight into the Divya Prabandhams through the Paasuram on Aravamudhan, he came to be known as Aaraaa Amudh Aazhwaan"
Natha muni promptly codified the treasure of devotional hymns as the 'Nalayira Divya Prabhandam'. He set them to melodious music and rhythm and taught them to his two nephews Sri Krishnan and Sri Varadan also known as Keezhai Agathu Alwan and Melai Agathu Alwan and brought to the forefront the long lost Divya Prabandham.(PPM). He also revived the Adhyayana Utsavam instituted by Tiru mangai Alwar. The tradition of reciting these had been established by him and kept alive these 1000 years and more . He also institutionalized the tradition of 'Arayar Sevai' before the Lord on special occasions -( a form of dance performed by male dancers specially trained for the purpose) in the Srirangam temple even today. Similarly, it was he who revived the propagation of Rahasyas and Vyasas Brahma Sutra. It was from his time only that our Sampradaya began to shine like a beacon light. He had 8 Sishyas. After a long life of 340 years , major part of which was spent in yoga (meditation), he ascended to his Heavenly abode during the lifetime of Manakkaal Nambi. (PPM)
Naatha muni works include
( 1 ) Nyaya Tattva which contains the following 5 chapters viz., ( i ) Jnaana (Knowledge), (ii) Prameya ( Objects of cognition), (iii)Pramaatru (the Cognizer),(iv) Karma (Action) and (v) Nyaaya (Logic)
( 2 ) Yoga Rahasya which is said to have contained the nuances of devotion (Bhagavad Upaasana) to the Lord through Dhyaanam (meditation) and
His grandson, Yamuna muni later known as Aalavandaar was just 12 years of age when Natha muni passed away. And, it is this Aalavandaar who inaugurated the matrix of Sri vaishnavism by his spiritual leadership.
Sri  Natha Muni's Tanian reads as follows:
Naathena Muni Naathena Naathavaahanam | 
 Yasya Naikamikam Tattvam Hastha Aamalakathaam Gatham || 
Another Tanian runs as follows : (SAA)
Namoh Chintayaathbhutha Aaklishta Gnaana Vairaaghya Raasaye | 
 Naathaaya Munaye Ekaantha Bhagavad Bhakti Sindhave || 
(meaning)Salutations to Naatha muni who is having single minded devotion to the Lord and who is the treasure of both Gnaana and Vairaaghya.
Familial lineage and Guru-Sishya Parampara from Sri Naatha muni to Sri Raamaanuja muni
The familial Parampara of Sri Naatha Muni is as follows:
His son was Sri NAATHA MUNI.
His son was Easwara Bhatta Aazhvaan.
His son was Yaamuna Muni.
His son was Sottai Nambi.
The Guru- Sishya Parampara from Sri Naatha Muni to Sri Raamaanuja Muni is as follows: (The primary Sishyas name is given in Block Capital letters while the names of other Sishyas is given in Ordinary letters)
SRI NAATHA MUNI- His Prime Sishya was- PADMAAKSHAR aka PUNDARIKAAKSHAR, UYYAKKONDAAR. His other Sishyas were
(1) Kurugai Kaavalappan
(2) Nambi Karunaakara Daasar
(3) Yeru Thiruvudaiyaan
(4) Tiruk Kanna Mangai Aandaan
(5) Vaana Maa Devi Aandaan
(6) Uruppattur Aachaan and
(7) Sogathur Aachaan
Source: Ramanuja Tripod