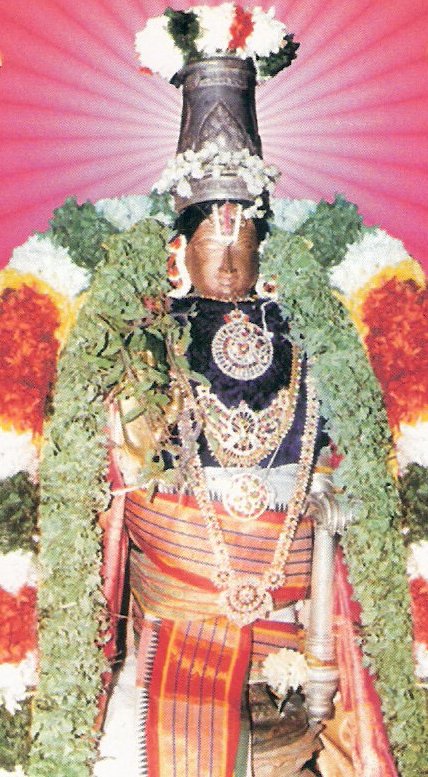 Thiruarimeya Vinnagaram is one of the 11 Divya Desams in and around Thirunangur near Seerkazhi. Deities from each of the ThiruNangur temples go out on a street procession on Garuda Vaahanam and come together at Mani Mada Koil.
The Background to the Thirunangur Divya Desams
Angered at not being invited for the Yaagam conducted by Parasakthi's father Dakshan, Shiva is said to have performed the Rudra Thaandavam in a place called Ubaya Cauvery (between Cauvery in the South and Mani River in the North), a few kms South East of Seerkazhi.
So aggressive was his performance that for every hair that fell down on the ground, a new form of Shiva emerged. And very quickly 11 forms of Shiva were each performing the Rudra Thaandavam. Sensing a possible damage to the world as a result of Shiva's fury, Lord Vishnu appeared here before Shiva as Paramapatha Naathan.
Softened by the presence of Lord Vishnu, Rudra requested Vishnu appear in just as many forms. Lord Vishnu is said to have acceded to this request and provided darshan to Rudra in 11 different forms here in Thiru Nangur, having taken one form each from 11 different Divya Desams. These together constitue the 11 Divya Desams in and around Thiru Nangur.
In the Tamil calendar month of Thai (mid Jan-mid February), the deities from these Divya Desams go out on a street procession in the Garuda Vaahanam and congregate at the Mandapam in the Narayana Perumal Mani Maada Koil in ThiruNangur. At the Mani Maada Koil, Thiru Mangai Azhvaar sings praise of each of the 11 forms of Vishnu.
How to reach Seerkazhi
One can reach Seerkazhi from Madras in about 5 ½ hours by bus via Cuddalore, Chidambaram. Currently, there are no trains to Seerkazhi as the Villipuram-Mayavaram stretch is under broad gauge conversion.
It is best to visit the Thiru Nangur Divya Desams in the first half of the day. One can start with Kazhi Cheerama Vinnagaram in Seerkazhi at 7am. From Seerkazhi, one can take an auto and visit all the Thiru Nangur Divya Desams in one go. It will take about 5- 6 hours and will cost about Rs. 250-300.
Thiruarimeya Vinnagaram Kudamaadu Koothan Koil: Legend has it that Hari who lifted the Govardhana mountain himself came and resided here with the intention of destroying the evil forces. It is believed that Lord Vishnu appeared as Gopala Kannan, pleased with the penance of Sage Uthanga.
Quick Facts
Deity: Kudamaadu Koothan East Facing Sitting Posture
Goddess: Amrutha Kada Valli
Utsavar: Gopalan
Azhvaar: ThiruMangai Azhvaar 10 Paasurams (1238-1247)
Temple Timing: 8am-12noon and 4pm-7pm
Priest: R. Narayana/ Rajagopalan Bhattar
Contact: 04364 275689/94439 85843
Source: prtraveller