Nagareshu Kanchi Pachaivannan and  Pavalavannan
(Emerald and Coral hued Perumal)
 Pachaivannan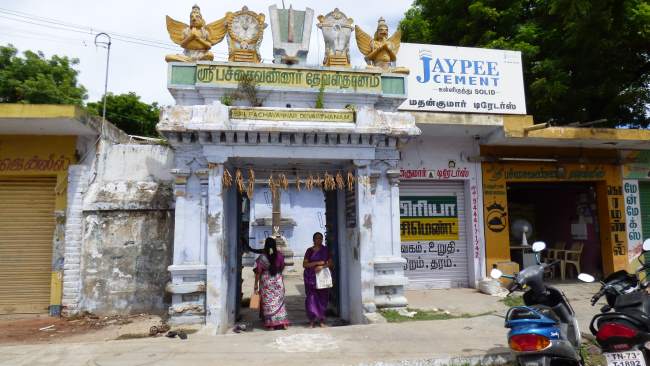 Temple entrance-Pachaivannar temple
Situated very close to Kanchipuram railway station are two temples for Perumal facing each other  –  Pachaivannan  and Pavalavannan. While Pavalavanna Perumal has found mention in Azhwar pasurams and therefore considered a divyadesam, Pachaivannan is not mentioned and is not considered a divyadesam by some. Others are of the view that the two temples are to be bracketed together.
 Dwajasthambam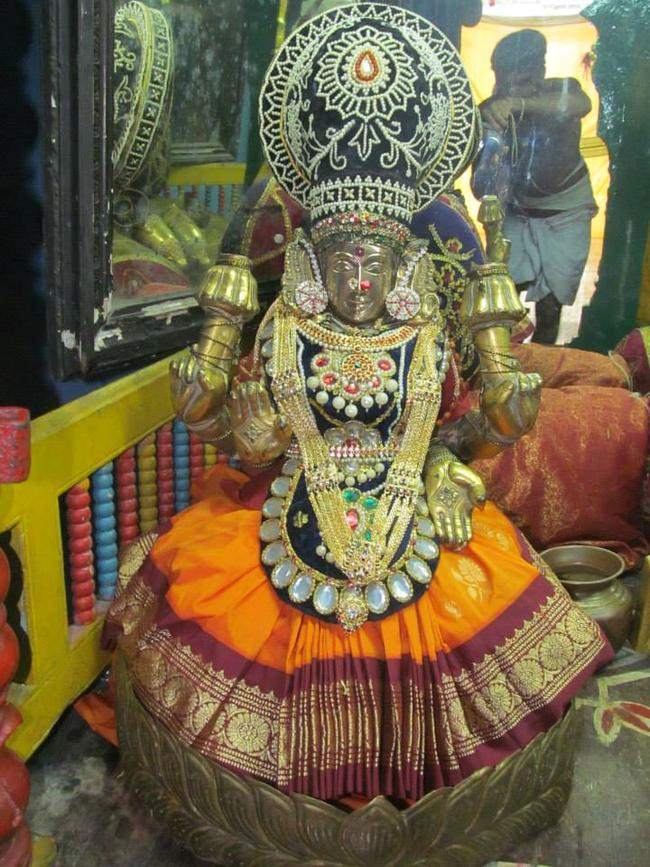 One morning at about 9.30 we left our house in South Mada street near Varadaraja Perumal koil on our two-wheeler for having darsan of the Colourful Perumals. We reached the temple in about 20 minutes. Auto rickshaw from Varadan's temple will cost betweenRs.80 and Rs.100. One can take a bus to Kanchipuram bus stand and walk to the temple.
Pachaivannar at the entrance top
Margathavalli Thayar sannidhi
Generally Narayana is referred to as Neelameghashyamalan that is dark blue like the rain bearing clouds or the deep ocean. But He is also referred to as a mountain of Emerald that is dark green. Actually He takes whatever varnam (colour ) He chooses for every colour is His Creation. During 'samudramantham'(churning the ocean of milk) He assumed many hues. That green is His preferred colour is evident from Thayar's Tirunamam 'Maragathavalli' which is the name in several divyadesams in and around Kanchipuram.
Andal-Acharyar sannidhi
Inorder to hit this point He exists as 'Pachaivannan' in the temple which bears His Name. We located the temple with help from locals and saw the board  'Pachavannar Devasthanam'. After prostrating at the dwajhasthambam we entered  'Perumal Sannidhi'.  The mandapam outside had Perumal in green colour wearing yellow veshti in standing posture flanked by Garudazhwar on both sides.  As we moved in there was a display board showing the temple timings, puja schedule etc. There were sannidhis for Andal and Azhwars and acharyas but they were closed when we visited. We entered the 'garbha griham' and handed over our mite to the aradhakar swami who offered the dried grapes and showed 'karpoora-harathi' while explaining about Perumal. Pachaivanna Perumal in ninra tirukolam gave darsan to Marichi maharsi as Rama. Utsavar is Pachaivannan with ubhaya nachimars.
Puja Details
We next proceeded to Thayar Sannidhi which is just adjacent to Perumal sannidhi as we move in pradakshinam (clockwise). Thayar's mandapam shows Thayar in green flanked by lions on either side. We entered Her garbhagriham and had darsan of  'Loka matha'(Universal Mother) in sitting posture. After making our offering and getting Srisathari and kumkuma prasadam we went around in pradakshinam.
The vimans of Thayar and Perumal need a facelift. The sannidhis are however well maintained and the silver' perumal patrams 'were clean and sparkling. At Thayar sannidhi there was a board saying that a visit to Pavalavannan sannidhi was essential. Elders view is that after visiting Pavalvannan temple, Pachaivannan had to be worshipped inorder to get fully the benefit of visiting the divyadesam. Since we did not know the order we visited 'Pachaivannan' first and proceeded to Pavalavannan next.
Pavalavannan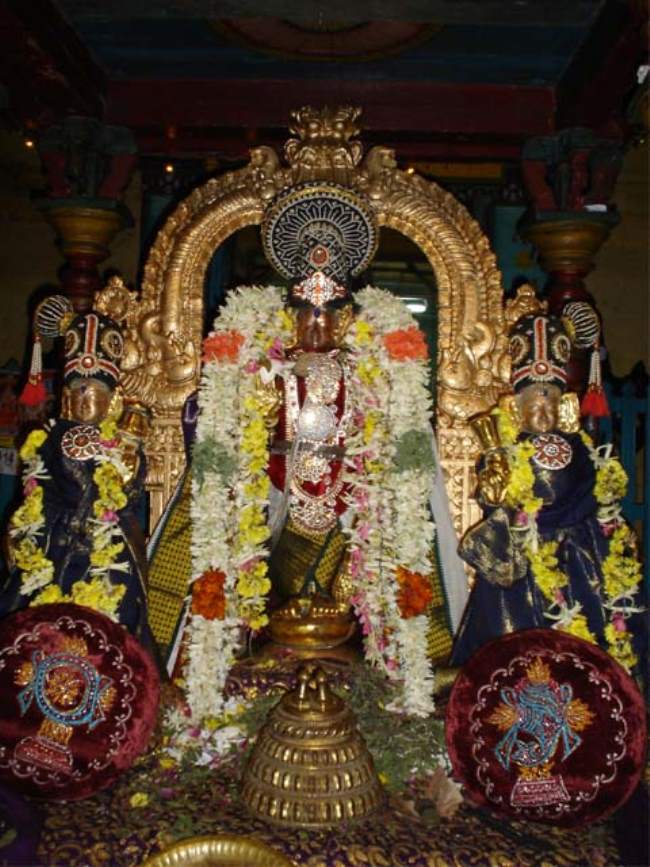 Pavalavannan with Consorts
A straight road from Pachaivannan lead us to Pavala vannan or Pravalavannan temple, that is the twin temples face each other. This Perumal has been praised by Tirumangaiazhwar and thus qualifies as a divyadesam.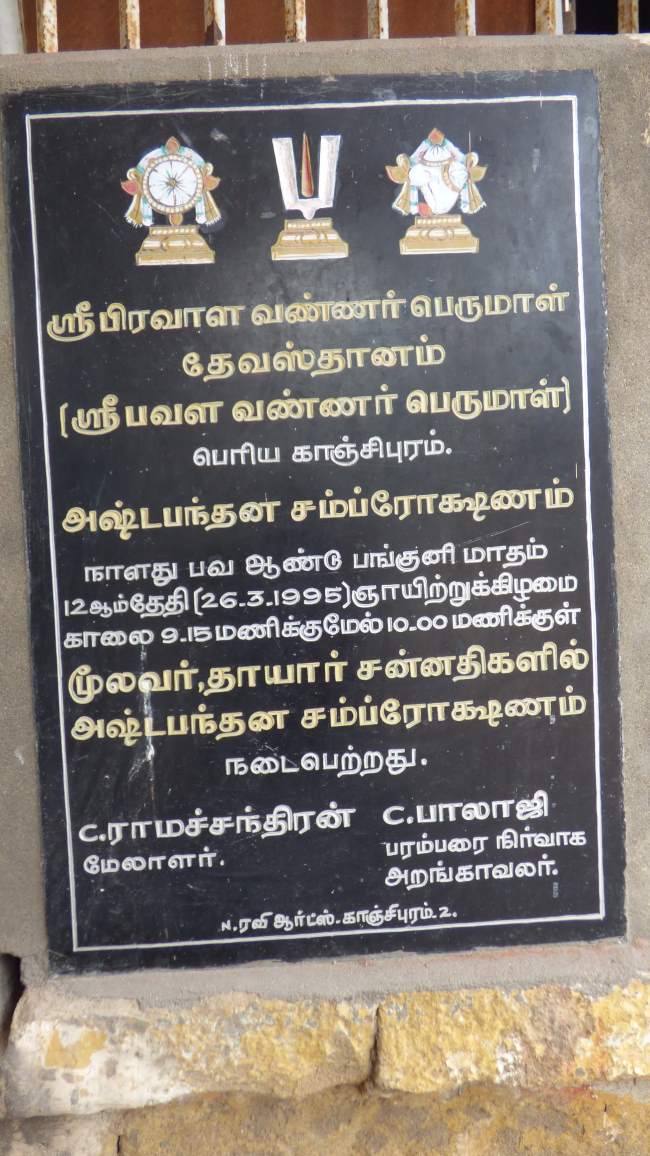 Coral is called 'Pravalam' in Sanskrit and 'pavazham in Tamil. The question is how did Perumal assume this hue? Most divyadesams in Kanchi are associated with Brahma's ashvamedha yaagam and how Vishnu removed the obstacles that came by. He slayed the asuras who came to disrupt the yagyam and their blood splashed all over His Tirumeni giving it a coral colour. So He gives  darsan to us in archa Tirumeni as 'Pavalavannan'.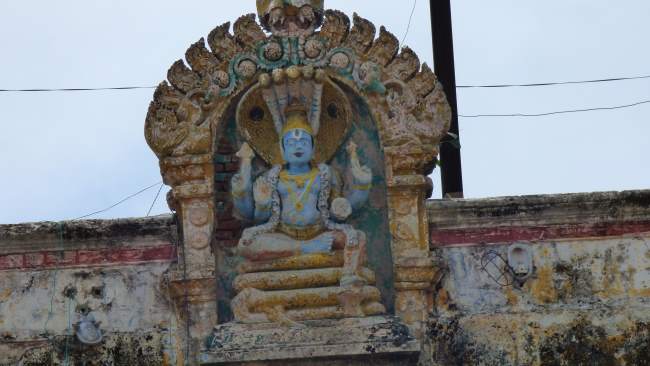 Pavalavannan entrance
He is in sitting posture facing west and is also known as Vaikuntanathar. Utsavar is in standing posture with Sridevi and Bhudevi. After offering prostrations at the dwajhasthambam and worshipping Garudazhwar facing Perumal we made our way to Perumal's sanctum.
After worshipping there and taking theertham and Srisathari we came out and went along the pradaksina margam.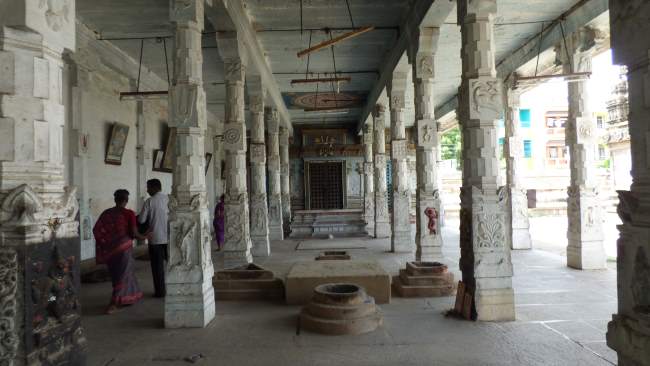 Yaaga salai
There was a huge mandapam with several pillars . On the pillars were carvings of Thumbikkai azhwar, Hanuman and different forms of Vishnu.and we were struck by the figure of a devotee offering dandavath pranams in cement infront of a platform resting on a tortoise. Inside the mandapam was a sannidhi for Andal  There was a black and white photo of Pravalavalli Thayar and Badrinarayana of Badrinath. There was a kanadi-arai ,ayaaga saalai and udaiyavar sannidhi
As we moved we viewed the vimanam which clearly showed Vishnu in seated posture.As we completed the pradakshinam we reached Thayar Sannidhi. Thayar is Pravalavalli in seated posture and after praying to Her we came out.
Our circumbulation was complete. As we made our way out we noticed a huge tank which was totally dry. Also the head of Garudazhwar at the top of the compound wall was missing. Such an ancient hallowed temple needs to be renovated and restored. Perumal and Thayar are well cared for but the surroundings call for attention.
Garudazhwar to the left with missing head
Writeup & Photography : Vyjayanthi Rajan & Sundararajan