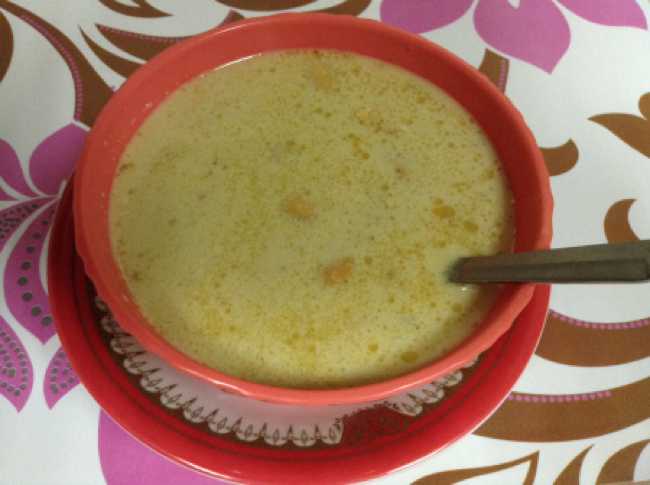 Ingredients
Godhuma Ravai/ Braoken wheat – 1/2 cup
Water – 3 1/2 cups
Milk – 1/2 cup (boiled)
Jaggery – 1 3/4 cups (grated)
Cashew nuts – 7 – 8
Raisins – 12 – 14
Cardamom Powder – 1/2 tsp
Method
Heat ghee in a heavy bottomed vessel and fry cashew nuts pieces till golden brown. Remove to a plate and add raisins to the vessel and saute till they swell and turn slightly dark.
Remove them to the plate that you had transferred the roasted cashew nuts. Set them aside.
To the same ghee, add the broken wheat and fry on low to medium flame till the raw smell disappears and it changes to deep red color.
Add 3 1/2 cups of water and place lid. Cook on medium flame, stirring once in a while. The broken wheat will absorb the water and swell and cook till soft.
Add grated jaggery and cardamom powder and mix. The jaggery will begin to melt and the payasam will become watery. Cook without lid on medium flame till the payasam thickens.
Turn off flame and slowly add the milk and keep mixing till well combined. Remove to a serving bowl and garnish with roasted nuts and raisins.
Now the Godhuma rava/Broken wheat Payasam is ready to serve.
General guidelines for healthier food – Both body and mind:
One should be thinking about Perumal (Nama Smaranam) while cooking, and the purpose should be to offer the preparation to Him.
Once the food is prepared, it should be offered to Perumal first. While offering, one should make sure that the food is neither too hot nor cold. It should be offered with love and affection.
Please do not offer either pre-cooked food bought from outside or any pre-consumed food.
Please follow thiruvaradanam kramam as instructed by your respective acharya. (http://anudinam.org/2012/03/08/bhagavad-tiruvaradhanam/)
Follow ahara niyamam as much as possible. Atleast make sure that onion and garlic are not used at all.(http://anudinam.org/2012/06/11/srivaishnava-ahara-niyamam/)
Please ensure that food which are not prasadams are not consumed.