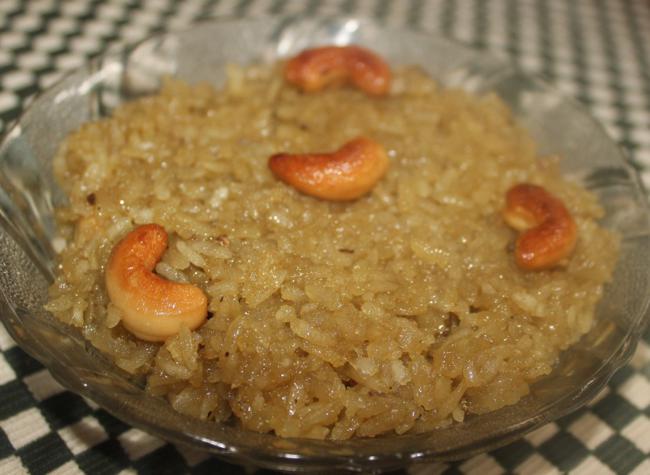 Ingredients
Aval – 1 cup
Warm Water – 3-4 tbsp
Grated Coconut – 1/2 cup
Powdered Jaggery – 3 tbsp
Cardamom Powder – 1/4 tbsp
Sugar – as needed
Roasted cashews, almonds, raisins – few
Ghee – 1 tbsp
Method
Take the aval in a large mixing bowl and add 2 tbsp of water. Mix it well.
Add the remaining 1 or 2 tbsp as need and mix again. All the aval flakes should look moist. You should be careful because too much moisture will make it soggy.
Mix in the grated coconut, jaggery, Sugar, cardamom powder.
Cover and let it rest for 5-10 minutes. This time is perfect for the sugar to melt a bit and mix up with the moisture from the grated coconut.
Then add all the roasted cashews, almonds, raisins and ghee.
Now Sweet Poha is ready to serve.
General guidelines for healthier food – Both body and mind:
One should be thinking about Perumal (Nama Smaranam) while cooking, and the purpose should be to offer the preparation to Him.
Once the food is prepared, it should be offered to Perumal first. While offering, one should make sure that the food is neither too hot nor cold. It should be offered with love and affection.
Please do not offer either pre-cooked food bought from outside or any pre-consumed food.
Please follow thiruvaradanam kramam as instructed by your respective acharya. (http://anudinam.org/2012/03/08/bhagavad-tiruvaradhanam/)
Follow ahara niyamam as much as possible. Atleast make sure that onion and garlic are not used at all.(http://anudinam.org/2012/06/11/srivaishnava-ahara-niyamam/)
Please ensure that food which are not prasadams are not consumed.