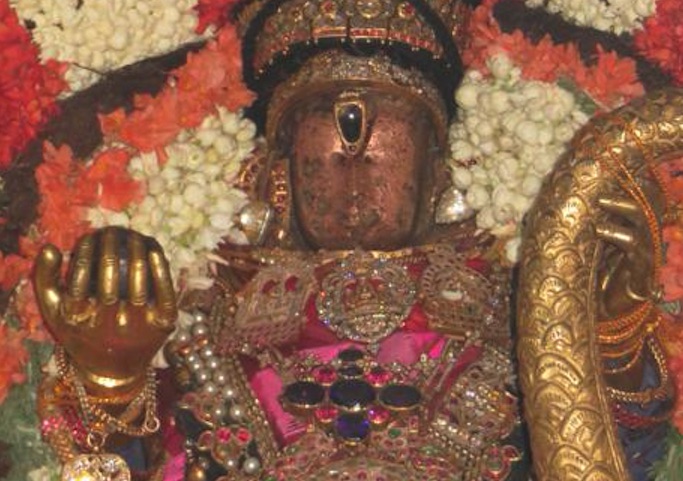 24.02.2016 was the second day of 'Dhavanotsavam' at Kanchi Varadaraja Perumal temple. At about 10.00 a.m. vishesha Tirumanjanam took place for Perumal, His Consorts and Perundevi Thayar at the 'kanadi-arai' mandapam.
In the evening at about 6.00 p.m. Perundevi Thayar and Varadaraja Perumal along with Ubhaya Nachimars came in purappadu captivating everyone with Their Adbhutha Soundaryam'. Varadan revealed His 'Kaliya narthana Krishnaswaroopam'. Dressed in a vadamalli silk veshti with blue jari border tied up tightly, He held the tail of Kaliyan in one Hand and His bejewelled Feet was on Kaliyan's head. He was fully dressed with long braid and sported complete ornaments from Head to Toe ready to perform the 'Dance-Divine'. Thayar too was in a similar coloured silk but with a green border and when having darshan from behind we had to look at the velvet bolster to decide who was who. As the procession moved to Thayar's Sukravara Mandapam inside the temple nandavanam we enjoyed Tiruvaradhanam performed to the Divya Dampathis and did pradakshinam of Them to enjoy the alankaram at close quarters. Theertham, Srisathari and a variety of prasadams were given to the huge gathering.
The 'pathi-ullathal' was magnificient and the two bhattars leading looked like twins. The manner in which the ubhyadars offered vethilai-paku and different fruits and dry – fruits at every corner was a sight to see. After three rounds of the garden along Azhwar Tiruchutru to aasthanam.
The following are the photos taken during the Utsavam:
Photos : Sri Elangadu Ranganatha Chakravarthy & Write – up: Smt Vyjayanthi Rajan