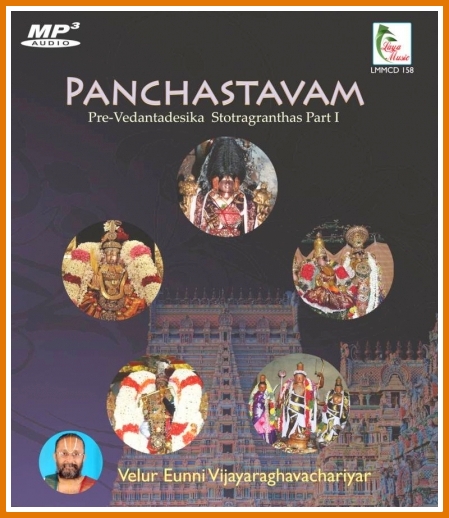 Koorathazhwan (also known as Kuresar or Srivatsankamisrar), a revered sishya (disciple) of Swami Ramanuja, has gifted us with five important stotras, popularly known as Panchastavam. These are Sri Vaikunta Stavam, Athimanusha Stavam, Sundarabahu Stavam, Sri Stavam and Varadaraja Stavam.
Koorathazhwan's contribution to Srivaishnava sampradayam is immense. Koorathazhwan who hailed from a village called Kooram (near Kanchipuram) was a very wealthy person not only in terms of money but also in terms of Atma gunas (qualities), appearance and intelligence. His nobility and philanthropy had no bounds. He gave up all his wealth for the sake of sampradaya. He assisted Swami Ramanuja in writing the SriBhashyam. Koorathazhwan's Panchastavam are an exemplary work of devotion and dedication.
The first of his works is Sri Vaikunta Stavam comprising 100 shlokas. As the name suggests, it is about Sri Vaikuntanathan/Paramapadanathan and contains the saaram/essence of SriBhashyam.
Next is Athimanushya Stavam consisting of 61 shlokas. In this stavam, Koorathazhwan extols the divine deeds of Perumal in the vibhava avatars of Rama and Krishna as well as Nrisimha avatara briefly.
Sundarabahu Stavam praises Thirumalirumcholai Kalazhagar (Sri Sundarabahu Perumal) in 132 shlokas.
Sri Stavam consists if 11 shlokas praising the divine qualities of Sri Ranganayaki Thayar of Srirangam.
Varadaraja Stavam comprises 102 shlokas for Kanchi Varadaraja Perumal and is the last of Koorathazhwan's works. Koorathazhwan composed the stavam at Swami Ramanuja's command to get back his lost eyesight. In this stotra, Koorathazhwan prayed for the liberation of his traitor shishya Naluran.
Pachastavam audio CD, available at haristore.com, is a beautiful rendition of Koorathzhwan's works by Sri Velur Eunni Vijayaraghavachariyar. There is a flat 50 per cent off on the audio CD (available for Rs 99 only) until Koorathazhwan's thirunakshatram (Thai Hastham, January 29, 2016). Devotees may procure a copy of Panchastavam audio CD from haristore.com either for themselves or to gift to someone.