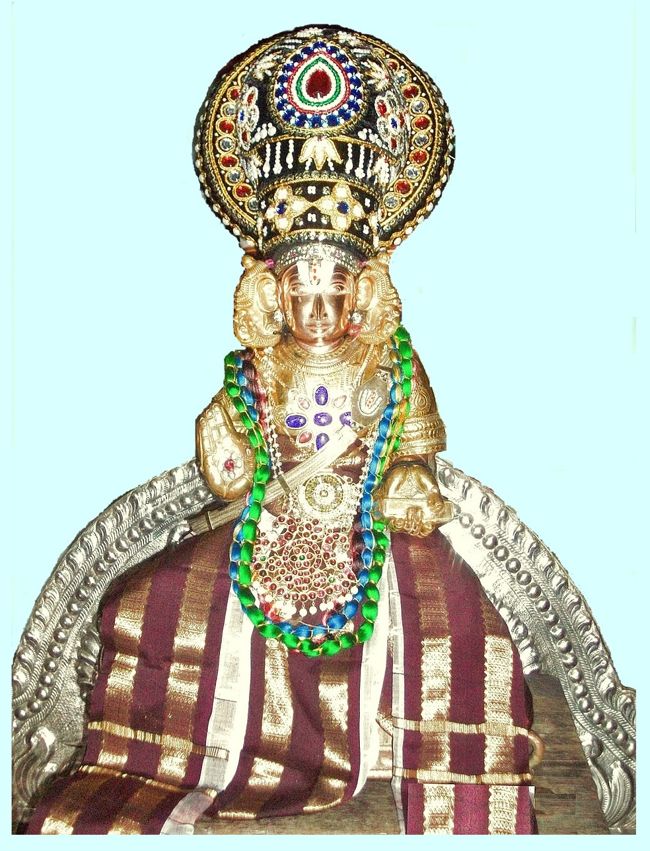 The 747th Acharya Jayanthi is being celebrated at Mumbai Sri Vedanta Desika Sampradaya Sabha ,Matunga ,from 15 Sep to 24 Sep 2015 ,This will be followed by Upanyasams from 25th to 28 Sep 2015.
The Programme  from 15th to 24th Sep 2015 (except on 20 Sep) 3 pm Daily Sevakalam ( Veda Grantha Divya Prabandha,Stotra patam), 7 .30 pm  Satrumurai, 8 pm  Goshti. On 20 Sep 2015 Srimad Adivan Satagopan Thirunakshtram is also being celebrated during this utsavam. On 20 Sep 2015 , Chembur Sri Ahobila Mutt Temple Sri Prahaladavaradan will grace the utsavam,  from 8 am to 4 pm. Sevakalam, Thirumanjanam, are the highlights of this Perumal   Vijayam.Satrumurai , Theertham, Satarai, Goshti is around 12.30 pm.
 On 24 Sep 2015 , Thirunakshtra Dinam of Swami Desikan . There will be Sevakalam at 3.00 p.m  and in the evening 5.30 pm Satrumurai ,followed by Sambhavanai, Goshti.Utsavam is expected to conclude by 8 pm.
 Please see Ubhayam details in the utsava patrikai and devotees are request to support this Annual Utsavam.
 Upanyasam on Sri Desika Prabandham & Stotras of Swami Desikan is from 25 Sep to 28 Sep 2015  by Sri.U.Ve.Velukkudi Krishnan Swamin
The schedule of event is given in the patrikai
Courtesy: Govindrajan s