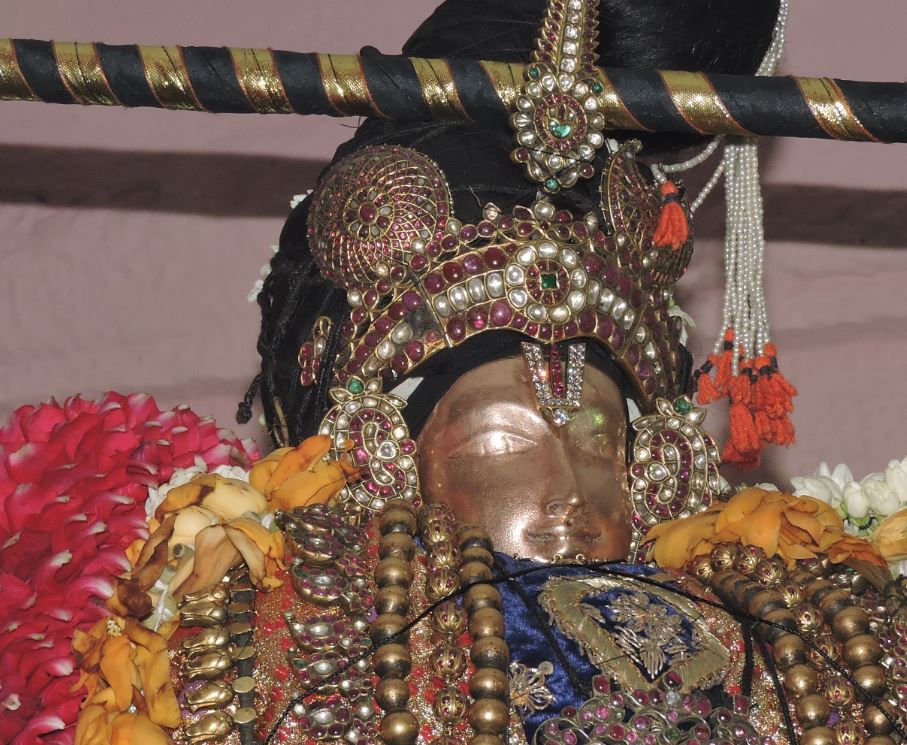 Travelogue (In The domain of Tirumangai azhwar)
On the morning of April 1st 2015 we left Srirangam after dwadasi paranai.Sri Venkatramani and Hema were taking us to their house in Annankoil by car. It was 10.00 a.m. when we left. After crossing Kallanai we stopped at Appakudathan.  We have crossed this temple several times but never  managed to be there during temple hours. We enterd a gopuram and climbed about twenty steps to enter the temple. The dwajasthambam is on the steps. Since repair and restoration work was on, the place was dusty and in a state of disarray. As Balalayam is on we could not have darshan of Moolavar Perumal. We had darshan of utsavar and Kamalavalli Thayar Since this temple is at the foot of Srirangam it is called Koviladi. It is also known as Tirupernagar. Appalaranganathan or Appakudathan is the Perumal here and appams are offered every evening here. We did archana to Perumal bought hot appams from the priest's house before proceeding further.
Balalayam in progress at Koiladi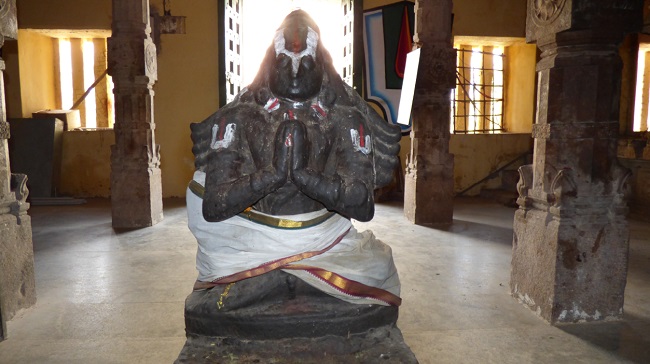 Garudazhwar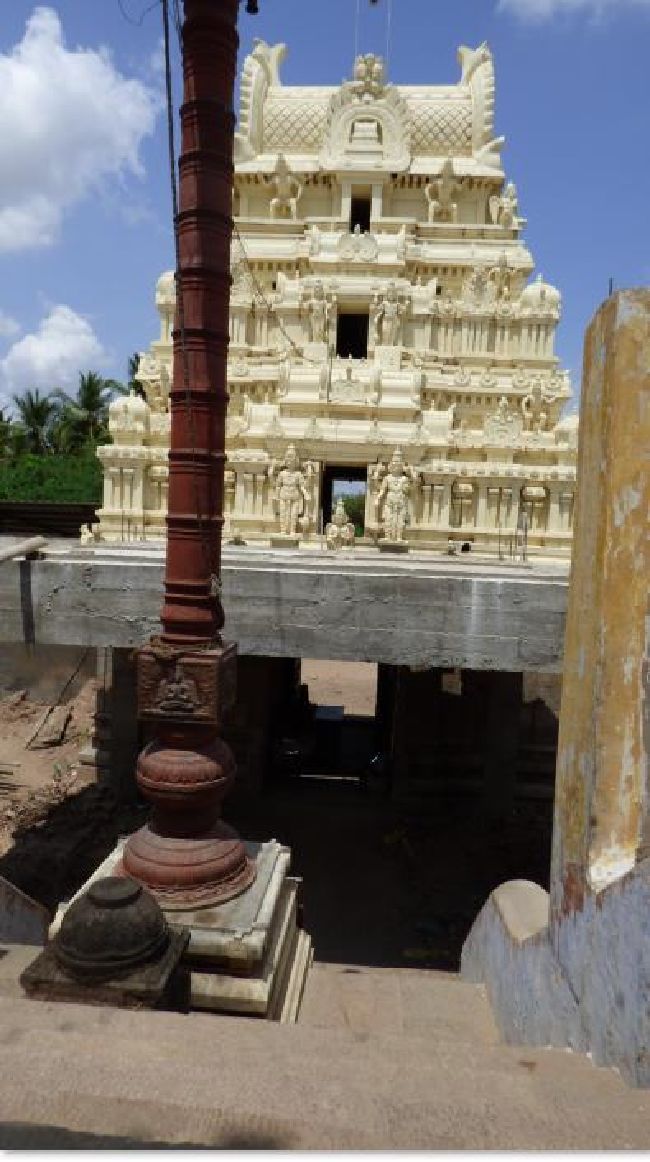 Dwajhasthambam in between the steps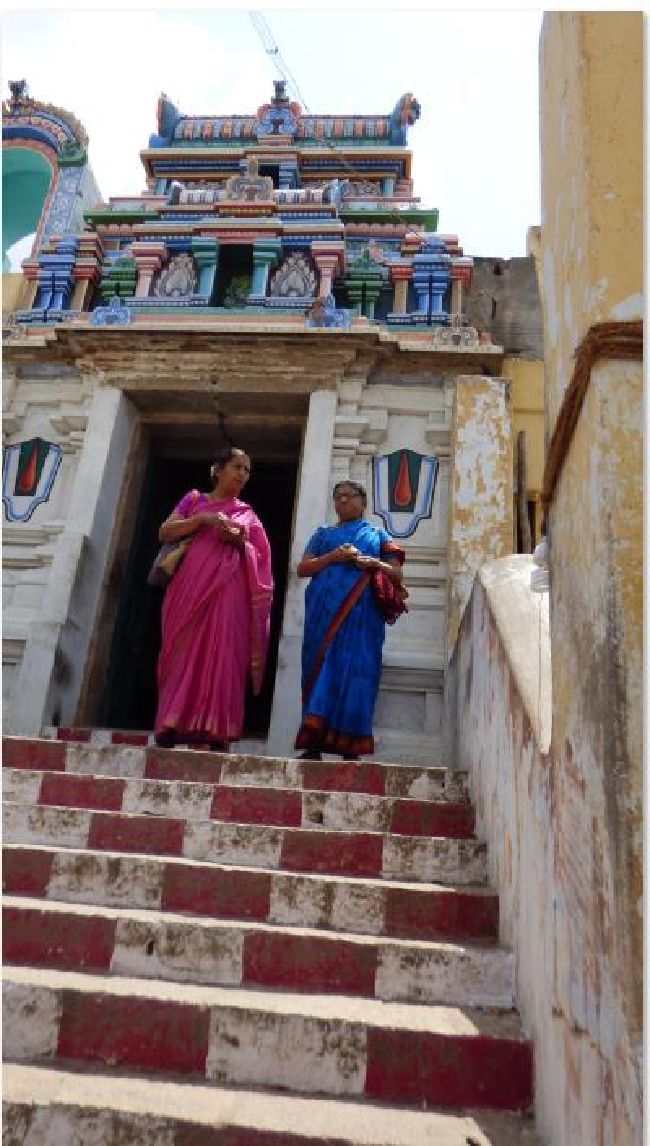 At about 3.00p.m.we reached Annan koilgardens where Hema /Ramani's house is located. We spot the brightly painted Tiruman shanku chakram from a distance itself and as the gate opened we saw the garden beautifully tended by the couple. Flowers and vegetables growing fresh makes one happy. We couldn't but marvel at Perumal's shrishti which is so perfect. Thin wiry creepers bear huge pumpkins, the cluster-beans and brinjals and ladyfingers mingled with the roses and jasmines and Tulasi flanked by banana plants bending their heads with the weight of the meroon flowers with small plantains waiting to ripen. Butterflies and bees and birds of various kinds and a stray dog with two puppies wagged their tails vigorously in welcome. After resting and relaxing we proceeded to Annan-koil armed with a torch . The first thing we spied was a beautiful pond with lotuses. It being evening the flowers were shut and Hema told us that this was the pond from which Kumudavalli nachiyar took  avatharam.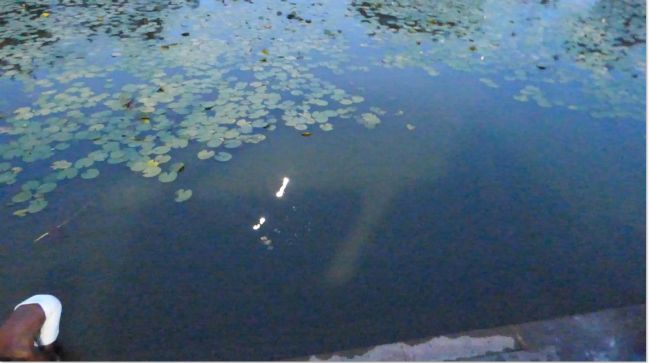 Kumudavalli Thayar avathara sthalam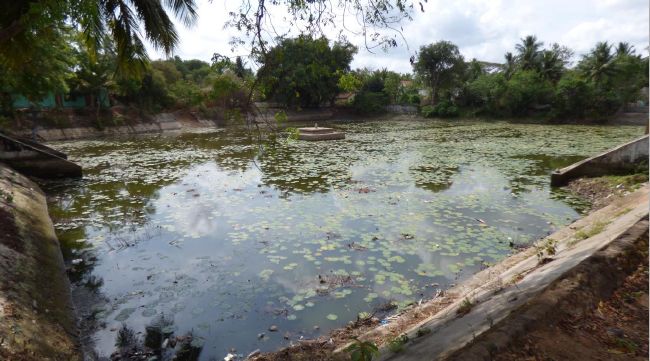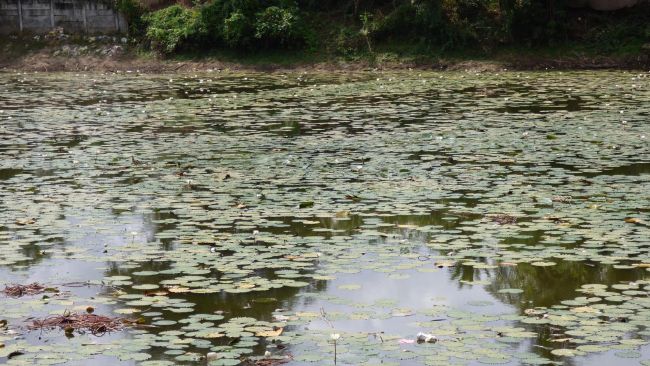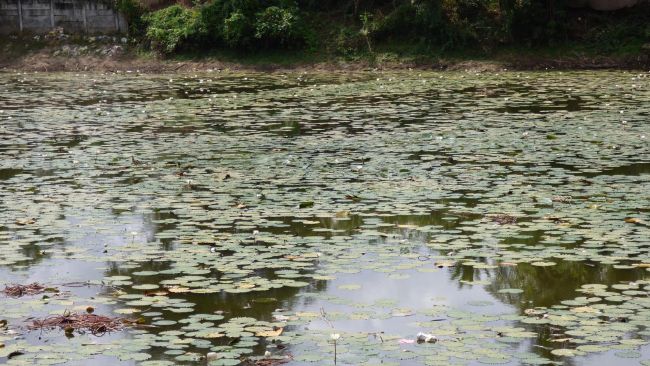 Tiruvellakulam(the pond with white water-lilies)
It was with awe that we offered our pranams to the hallowed spot and did prokshanam (sprinkled water) for this StriRatnam gave us Tirumangai azhwar. Smitten by her beauty Tirumangaimannan a chieftain of the area wanted to marry her. She agreed if he fulfilled two of her conditions:  1)To become a srivaishnava by getting panchasamskaram (samashrayanam) and  2)To feed thousand Srivaishnavas daily for a year. Tirumangaiazhwar fulfilled the conditions even though he became a pauper and resorted to robbing the rich. This kulam or pond has given the name Tiruvellakulam to this place. Vellai in Tamil means white. This kshetram is associated with Swethan (sanskrit word for white), the son of Dundhumaran of suryavamsham who was destined to die at the age of nine. After bathing in the kulam he sat under the bilva tree on its banks and did mrithyunjayamantrajapam. The result was that he was blessed by Perumal and he  lived upto a ripe old age. Perumal is Srinivasan, Kannan also known as Annan Perumal and Thayar is Alarmelmangai (Moolavar) and Padmavathi or PoovarTirumagal (Utsavar). After buying flowers and offerings for archanai entered the temple to have darshan of Lord Srinivasa and Alarmelmangai Thayar.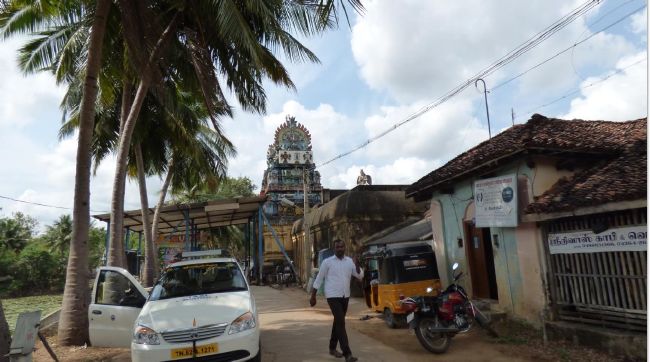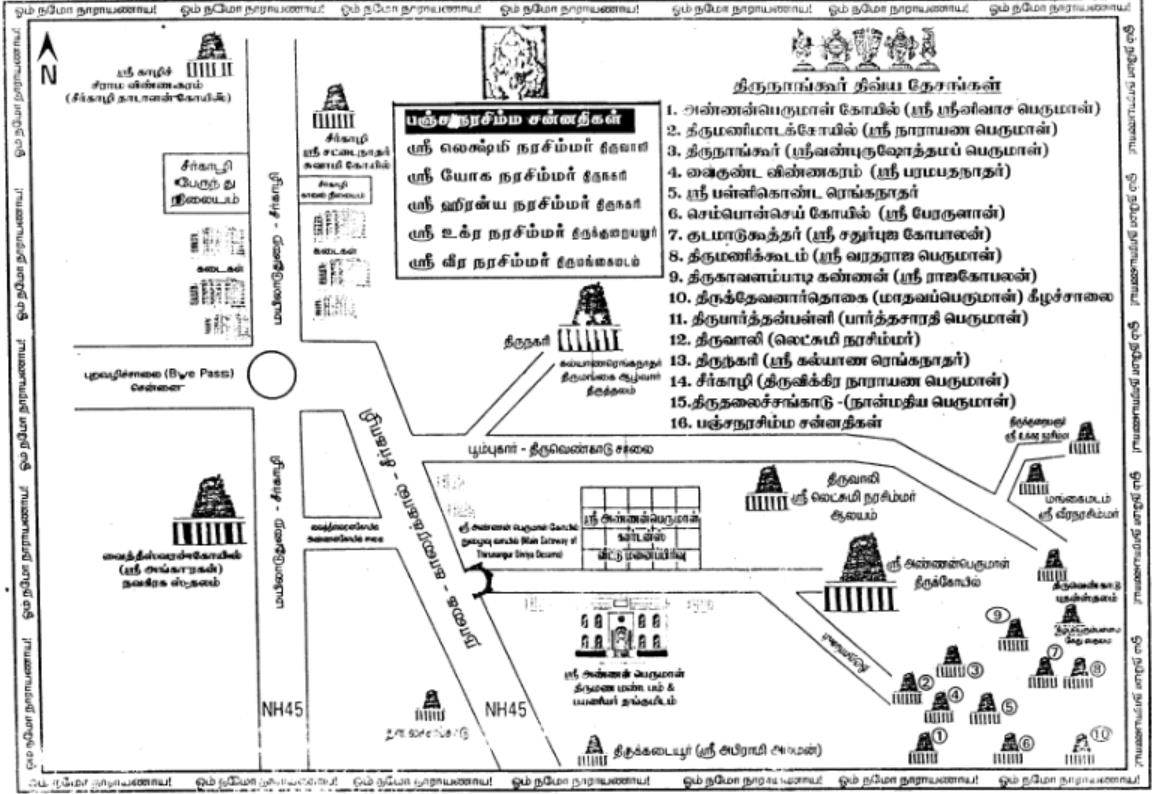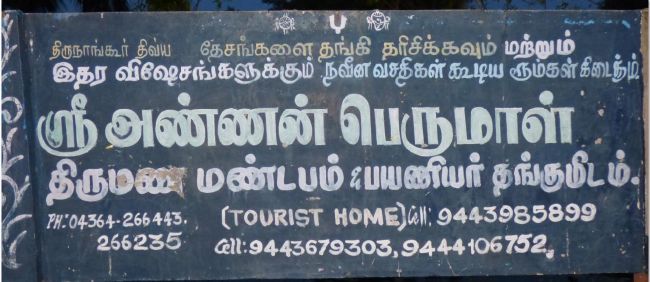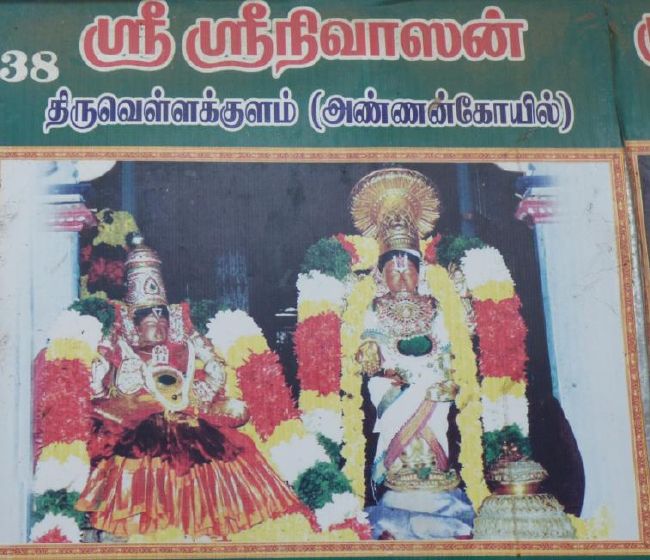 Need a place to stay note the address above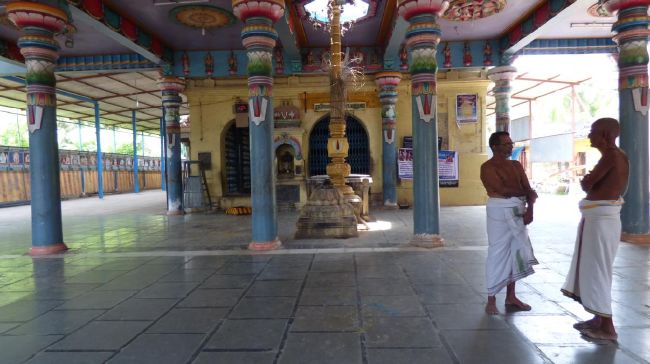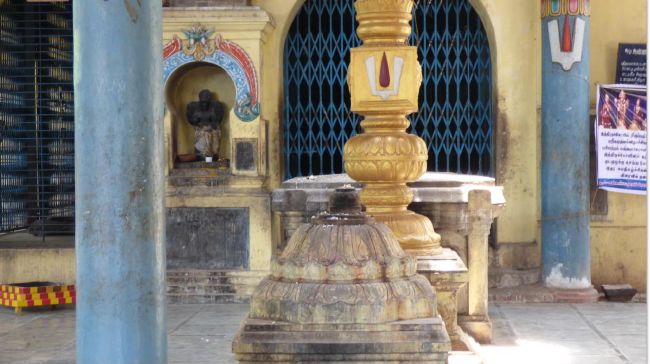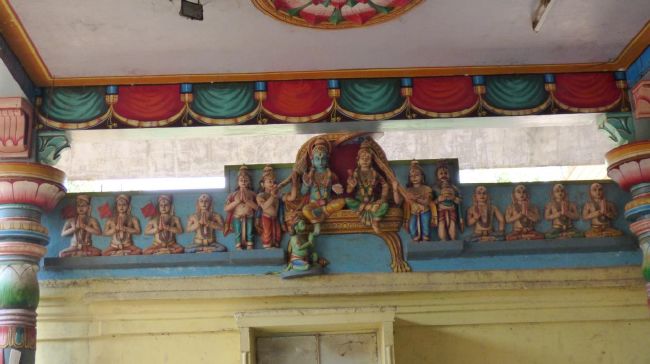 Annan-koil
As we made our way home with the torch on (plenty of power-cuts in this area) the moon shone brightly in the sky (it was full-moon night) the tranquillity of the place was apparent and because nature has not been tampered with yet the summer night was cool. Sri Sundararajan and Ramani paid a visit to the temple on 3/4/2015 and got the sthala puranam and 108 Divyadesa Thayar- Perumal archanai recorded. Madhava Bhattar who is the chief-priest  of the temple was kind enough to spend time to share these with us.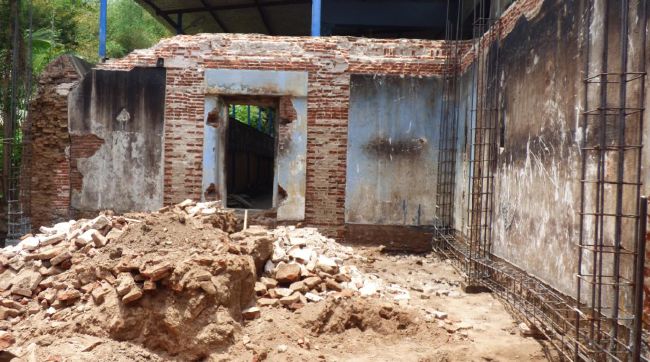 Annan Koil Tirumadapalli undergoing repair-contributions are welcome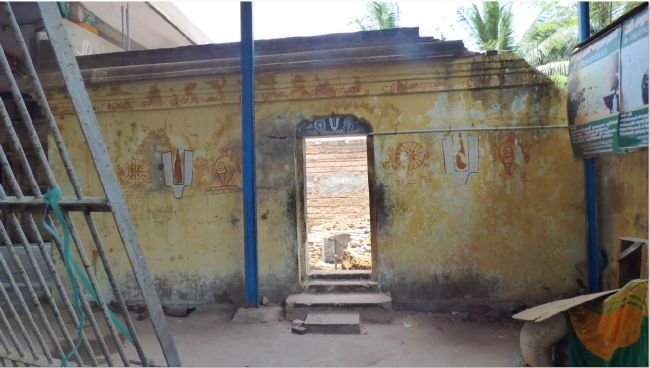 Annan Koil Yagasalai under renovation
2nd April 2015 after breakfast Sri Ramani took us to Van Purushottama Temple.
As we entered the temple to our right was a jackfruit tree with jackfruits in different stages of fruitition. A monkey was atop the tree enjoying its breakfast periodically throwing down the remnants. We noticed that a nandavanam (garden) was laid around the prakaaram and a board giving details of Muralidhara swami's involvement with the temple. At swamiji's behest Chennai silks director is making regular contributions for several day to day offerings or the Lord. A noble venture worth emulating. We notice a brown cow being readied for Vishvaroopam and applied vermillion on its back. Thirty three crores of devathas reside at the back of a cow and  should be worshipped.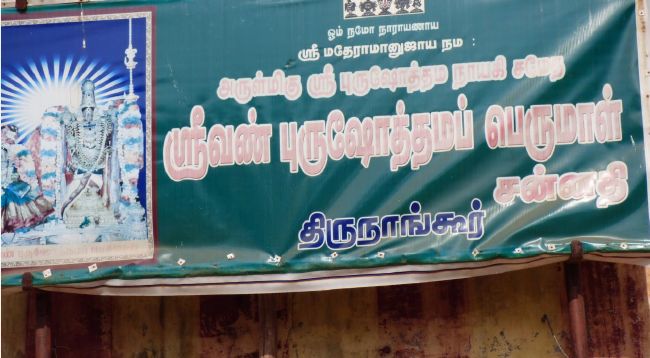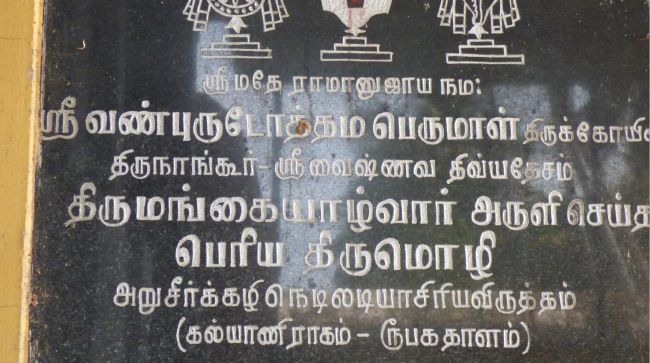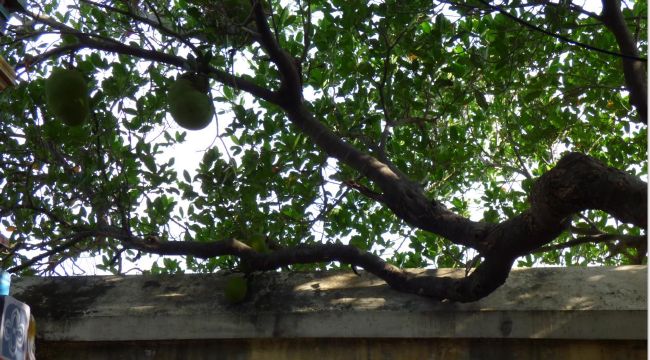 Sthalavriksham(jackfruit tree)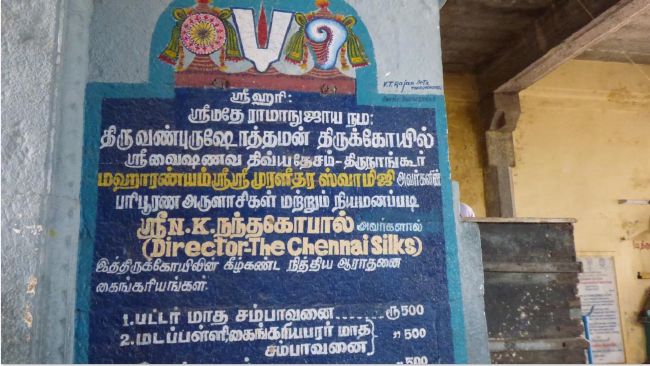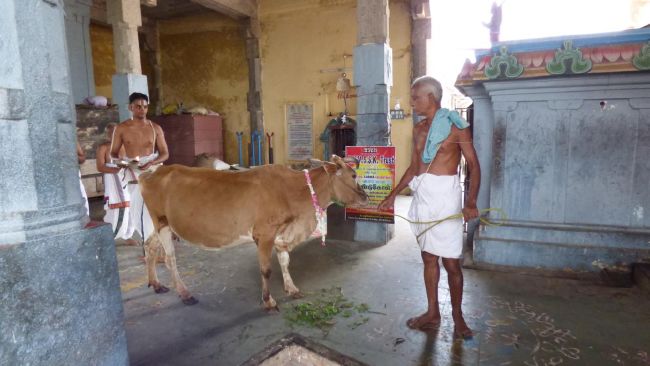 Go-puja at Van Purushothaman
When the priest signalled that we could enter the temple we made our way in. The galaxy of Azhwars and acharyas in the kanadiarai (mirror room) caught our attention. Manavalamamunigal was resplendent in alankaram and stood out. He spent two years in this temple worshipping Purushottama Perumal and his 'vadivuazhagu churnikai is recited  during Garuda sevai. In the Srivaishnava garland of divyadesams we have three divyadesams ruled by Purushottama-Devaprayag which is on the Badrinath route, Uttamarkoil near Srirangam and Van Puruthoman of Tirunangur. Perumal alone is Purushan and Uttamapurushan refers to Srirama who was the embodiment of dharma. Perumal Chathurbhuja Rama manifested before the sixth Rudran (Incidentally the eleven Tirunangur Perumals manifested before the ekadasha rudras )and has senkol signifying that He is lokaraja (king of the universe). That Rama took avatharam as Krishna is revealed by the presence of cows and calves at His Feet. Also at His Feet are the divyamangalamurthis of Tirumangaiazhwar and Kumudavalli nachiyar. Vygrapadhamuni came with his child Upamanyu to this kshetram and was engaged in collecting flowers to make garlands. Upamanyu got hungry and started crying at that time. Thayar Purushottamavalli nudged Perumal and He brought forth Ksheerabdi (ocean of milk) to feed the child with milk. The pushkarni is palkadal, the sthalavriksham is palasa (jackfruit) and shenbagam flowers are the Lord's favourite. The aradhakar of the temple(Ubha. Ve. Vedarajan swami) is a young man who has post-graduate degrees and works at the local school but what is admirable is his interest in sampradhaya and his  involvement and dedication. Swami was kind enough to tell us the sthala puranas of 7 of the 11 Tirunangur divyadesams which are under the custody of Prathivadi Bhayankaram Annan family. He made time for the recording in between his really tight schedule and we recorded three divyadesams  on the first visit and the rest on our second visit to the temple which was on April 3rd. It was Panguni Uthiram day and we had serthi sevai of Purushothama and Purushothamanayaki as also Tirumangaiazhwar and Kumudavalli nachiyar. It was a double bonus for us as we got photos of the Divya Dampathis as also Azhwar dampathi. After the puja Ubha Ve. Vedarajan swami gave us the rest of the sthalapuranams.  Van Purushotthama Perumal's karuna was indeed great for is He not 'karuna kakutsan'?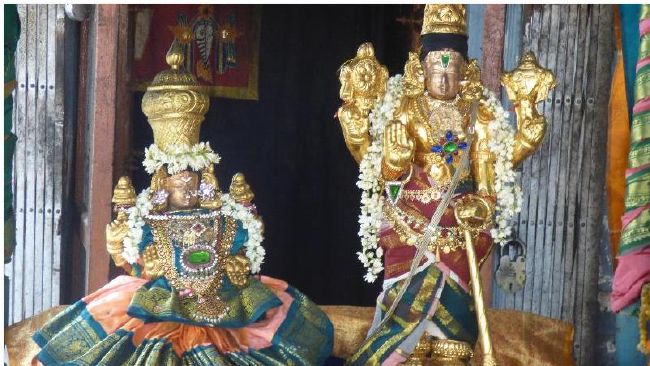 Purushothama and Purushothama nayaki in Ekasimhasanam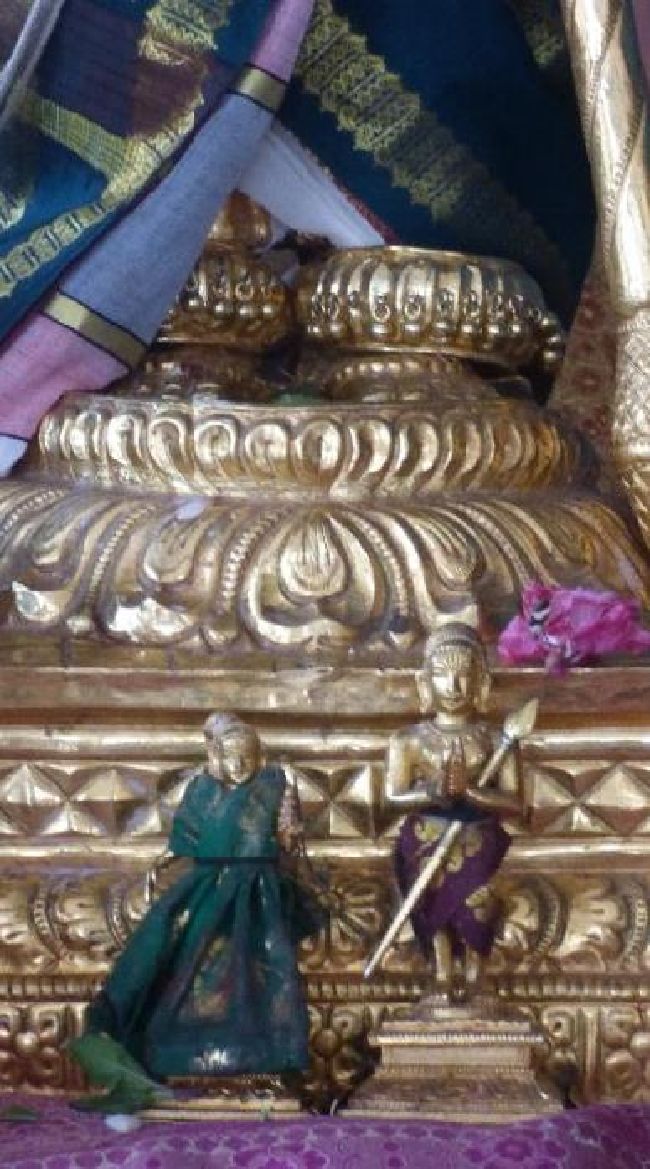 Kumudhavalli nachiyar and Kaliyan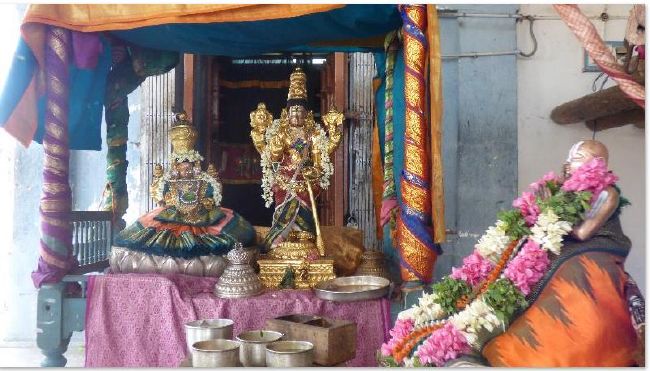 Ramanuja's saranagathi  during Panguni Uthiram serthi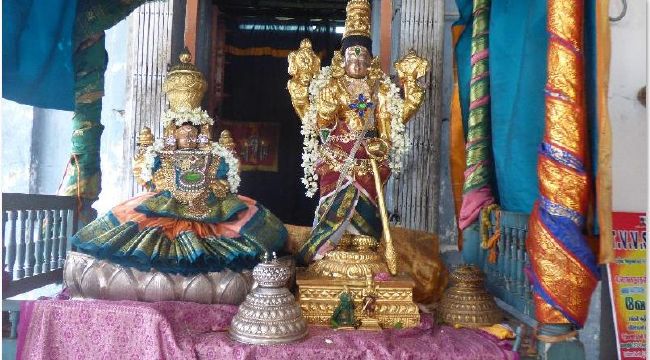 April-2nd afternoon- At about 2.30p.m. we left for Tiruvali to attend the kalyana utsavam of Kalyana Ranganatha and Amrithavalli Thayar. The crowd was big and we were afraid that if we left our seat we would not get the space again so we did not not go inside to have darshan at the sanctum sanctorum. We participated in the wedding ceremony of the Divya Dampatis which was conducted in a small mandapam But all the  wedding rites were done and like it happens in our house weddings there was a clamour for rice-flour (to draw kolam ) and trays etc and once the Tirumangalyadharanam was over relief was there on all faces. Why do we have kalyana utsavams at temples? It is for our kalyanam (well-being). The excitement, nervousness, hurry and happiness were all there and even as the coconut rolling was on people got up to go home as in human weddings.
April 3rd: This Perumal and Thayar were to be waylaid by Tirumangaimannan at night and since we knew his program we went to Vedarajapuram at midnight to participate in the famous Vedupari utsavam. The experience was electrifying and one felt as if we were in Tirumangaiazhwar's time participating in every move. Once Tirumangaimannan got  mantropadesam from Thayar and Perumal seated on Garudan. When we reached Annankoil it was almost  3.15 a.m. Lot of devotees headed for Srirangam for Panguni Uthiram serthi but we had miles to go in Tirumangaiazhwar's land before we could return home to Srirangam.
The newly weds all covered up
Tirumangai mannan is coming
That's a lot of Loot!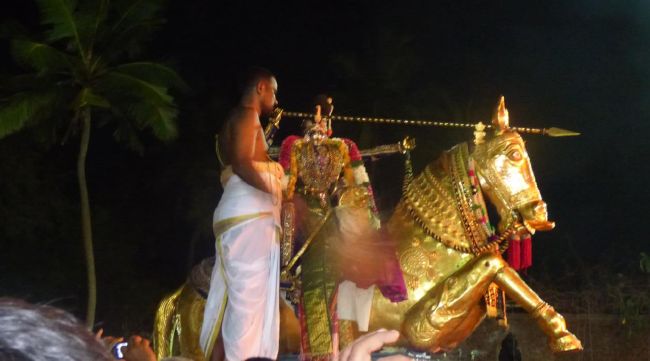 Adal-ma is my name 
On His Garuda mount with Thayar
On 3rd morning after serthi utsavam was over at Van Purushothaman temple, Ubha. Ve. Vedarajan swami completed his narration of the sthalapuranas of the seven temples in their aadhinam(control). It was almost 2.00p.m. when we reached home for lunch. After sufficient rest Hema took us to several temples. Prabhakar their driver planned to take us to Tirunagari. Tiruvali and Tirunagari are actually two places but they are spoken of together. On the way we spotted the Ther (chariot ) and got down for darshan after buying some offerings like sugar-candy, coconut, pure ghee for lighting lamps etc. We joined the locals who let us do 'vadam-pidithal' (pull the chariot). Seated inside were Kalyana Ranganatha and Amrithavalli Thayar amidst decorations of banana plants, mango leaves etc. Waiting at a distance was another chariot that of Tirumangaiazhwar and Kumudavalli nachiyar. Our fruit offerings were air-lifted in a basket .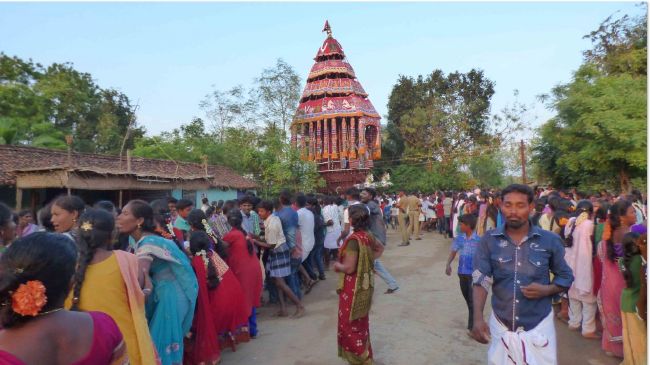 Come  join us in vadam-pidithal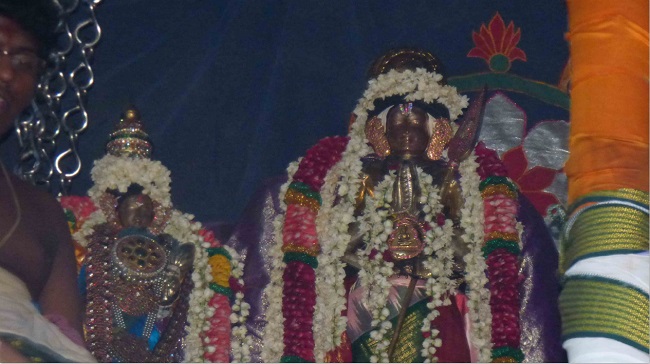 After offering our fruits we went to Semponseikoil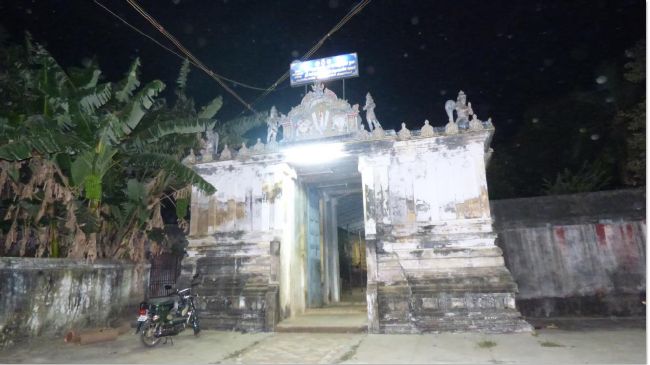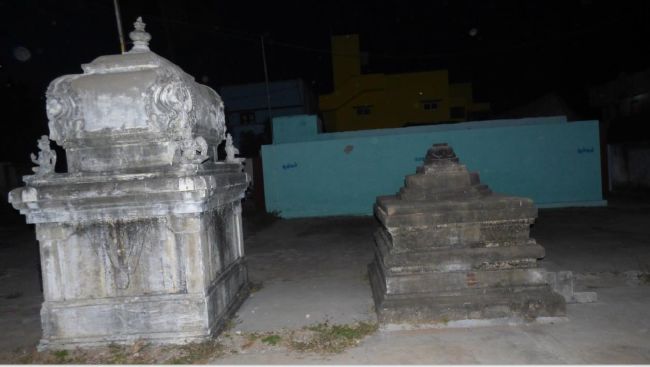 Could do with some restoration
This temple was built by a brahmin who received as daanam a golden cow from Srirama. Srirama stayed here with Tirudanda netramuni for 4 days after Ravana samharam and on the advise of this muni donated a cow of gold.  Moolavar Perumal is Perarulalan and utsavar is Hemarangan, Thayar is Allimalar nachiyar and the pushkarni is kanaka pushkarni. At this temple we had the bhagiam of listening to GadhyaTrayam for the second time on Panguni Uthiram day. It was a great feeling listening to Bhaghavadh Ramanuja's outpourings on that quiet evening. Once the recital was over we had darshan of Perumal and Thayar, offered our pushpam and sugar-candy, got blessed with Perumal theertham and Srisathari  and went to Arimeya Vinnagaram.
Perumal here is kudamadumkoothan and utsavar is Chathurbhuja Gopalan and Thayar is Amruthaghatavalli. In the prakaram were pictures of Dasavatharams and like in other Tirunangur temples there was a board listing the kainkaryams done by Muralidharaswami. After Theertham Srisathari we went home to a good night's sleep.
Next morning that is April 4th we left Annankoil at 7.00 a.m. for Mayavaram.


 Observe the temple precincts are without a fence, Can you help secure temple property?
We left early as that day April 4th there was to be chandragrahanam (lunar eclipse ) between 3.45 p.m. and 7.15 p.m. so temples would be closing early that day. When we were close to Mayavaram Parimalarangan temple we spotted a 'Tiruther' near the vicinity. Since serthi uthsavam had taken place the previous day there were signs of the happenings. Also Tiruther had taken place. Perumal is in Veerasayanam and has near His crown Cauvery and Ganga is at His Feet. Parimalarangan gives sevai with four hands. Chandran is near His Head and Suryan at His Feet and Brahma comes out of His navel. Yama and Ambareesha are at His Feet. Infact this sthalam is associated with the ekadashi fast and the dwadashi vratham of Ambareesha. In short this Perumal is surrounded by devotees and celestials. Thayar is Parimalanayaki/ Chandrashapavimochanavalli. The rajagopuram is a five-tiered one and the vimana is known as Veda/chakra vimanam. The pushkarni is Indupushkarni. Indu means moon and since the moon's curse was relieved by this pushkarni it got its name. The divyadesam is also known as Tiruindalur for the same reason.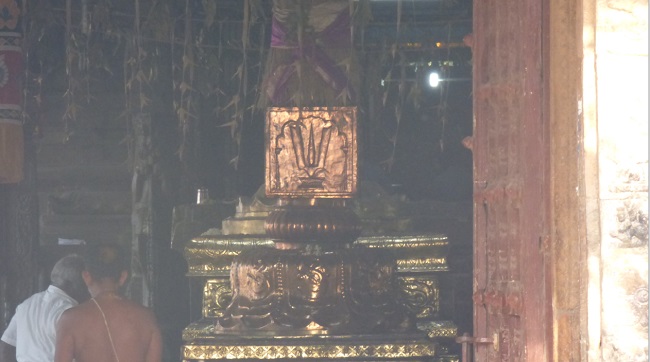 At the dwajasthambam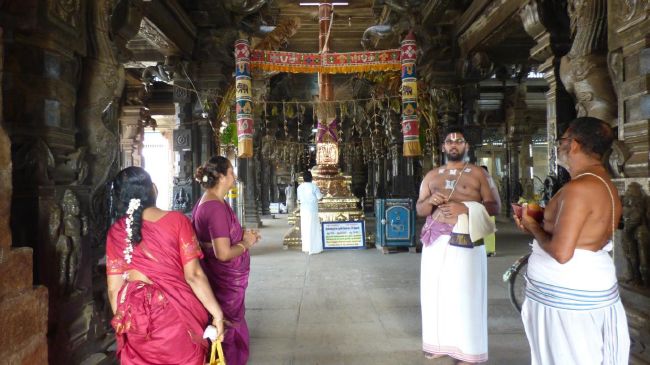 Listening attentively to the sthala puranam
Our next stop was at Sirkazhi. Moolavar Perumal here is Trivikrama with His left Leg held up  and utsavar is Thadaalan. Thayar is Lokanayaki.This kshetram goes by the name Kazhchiraama vinnagaram. After worshipping at the sannidhis as we were making our way home one swami invited us near the Tirumadapalli (temple kitchen) and gave us water to drink as also sakkarai-pongal and curd-rice prasadam. We were reminded of the rishis of yore about whom we have read and were pleased by the athithi-satkaram. Besides the tasty prasadam swami talked beautifully about saranagathi, azhwars and acharyas and about Srivaishnava sampradhayam. So overwhelmed were we that we even forgot to ask swami's name. But it is such people who make a difference and they are the ones who prefer not to grab the limelight.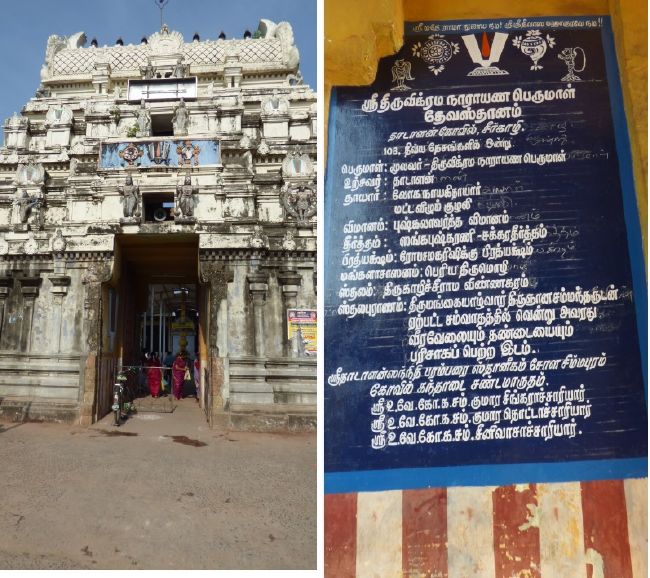 We reached Annan-koil by noon and as the lunar-eclipse started at 3.45 the time was spent in reciting slokams etc. After grahana tarpanam was done Sri Venkataramani and Sri Sundararajan went to the temple pond Tiruvellakulam to do vastradanam. It is a practise to do charity during grahanapunyakalam. Also japam done during this period is fruitful. After the grahanam was over at 7.45 p.m. we all took bath and then had rotis and kootu for dinner.
Next morning Prabhakar (Mr Venkatramani's man Friday) turned up early in the morning to drive us to the rest of Tirunangur temples. A smart young man who is a native of that place he is familiar with the terrain and used to take pilgrims by his auto. He remarked that when he quoted his price for taking devotees to Tirunangur divyadesams people would flinch but once they saw how difficult it was to reach the different temples they mostly ended up giving him Rs.500 more. The previous day he had given us a paper listing the divya desams around the place. He had asked us to circle the ones we had seen so that he could take us the ones we had not seen.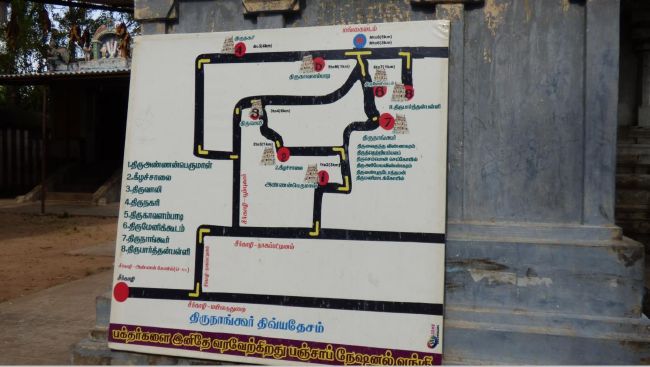 We went to the temple of  'Pallikonda Perumal'. This Tirunangur divyadesam is known as Tiruthettriambalam. Perumal is Senganmal /Ranganathar and Thayar is Senkamalavalli, Pushkarni is surya pushkarni and vimanam is Shruthilaya -vimanam Perumal is in bhujanga sayanam with Sridevi at His Headside and Bhudevi  at His Feet.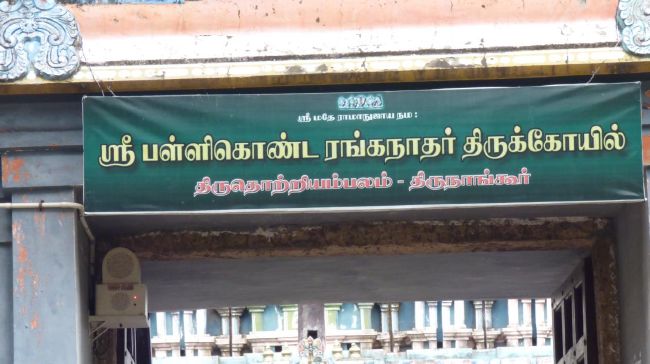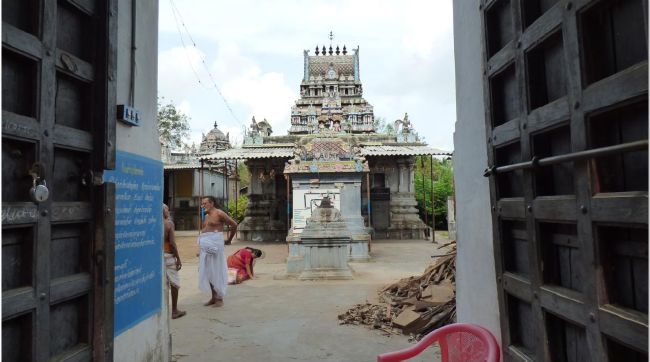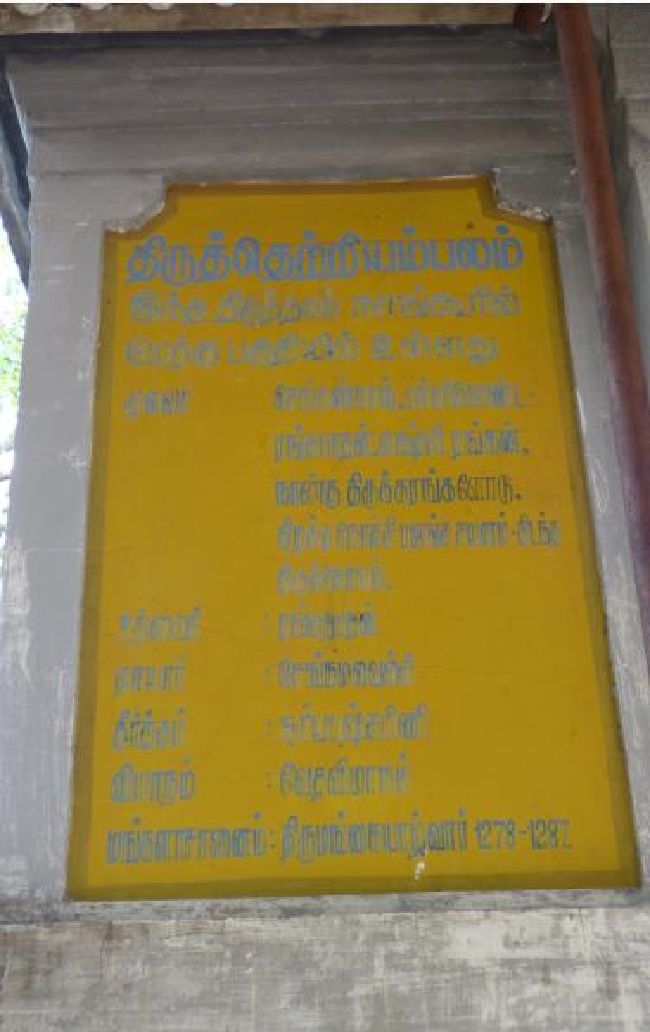 Our next stop was at Parthanpalli.The temple was closed and we were about to go away when a woman came up to us to say the Bhattar swami had finished the morning puja and had left. She would let us have darshan of Perumal but we would have to leave some sambavanai for the priest and tip her too. We agreed and we went in to have darshan of Parthasarathi Perumal and Thamarai nayaki. Renovation work was in progress. One wishes that black stone is used instead of tiles which mar the beauty of a temple.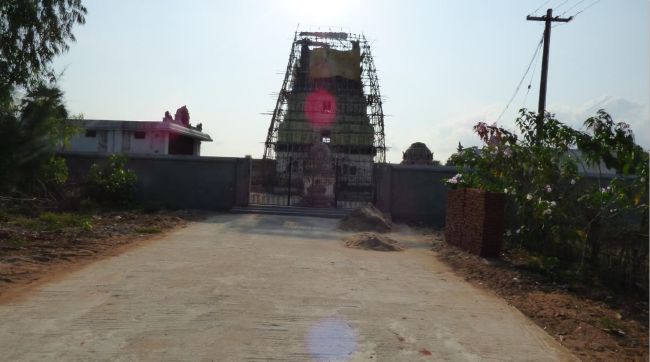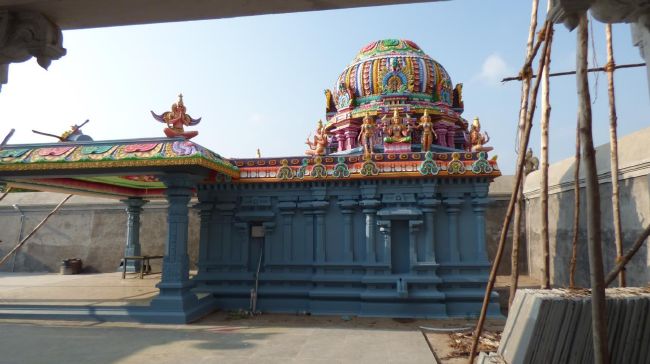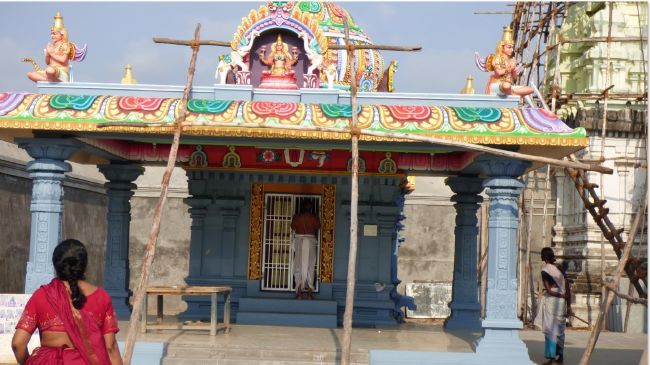 Renovated Thayar sannidhi
Our next stop was Vaikunta vinnagaram , as also Thevanarthogai, Tirukavalampadi and Manikoodam. We were wondering why the temples were closed even though we made two attempts to have darshan. We were told then that there was 'kodiyettram' (dwajarohanam) at VanPurushothaman temple and all the priests had gone there. We then proceeded to Tirukuraiyalur. This is the place where Tirumangaiazhwar took avatharam. The last of the azhwars he was an amsam of Perumal's sarngam. It is because of this azhwar that we have 86 of the 108 divyadesams. Prabhakar took us to the spot where Tirumangaiazhwar was born. A building of recent origin has been built and tiles have been laid all over including the raised platform. Even as we were thinking how much better this hallowed spot should/could have been an old man approached us and got talking. Through him we came to know there was an old icon of Tirumangaiazhwar at the back of the building. We went and had a look at the image and spent a few minutes thinking of this super azhwar and his super deeds. The same old man took us inside the temple and we had darshan of a huge Veera Narasimhar the Perumal worshipped by Tirumangaimannan. We also had darshan of Amrithavalli Thayar and went round the temple happy to be at that sanctified spot. After leaving our offerings on a plate infront of Perumal sannidhi we left the place after tipping the old caretaker.

The spot where Tirumangaiazhwar was born
Tirumangai azhwar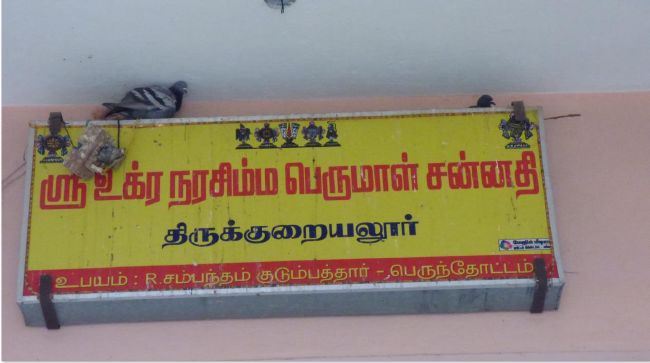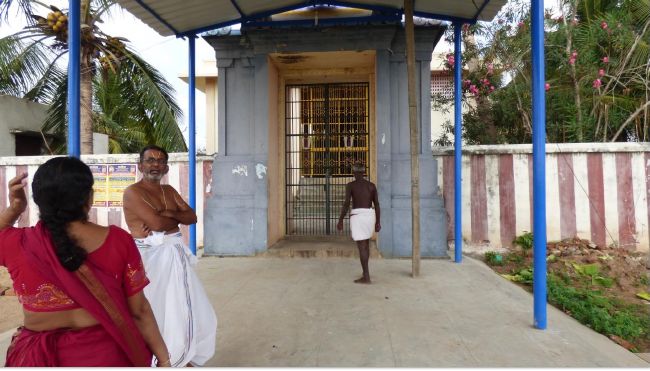 Itho Narasimha thatho Narasimha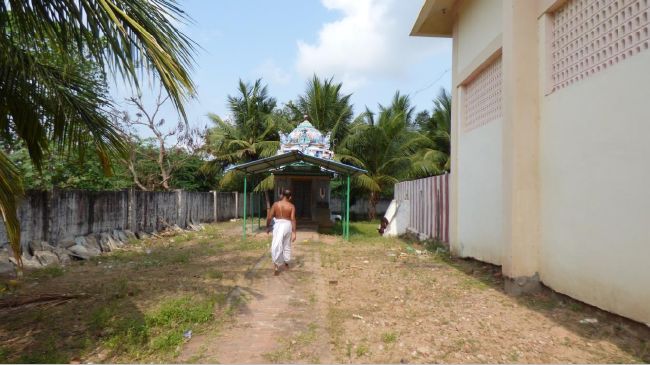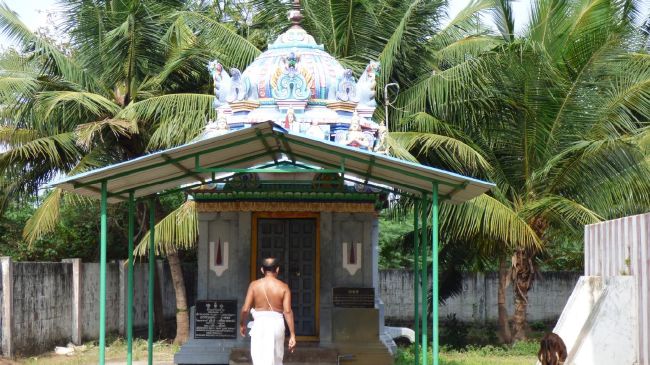 Amrithavalli Thayar sannidhi

Thayar sannidhi pradakshinam
After a good lunch at Hema',s house Prabhakar dropped us at Sirkazhi station from where we took our train to Trichy with our thoughts full of the lush fields and casurina trees, paddy fields and vegetable-gardens, banana-groves, maize plants and vine-tomatoes. karamanis and pumpkins, sparrows and parrots and the people who had never left the place  with names like Tamil and sanyasi and our heads full of temples and Perumals and the dominating figure of Tirumangaiazhwar.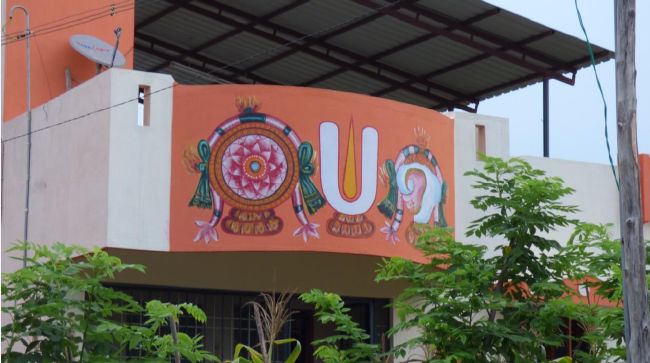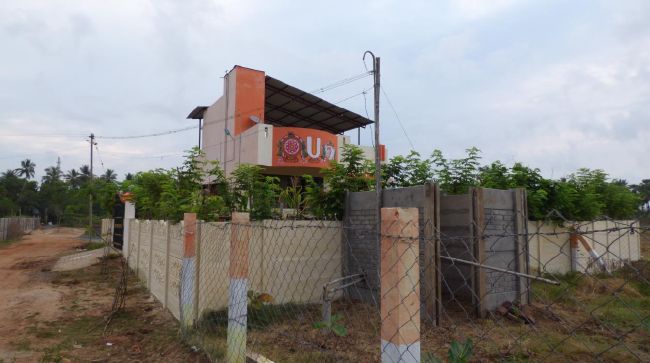 We live in Kumudhavalli's land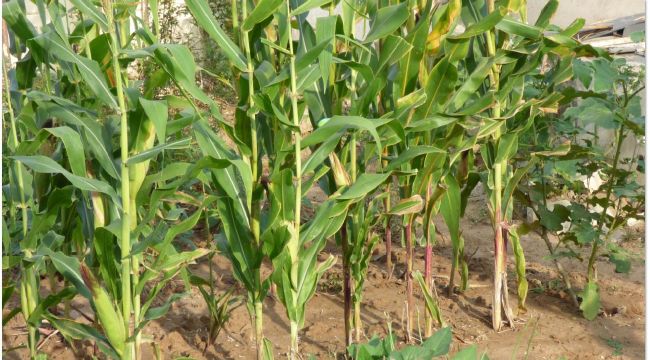 Corn and sundakkai
Who is greener?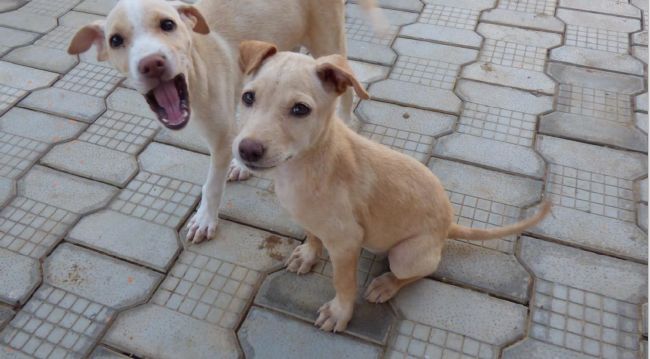 We are proud to be born in the land of Tirumangaiazhwar
 We bloom for Him
Writeuup  & Photography : Vyjayanthi & Sundararajan