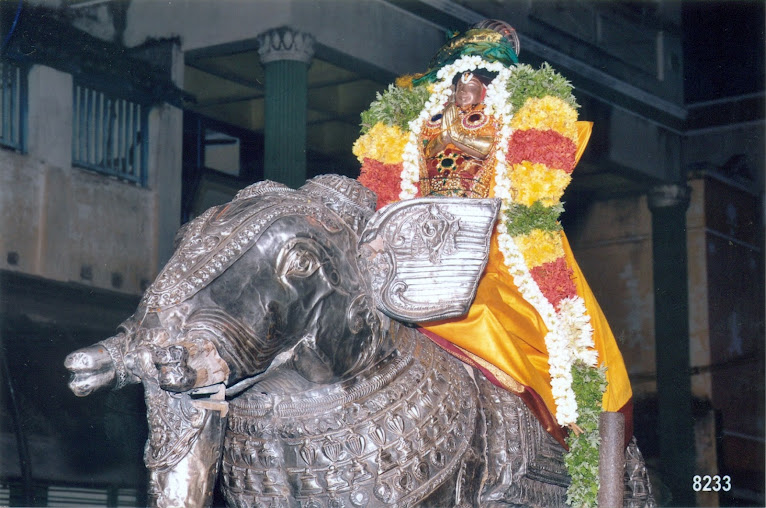 Periyazhwar took avatharam in Srivilliputtur in the Tamil month of Ani under the nakshatram Swathi. He was an amsam of Garuda and chose for His avathara a devout Brahmin household and was named Vishnuchittha. True to his name Vishnuchittha was always contemplating on Vishnu. He was involved in Pushpa kainkaryam. He raised a beautiful nandhavanam (flower garden) and grew  the choicest of flowers and plenty of Tulasi. He loved to mix and match and create unique garlands for Vatapathrasayee the ruling deity of Srivilliputtur. It was during one such collection of flowers that He found Godha Devi amidst the Tulasi shrubs and raised Her up in total Krishna bhakthi which made Her Krishna –Mad.
Was it because of having Godha as His daughter that Vishnuchittha is referred to as Periyazhwar? This is true but there are other factors too. Chronologically the Mudhal azhwars could be entitled to this title or Nammazhwar or Thirumangaiazhwar who created thousands of Pasurams. But Godha's father enjoys this name as He became the father-in-law of Ranganatha (Periya Perumal).
One other reason is that He sang Pallandu for Perumal. When and why did this happen? During Vishnuchittha's time Vallabhadeva Pandian ruled Madurai. Once during his night jaunts he met a pilgrim who told him a sloka which translates thus: Save for the rainy days in summer; Save for old age by working hard in youth; search for the ultimate truth in this birth.
The king wanted to know the answer to the last point that is The Ultimate Truth. So on the advice of his minister Selva Nambi a bag of gold was tied to a vertical pole and the bag would go to the one who had the right answer to this question. Scholars came from all over with their answers. At the behest of Vatapathrasayee Vishnuchittha proceeded to Madurai and established that Sriman Narayana is The Ultimate Truth. This is known as Paratatva Nishkarshanam. The conviction and faith of Vishnuchittha won over everyone including the king and along with the bag of gold coins Vishnuchittha was conferred the title "Bhattar Piran". That evening the winner was taken in procession on an elephant around the streets of Madurai. While riding on the elephant Periyazhwar looked up at an efflugence and  saw in the skies Lakshmi Narayana on Garuda.  They had come to be part of the "Victory March".  Like a mother Periyazhwar got scared that dhristi dosham would fall on the divine couple. He took the bells tied around the elephant's neck and sang "Pallandu Pallandu". All Azhwars had concern for Perumal but Vishnuchittha had Pongum Parivu that is deep concern, a maternal concern for Perumal and Thayar and thus He became known as Periyazhwar.
Pallandu is an essential part of our daily prayer and a must-know for everyone. Periyazhwar's outpourings are the direct result of His spiritual experiences and total 473 pasurams known as Periyazhwar Thirumozhi. They are simple beautiful verses that touch the soul. Periyazhwar imagines Himself as Yasodha and calls Krishna for a bath  (Neerattal), decorates Krishna with beautiful flowers (Poochutal) and then scared that dhrishti dosham would ensue sings Kaapiddal. Periyazhwar's Krishna anubhavam is simply great. The flute playing pasurams mesmerises us and seems as if it is just happening. At the same time Saranagathi tatvam is emphasised in no uncertain terms. His submission to Ranganatha in decad 4-10 to reserve a place in Srivaikuntam is a case in point. The wonder-kid of Mathura has the responsibility of remembering us in our last moments when we will not be in a state to remember Him. Take into account the recital of your names when in a healthy condition, accept our Prappathi and take us to Srivaikuntam entreats Periyazhwar on our behalf to Periya Perumal.
To conclude let us remember Swami Desikan's eulogy of Periyazhwar in The Prabhandha saaram: Salutations to the mahan who took avatharam on Ani Swathi and established in certain terms the supremacy of Sriman Narayana before the Pandian king who accorded Him  a victory march on the streets of Madurai when Periyazhwar sighted the divine couple on Garuda and sang Thirupallandu. May you bless me (us) with Pallandu and the 473 pasurams of Periyazhwar Thirumozhi.

Write-up by Smt Vyjayanthi Rajan