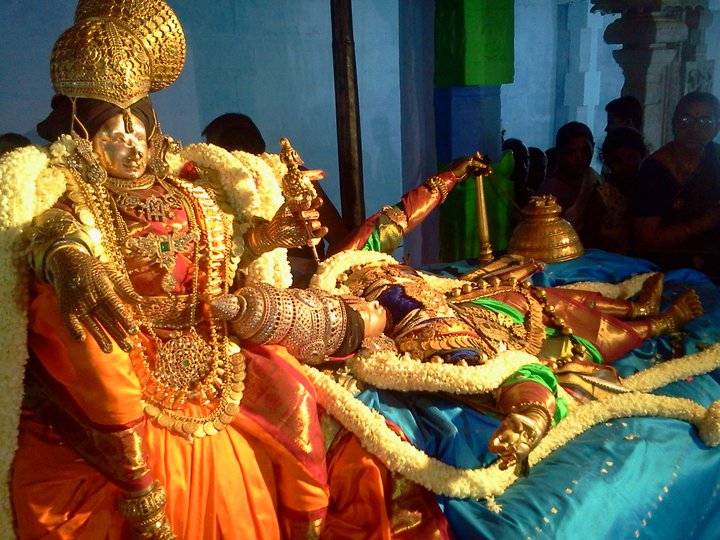 Today, December 23, 2013 is Day 8 of Margazhi masam. The eighth pasuram of Thiruppavai, Keezh Vanam Vellenru, is to be recited today.
Margazhi month assumes special significance for Srivaishnavas. Lord Krishna in Bhagavad Gita says masanam margashirso aham (of months, I am Margazhi). Of the 12 sub-Vyuhas which are representative of the 12 months beginning from the Tamil month of Margazhi, Kesava is the lord for the month of Margazhi.
Most importantly, the month derives its auspiciousness primarily due to its association with ThiruppAvai. It was during Margazhi that Sri Andal observed the pious Pavai Nombu for Sriman Narayanan and composed the 30 pasurams of Thiruppavai for  the ujjeevanam (upliftment) of jeevatmas like us. Thiruppavai is very sacred and all our Acharyas have given commentaries on this prabhandam. The very fact that Swami Ramanuja was called 'ThiruppAvai Jeeyar' because of his deep attachment to this, illustrates the special place Thiruppavai had with Swami Ramanuja. In this Vijaya Varusham, the Margazhi month began on December 16, 2013.
For the benefit of Anudinam readers, we bring detailed Tamil commentary, musical recitation and detailed upanyasam audio by various vidwans (scholars) for each pasuram. It may be noted that the audio files are also available at www.sravanam.org
The following is an article about the eighth pasuram (Keezh Vanam Vellenru)…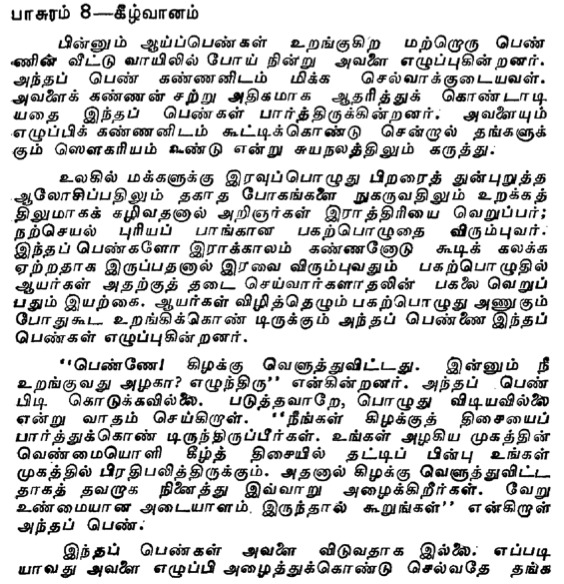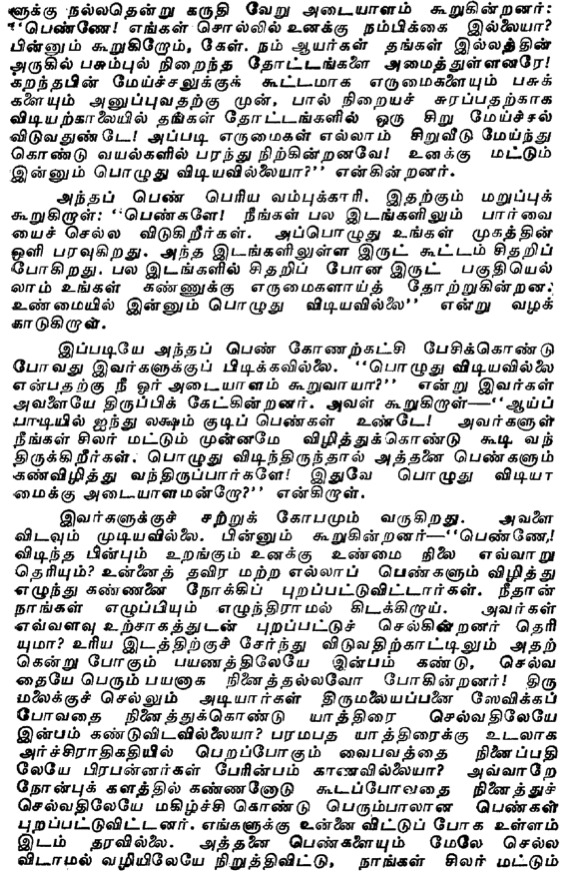 In this pasuram, Andal describes some more signs indicating daybreak. The eastern part of the sky has brightened; the buffaloes have been let loose for grazing the dew-laden grass. By grazing on the dew covered grass the milk-yield increases. It is time to observe the paavai-nonbu. Though almost all the girls have gathered, Andal says they want this girl who is soaked in Krishna-Prema to join them. Andal says the One who slit the neck of Kesi the demon who came as a horse with mouth open, the One who crushed to death the terrible wrestlers Mushtika and Chanura at Kamsa's bow sacrifice is none other than the God of gods. If we even attempt to go to Him and offer our prostrations, He will give us everything that is good for us.
கீழ் வானம் வெள்ளென்று, எருமை சிறு வீடு*
மேய்வான் பரந்தன காண் மிக்குள்ள பிள்ளைகளும்*
போவான் போகின்றாரைப் போகாமல் காத்து* உன்னைக்
கூவுவான் வம்து நின்றோம்** கோதுகலமுடைய
பாவாய்! எழும்திராய், பாடிப் பறை கொண்டு*
மாவாய் பிளந்தானை மல்லரை மாட்டிய*
தேவாதி தேவனைச் சென்று நாம் சேவித்தால்*
ஆவா என்று ஆராய்ந்து அருளேலோரெம்பாவாய்   (௮)
kIzh vaanam veLLenRu, erumai siRu vIDu*
mEyvaan parandana kaaN mikkuLLa piLLaigaLum*
pOvaan pOginRaaraip pOgaamal kaattu* unnaik
kUvuvaan vandu ninrxOm** kOdukalamuDaiya
paavaay! eLundiraay, paaDip paRai koNDu*
maavaay piLandaanai mallarai maaTTiya*
dEvaadi dEvanaich senrxu naam SEvittaal*
aavaa enRu aaraayndu aruLElOrempaavaay   (8)
కీళ్ వానం వెళ్ళెన్ఱు, ఎరుమై శిఱు వీడు*
మేయ్వాన్ పరందన కాణ్ మిక్కుళ్ళ పిళ్ళైగళుం*
పోవాన్ పోగిన్ఱారైప్ పోగామల్ కాత్తు* ఉన్నైక్
కూవువాన్ వందు నిన్ఱోం** కోదుకలముడైయ
పావాయ్! ఎళుందిరాయ్, పాడిప్ పఱై కొణ్డు*
మావాయ్ పిళందానై మల్లరై మాట్టియ*
దేవాది దేవనైచ్ శెన్ఱు నాం శేవిత్తాల్*
ఆవా ఎన్ఱు ఆరాయ్ందు అరుళేలోరెమ్పావాయ్   (౮)
ಕೀಳ್ ವಾನಂ ವೆಳ್ಳೆನ್ಱು, ಎರುಮೈ ಶಿಱು ವೀಡು*
ಮೇಯ್ವಾನ್ ಪರಂದನ ಕಾಣ್ ಮಿಕ್ಕುಳ್ಳ ಪಿಳ್ಳೈಗಳುಂ*
ಪೋವಾನ್ ಪೋಗಿನ್ಱಾರೈಪ್ ಪೋಗಾಮಲ್ ಕಾತ್ತು* ಉನ್ನೈಕ್
ಕೂವುವಾನ್ ವಂದು ನಿನ್ಱೋಂ** ಕೋದುಕಲಮುಡೈಯ
ಪಾವಾಯ್! ಎಳುಂದಿರಾಯ್, ಪಾಡಿಪ್ ಪಱೈ ಕೊಣ್ಡು*
ಮಾವಾಯ್ ಪಿಳಂದಾನೈ ಮಲ್ಲರೈ ಮಾಟ್ಟಿಯ*
ದೇವಾದಿ ದೇವನೈಚ್ ಶೆನ್ಱು ನಾಂ ಶೇವಿತ್ತಾಲ್*
ಆವಾ ಎನ್ಱು ಆರಾಯ್ಂದು ಅರುಳೇಲೋರೆಮ್ಪಾವಾಯ್   (೮)
Thiruppavai Pasuram 8 Musical/Recitation
Thiruppavai Pasuram 8 Upanyasams
Tamil Upanyasams
HH 45th Srimath Azhagiyasingar


HH Thirukkudanthai Andavan


Sri U.Ve. Madhavachar

Oragadam Sri U.­Ve. Lakshmi Nar­asimhachariar

Sri U.Ve. Velukkudi Krishnan

Sri U.Ve. Kuruchi Narayanan

Sri U.Ve. M.V. Ananthapadmanabhachar

Sri U.Ve.M.A Venkatakrishnan

Sri U.Ve. P.B. Annangarachariar



Sri U.Ve. K.B. Devarajan

Sri U.Ve. E.S.Boovarahachar

Telugu Upanyasams
Sri U.Ve. Aachi Srinivasacharya

Sri U.Ve. Sribashyam Appalacharya

Sri U.Ve. Santhana Gopalacharya