Located just under 30kms South East of Sirkazhi on the Thirukadaiyur – Tharangambadi NH 45A is the Rajagopalaswamy temple in Ananthamangalam whose legend dates back to the Ramayana.
Ramayana Connection
After defeating Lankan king Ravana, Rama visited Baradwaja Rishi's Ashram on his way back to Ayodhya on his Pushpaka Vimana. On hearing the troubles given by the two Asuras Bindhu and Rakshasha, he assigned Anjaneya to take care of them as he had to hurry back to Ayodhya as promised to his brother Bharata.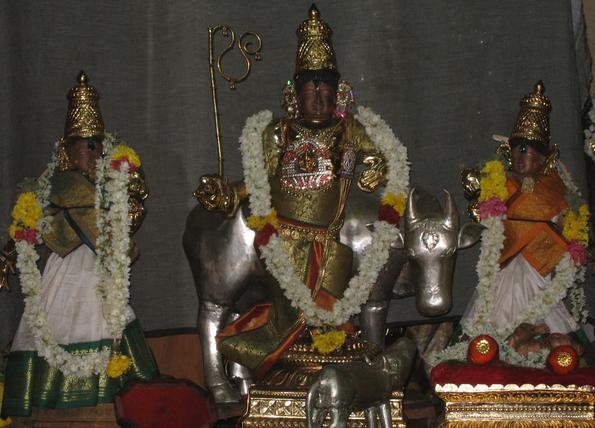 To give him protection from the evil blood sucking asuras, Anjaneya was handed a conch and chakra by Lord Vishnu. Indra handed him his Vajrayudha, Brahmma gave him his Kapaalam while Garuda gave him his two wings. Rama sent him for the battle handing him his Bow and Arrow. Wondering what he could give Anjaneya ahead of his battle, Lord Shiva presented him with his third eye.
Name of the place
After defeating the two asuras, a delighted Anjaneya on his way back to announce his victory to Lord Rama, stayed here for a while. As Anjaneya was seen in a happy mood after his win, this place came to be called 'Aanantha' mangalam. And he is seen here in a Trinethra Dasabhuja Posture, not seen in any other Vishnu temple in India.
The 10 hands of Anjaneya comprises of chakra and conch, bow and arrow, Trisoolam, Kapaalam, Angusam (Sakthi's) and Butter and whip of Rajagopalan. On the new moon day special poojas are performed for Siriya Thiruvadi.
Vada maalai, Vathalai Maalai, Tulasi Maalai, Poo Maalai and Lemon Maalai poojas are performed for Trinethra Dasabhuja Anjaneya.
Vijayanagara Period Construction
The temple in its current form is believed to have been built during the rule of Vijayanagara Period with the deities similar to the ones South West of this temple at Mannargudi.
Festivals
Chitrai Day 1 Utsavam
Akshaya Tritiya
Krishna Jayanthi
Hanuman Jayanthi
Every new Moon day, the temple is open from mid Night to 10pm with special Thirumanjana and Abhishekam for Trinethra Anjaneya.
Every month on the Rohini star, there are special poojas for Moolavar Sri Vasudeva Perumal While on the Moolam star, there are special poojas for Anjaneya.
Quick Facts
Moolavar : Sri Vasudeva Perumal East Facing Standing Posture
Thaayar : Sri Shengamala Valli Thaayar
Utsavar : Sri Rajagopalan with Rukmini and Satyabhama
Time : 8am-1pm and 4pm-8pm
Contact : Madhavan Bhattar @ 94438 85033
On Saturdays the temple is open between 530am and 1pm and between 330pm and 930pm.
How to reach there?
From Sirkazhi, take Karuvi- Thiru Kadaiyur – Tharagambadi route (Sirkazhi-Karaikal-Nagai route)
From Mayiladuthurai, take Aakkur Junction-Thiru Kadaiyur-Tharagambadi route Bus No. 27
From Mayiladuthurai taxi is available to Ananthamangalam.
Source:
Sri Prabhu