Sri Amirthakadavalli Thayar sametha Sri Kudamada Koothar Vaikasi vishka utsavam has been scheduled between 15th and 24th of May 2013.
"Ari" means one who makes the sin's to vanish. As the Lord of this place vanishes our sins, this place is called as Arimeya Vinnagaram. Lord vishnu too gains the name as a good dancer by performing the "Kuda Koothu" dance and got his name as Kuda Maadu Koothan. Kuda Koothu is in which the dancer stands still and brings out expression as a light kept inside a pot. Lord Krishna performed this Koothu here to explain his Aadi Moola Naraya Thathuvam (ie) the reason behind the brith of everything in this world.
The Lord Kuda Maadu Koothan gave his graceful darshan to Uthang Maharishi. Uthunga Maharishi got married to Prabhai. Once a Crocodile took her away when both were taking holy bath in river Ganges. Uthanga Maharishi got vexed and roamed in many places and finally came to Thiru Arimeya Vinnagaram. There Kuda Maadu Koothan gave darshan to him and said that his wife has attained Mukti (eternity) and got him out of his sorrow.
Sri Kuda Maadu Koothan, Iruntha (sitting) Thirukolam. The idol of Moolavar is of the type Sudai Vadivam is made from burnt clay and hence only Thailakaapu is allowed (ie) no thirumanjanam is done here.
Thirumangai Azhwar did his managalasasanam with 10 pasuram (1238-1247)
For this utsavam only few upayadars are available. The annual income of the temple is below Rs.10000/-. The income is not sufficient to make the financial requirements of the temple to perform daily pooja. We request the philanthropic person/charitable trust to contribute liberally to this festival.
Cheque /dd may be drawn in favour of
T.V.V.S.S.K. TRUST and mail to
Sri A.PURUSHOTHAMAN,
Secreatry & Treasurer,
TVVSSK Trust,
4/84, Purushothama Perumal Koil Street,
NANGOOR-609 106,
Sirkali-Tk,
Nagai District.
You may also transfer the funds to SB A/C no.6027064799, Indian Bank, Thenpathi Branch, Code No.S108, IFSC Code: IDIB000S108. Those who donates Rs.2,000/-, a special pooja will be performed on their marriage day/ birthday.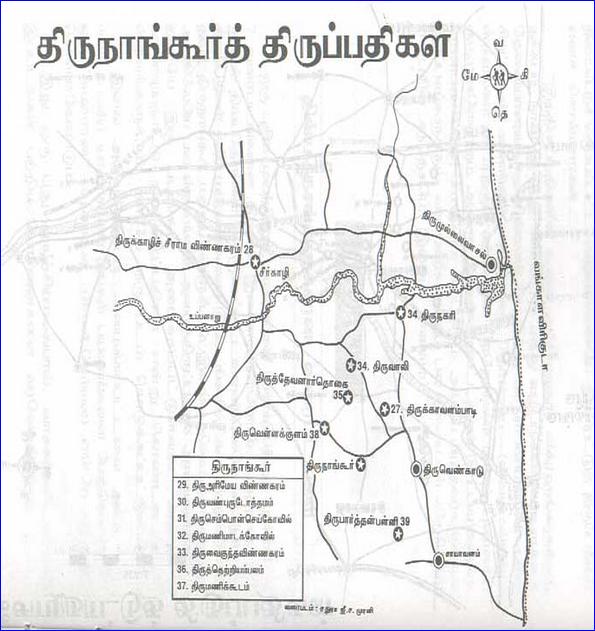 Courtesy:Sri Kasthuri Rangan