Here is a writeup of Stalapuranam about Thiru Vanvandur, one among the 108 Divya Desams, written by Sri U.Ve.Vidwan Egai VedantaDesika Thatacharya Swami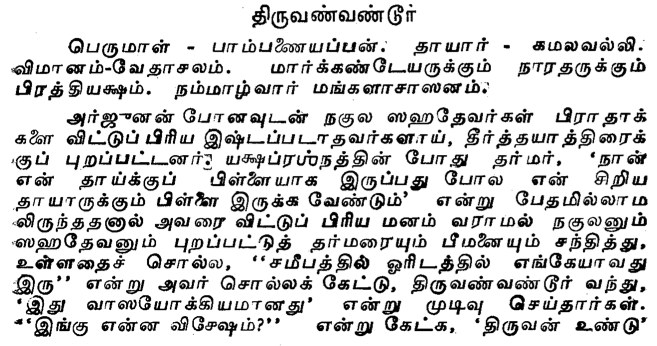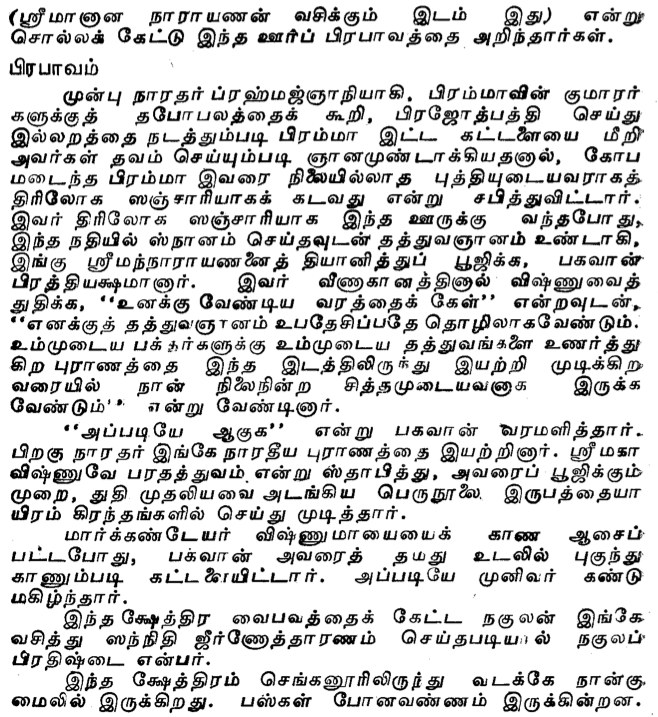 Located about 7kms North of Chengannur and about 5kms South West of Thiruvalla on the Erimala route, on the banks of the Pamba River is the Pambanai Appan Divya Desam in Thiruvanvandur.
Cursed by Brahmma in the course of a heated argument, Sage Narada undertook penance invoking Lord Vishnu to relieve him from the curse.  Narada is said to have got the boon, from Vishnu, of being the one to disperse and spreading 'truthful wisdom' in this world. Lord Vishnu provided darshan in his full form. Delighted at this sight, Narada is said to have created the 'Naradiya Puranam', an extensive document comprising of 25000 verses.
As seen in the other stories relating to Divya Desams around Chengannur, the Pandava brothers visited these temples and created a temple each in this region. One of the younger Pandava brothers, Nakula, renovated the Thiruvanvandur temple. Lord is seen here with Conch, Chakra, Spear and Mace. At the Western entrance, one finds sculptures relating to Kalinga Narthanam and also Dasavatharam.
Festivals: Ashtami-Rohini Krishna Festival
11day Festival in Dhanur
Uthiratadhi 10day festival in Kumbham
Deity : Paambanai Appan, Kamalanathan West Facing standing posture
Goddess : Kamalavalli Nachiyar
Azhvaar : NamAzhvaar- 11 Paasurams (3227-37)
Temple Time : 5am-1130am and 5pm-8pm
Priest : Parameswaran @ 0479 2427808
About 7kms North of Chengannur Divya Desam and about 5kms South of Thiruvalla.  It is best to take a taxi from Chengannur or Changanacheri to visit the 6 Divya Desams around this place. It will cost. Rs.1000/- to visit all the 6 temples and will take about 5 hours if you start at 5am either from Chengannur or Changanacheri.