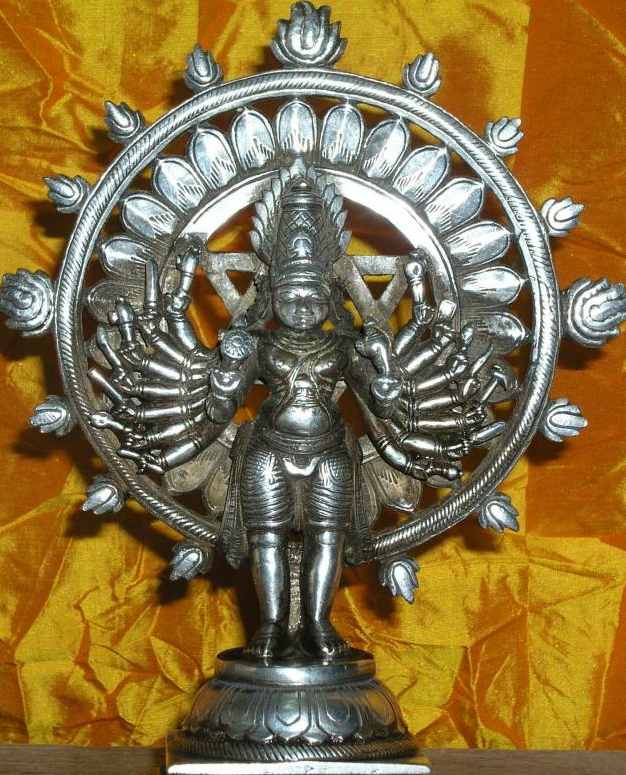 Today 28th of June 2012 – Aani Chitirai, Sudarshana Jayanthi is celebrated across many temples for Sri Chakrathazhwar.
vadivaar sOthi valaththuRaiyum* sudaraazhiyum pallaaNdu

வடிவார் சோதி வலத்துறை யும்சுட ராழியும் பல்லாண்டு
Lets recite Sudarshan Ashtakam today and have the blessings of Chakrathazhwar.
[wpaudio url="http://prapatti.com/slokas/mp3/sudarshanaashtakam_old.mp3″ dl="0″]
Detailed meanings of Sri Sudarshan Ashtakam can be read from: http://anudinam.org/tag/sri-chakkarathazvar/
Listen to Upanyasam about Chakaratazhwar
[wpaudio url="http://www.mediafire.com/file/ci4f9e7clcyamk1/01-Chakkrapani_Vaibhavam-01.mp3″ dl="0″]
[wpaudio url="http://www.mediafire.com/file/626cgduc6badrvn/02-Chakkrapani_Vaibhavam-02.mp3″ dl="0″]
To Learn Sudarshanaashtakam through sandhai format click here: http://anudinam.org/2012/06/28/sudarshanaashtakam-%E2%80%93-learners-series-audio/
Oh Sri Sudarsana! All the enemies of your Lord's devotees run away fearing your prowess. All auspicious attributes find their home in you. Those, who worship you cross the shore less ocean of Samsara and free themselves from their cycles of Births and Deaths. The entire Universe is stabilized by your mighty power. You cut asunder all the sins of those, who approach you as their refuge. You bless all of your devotees with the knowledge about the righteous conduct prescribed by the Vedas. Oh Lord Sudarsana of these auspicious attributes! Hail to Thee! Hail to Thee!