Badrinath-Joshimath-Devaprayag, Divya Desam Travelogue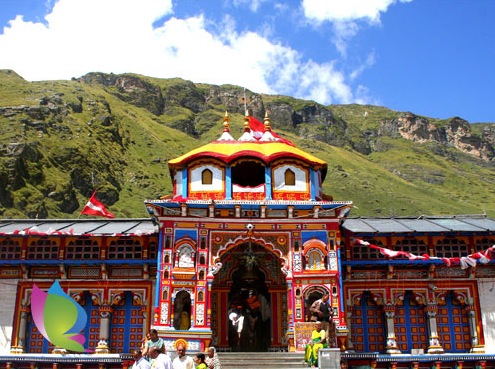 This travelogue is about the trip to Badrinath and other divyadesams on the way to Badrinath. With the grace of Aacharya and Divya dampathis adiyen was blessed to visit these wonderful divya Kshetras and would like to share some details and experiences during this trip. Badrinath is one of the most Important Divya Desam to be visited. It is here where Perumal appeared as Nara and Narayana for the upadesam of ashtakshara mantram and various other significance is attached to this place.
Its a life time opportunity for a person to experience the bliss of the badri hills. The entire region is full of vibrations and one to visit here to experience it. As Thirumangai azhwar points out in his paasurams for Badri, its better to visit Badri when they are young and energetic to climb the hard hills. In olden days, even 30 to 40 years before, pilgrims has to climb up the hill from Joshirmutt to badrinath for few days,  and there were no proper roads. But now Badri perumal has made it easier for us to access Him and all we need is the desire to visit Badri and the rest is taken care by Him. Today, there are roads and vehicles to access Badri and one need not walk or climb longer to visit the temple here. The temple is open for 6 months from April until Sep/Oct and is closed during winter from October to mid April. So, effectively we will be left out with only few summer seasons in our life to visit this kshetram and one has to pray to Perumal to shower His grace of us to have the opportunity of visiting this wonderful divya desam in our lifetime.
முற்றமூத்துக் கோல்துணையா முன்னடிநோக்கிவளைந்து

இற்றகால்போல் தள்ளி மெள்ள இருந்தங்கிளையாமுன்,

பெற்றதாய்போல்வந்த பேய்ச்சி பெருமுலையூடு உயிரை

வற்றவாங்கியுண்ட வாயான் வதரிவணங்குதுமே.
Essentials for the trip:
Lots of love, affection and faith towards Badri Perumal
and in addition to that..
Clothing – Sweaters and other warm cloths, to be used in Badri.
From Rishikesh until Joshirmutt, the temperature is quite normal. But from Joshirmutt the temperature drops and in Badrinath warm clothing is required.
Food: If you stay in Mutts or Ashrams as mentioned in the description below, prasadams are available . But during the journey time between Rishikesh to Badri, food has to be packed and carried.
Outline of the route:
Different ways of reaching Badrinath
Depending on the individuals planning, Badrinath trip can be done either by
One day helicopter trip

from NewDelhi, which does not include Joshimath and Devaprayag Divyadesams and costs approx 25,000 rupees per person (not sure of the exact cost). Pawan Hans in NewDelhi is the company which operates this service and could be reached using the number – 011 – 24651248 for more details.

Second method

is to travel through

pilgrimage trips organized through travel agents by bus

or through some trip organizers from temples. Every year there are few scheduled trips from VaikunthanathJi mandir and Sri Balaji Mandir in NewDelhi being organized by a group of Sri Vaishnavas. The approx cost for this one week trip including travel, accommodation and Prasadam is 5,000 to 7,500 rupees per person.

Third method

is to

travel using public transport system

from NewDelhi based on the individual's time frame and it costs almost 3,000 to 4,000 rupees per person for a four day trip including food, travel, accommodation.


Fourth method

is to use a person Vehicle or rented cab service. The distance between NewDelhi to Badrinath is around 600 Kms of which 400 Kms are hilly roads and needs a well experienced driver. (Also there are some rules for the type and year of registration of the vehicle). One could also hire cab service from Rishikesh to Badrinath.

I did my travel using the third method using the public transport system and it was a short trip of 3 days. However planning for atleast 5 days to 1 week should be ideal.
The best months to visit is between Mid of May to end of Jun (temple is open from mid of Apr to Sep/Mid Oct)
New Delhi to Rishikesh
Day -1  By Bus:I took the bus from Kashmiri Gate in NewDelhi on a Friday evening towards Rishikesh. It was during the second week of June 2010. The bus started around 7 PM in the evening. The distance between New Delhi and Rishikesh is approx 225 Kms. The road is a newly constructed highway. There are normal UP transport buses as well as Volvo buses. But the most frequent ones are the normal state transport buses. The cost is approx 150 Rupees and it takes 7 hours to reach RishikeshAlternate by train: There is also train service from New Delhi to Rishikesh which is more comfortable, especially while traveling with elders. But the booking has to be done well in advance
Accommodation at Rishikesh
Accommodation at Rishikesh can be booked in advance at one of the Ashrams or Mutts.
1) Andavan Ashramam: There are quite few rooms and a big hall in Andavan ashramam, which is located almost on the banks of Ganga. The ganges bathing area is less than 500 Mts from this place. To reach here from the bus stand, it takes around 10 minutes by Auto and costs around 30 to 50 rupees.The room rent here is approx 200 Rs and it has excellent facilities with bed, toilets etc..The contact person is: DharmaRaj and can be contacted through the following number: 0135-320 8604 or Mobile: 09411530773. Location to be mentioned to Auto driver : Hanuman Mandir Maarg, Mayakund
2) JET / Jeeyar Mutt (Andhra) which is located close to Lakshman Jhoola and 5 minutes walk from the Main road
3) TTD – Andhra Bhavan, which is reasonably close to the bus stop and on the main road and easy to be located. Contact number: 0135-2430353. Room rent around 200 Rs
Places to Visit in Rishikesh
In Rishikesh there are few locations where one could comfortably have a holy dip in the Ganges. The best location is the one which is close the Andavan Ashramam. The flow of the water is properly streamlined here and its risk free from forces of water.
Srinivasa Perumal Temple: In Mayakund, near to Hanuman mandir marg, there is a beautiful Venkateswara temple maintained by TTD. Temple is opened by 5 in the morning with Spurabhatham and open until 9 in the evening. Daily recitation of Divya Prabhandam and other Stotras are done here.
Ram and Lakshman Jhula:
There are two gigantic bridges on the Ganges, and is separated by a distance of around half a km.  There are Autos which take people to the sides of these bridges. There are lots of local shops on the way to this bridge, for purchases. There is a IKSCON temple on the way to Lakshman jula and there are share autos to reach there. Its called as Jaganath Mandir.
Its hard to mention specific locations to visit in Rishikesh, as the town itself is spiritual and almost everyone in this town is connected to some spiritual activities. One could see lot of Saadhus and rishis walking around in Rishikesh and the entire atmosphere here is filled with vibrations.
If one wishes to visit Haridwar, its 20 to 30 minutes from Rishikesh with frequent autos and buses. Significant places to visit in Haridwar are:
– Hari-Ki-Pauri – Where one could have a dip in the ganges here and its considered as the place where Lord has stepped his foot.
– Brahma Kund – This is the place where Brahma welcomed Ganges to earth and had his first holy dip in Ganges.
– Ropeway car which connects the mountains across and above the ganges is a worthy experience to have. The charge for the ropeway is 75 Rupees. It connects couple of mountain Devi temples in haridwar, but its not significant for Srivaishnavas.
The locations of Rishikesh and Haridwar can be visited on a single day and it could be done either before going to Badrinath or while returning back.
Food in Rishikesh:
– In Andavan ashramam on normal days, prasadams are not served, as there is just one person who takes care of the Ashramam. But one could call and inform him (DharmaRaj) in advance to check for the possibilities of arranging for prasadams.
– JET – Chinnajeeyar (Andhra) Mutt, provides prasadams along with accommodation and its better to get it confirmed from their office in advance
– ISKCON has a vegetarian restaurant alongside the temple (Jaganath Mandir) and its open from 7:00 in the morning until 11:00 in the night and they have lots of varieties of prasadams being served in the restaurant.
From Rishikesh to Badrinath
This entire 14 hour long trip is on the Himalayas and river ganges flows all the way next to us during the entire journey. Its scenic and beautiful to be on this hilly roads with the river flowing around. In this stretch of 14 hours trip, three divya desams are to be visited.
Thirukkandam – Kadi Nagar(Devaprayag)
Thiruppirudhi (Joshimutt)
Thiruvadhari Ashramam (Badrinath)
Bus from Rishikesh
There are lots of buses from Rishikesh to Badrinath, but all of them starts only in the morning between 5AM to 6 AM, as the hill road gate in Badrinath will be closed in the nights, so its highly important to make be at the bus stop early around 5 AM. The bus stop is easily accessible by autos and costs around 25 to 30 rupees to reach there. Most of the buses are almost like Mini-buses which holds around 20 to 25 passengers. The cost from Rishikesh to Badrinath is 250 Rupees (as of June 2011) and takes around 14 hours of journey in the hilly roads.
The bus has few halts for breakfast, lunch and dinner. But its hard to find Srivaishnava places to have prasadams, so one has to be plan ahead during their stay in Rishikesh to pack food for the next day during the bus trip to Badri. Food can be packed from one of the Mutts or Iskcon restaurant from the previous day night. Thirukkandam – Kadi Nagar(Devaprayag), can be seen on the way from Rishikesh in couple of hours, but its better to visit it on the way back from Badri if you are not planning to halt inbetween for that nights stay.
The entire stretch of travel is bit of adventure when the buses goes via many curves and bends in the Himalayas. you should also be able to notice people taking part in various adventurous games such as rafting, kayaking, climbing, safari on the sides of the roads in the ganges. The bus travels via, Karnaprayag, rudraprayag, Srinagar, Pipalkoti, Joshirmutt, Hanumanchatti to Badrinath
Thiruppirudhi(Joshirmutt) is just on the foot hills of Badrinath. Its from here, the actual altitude of the hills rises steeply and the temperature drops drastically. Until this point there is not need for sweaters or warm clothing during summer season, but from this point until Badri which is approx 2 hours journey gets a bit colder around 5 to 6 degrees during evenings in summer and around 0 degrrees to minus 3 to 4 degrees during nights.
The route from Joshirmutt to Badrinath is one way and is operated using gates which is allows vehicles climbing up for couple of hours and down for couple of hours. If one is lucky and if the bus stops for gate in Joshirmutt one could visit the Divya Desam here during those 1 or 2 hours time or else one has to has to stop at Joshirmutt while coming back from Badri.
Thiruppirudhi which is otherwise called as Joshimutt explains that it has a close relation between the Lord Emperumaan and His devotees.In winter season, when Badrikashramam sthalam is closed, the Badrinath utsavar is took from Badrinath and kept in here and gives his seva as Badri Narayanan for his bhaktas for six months. Only, Thirumangai alwar has done the Mangalasasanam on his perumal. Among his 10 Paasurams, in 3 Paasurams he compares the perumal as 3 avathaars (ie) as Rama, Krishna and Narasimha avathaar of Sri Vishnu. Sri Aadhi Sankarar has constructed a temple here for Sri Narasimha and standing posture Sri Vasudeva.
Moolavar: The Moolavar of this sthalam is Paramapurushan. He is in sleeping posture (Kidantha kolam) in Bujangha sayanam facing east. Prathyaksham for Parvathi devi.
Thaayar: The Thaayar of Thiruppirudhi sthalam is Parimalavalli Naachiyaar.
Reaching Badrinath
The bus normally reaches Badrinath between 6 PM to 8 PM in the evening based on the gate stoppages.
Temple closes around 8:00-8:30 in the evening on weekdays and on Saturdays temple is open until 10:00
Accomodation in Badrinath
– Just as in Rishikesh, there are quite few Mutts and Ashrams here for accommodation. However, one has to book it in advance during peak season of May-June. I stayed at Chinnajeeyar(Andhra) Mutt, which is five minutes walk from the temple. There is Alaknanda flowing in front of the temple and one has to cross the rope bride to reach this mutt. They also provide prasadams in the Mutt. For a double cot room, its 300 Rupees per night. One could enjoy the scenic beauty right from the windows of the room in the mutt. Contact number: 01381-222250
Badrinath Temple
This Badrinath Divyadesam located is almost 10300 feet above sea level. As mentioned earlier, Badrinath temple has lots of significance to be mentioned. A detailed Stalapuranam can be read from the files attached at the end of this travelogue. The temple opens by 4:30 in the morning. There are various sevas done throughout the day and the tickets has to be purchased a day before at Gate number 3, which is located in the side entrance of the temple. some of the sevas are Vishnusahasranama seva, Bhagavad geeta seva, Vishvaroopa seva etc.
The normal queue is located at the entrance of the temple and it normally takes an hour to have darshan of the Lord.
Bathing at Taptakund: Before having the darshan of the lord in the morning, a dip at Tapta kund is a must. Tapta Kund is a hot water spring arriving between the Badrinarayan temple and the Alaknanda River. It is a natural hot water spring inspite of cold and lots of snow fallings, this Tapta kund extracts hot water from the underground and has lot of healing qualities. Its soo cozy to be in tapta kund which is around 40 degree when its minus two outside.
Darshan:
After taking bath in tapta kund, devotees to climb some steps upwards to worship Garudalwar. After worshipping him, we can reach the pragaram. The place is known as 'Simh Dwaram' where Garudalwar statue is situated. In front of Badrinath temple, the Nara and Narayanan mountain are located. Inside the temple, Lord Sri Badrinarayana in sitting position which is termed as "Padmasana" pose. On his left is Naran and Narayana and to his right, Kubera  with his face adorned in silver. Narada Maharishi is also there along with them. A Sudharsana Chakkaram (A power of Wheel in Lord's right hand) to spiritualise the kshetram. The Utsavar is Uddhava and in front of him is a small Garudalwar statue. It is said that a big date tree (Elandhai) is covering the Badrinarayana temple and it will not be visible to any person in Kali yugha. The tree is said to symbolize Sri Mahalakshmi and she is protecting Badrinarayana from cold by covering him.
The Moolavar Badrinarayana is said to be made of Salagramam. He is along with Aravindhavalli thaayar, Garuda, Kubera, Naradha, Utthavar, Devarishi and Narayana. He is in sitting pose and has 4 hands. His left hand holds the Sangu the Conch and in his right hand hold the Wheel the chakkaram and lifted upwards and remaining two hands are joined together and found as Yoga mudra and Abhaya Varadhan.
Thaayar and her Sannadhi: On the south pragharam of the temple is the sannadhi for Aravindhavalli thaayar is situated and She is called as "Mahalakshmi". On the west side, Aadhi sankara sannadhi and behind the temple, Lakshmi Narasimha Mandir and Sannadhis for Sri Swami Desikar, Udayavar Ramanujar are located.
On the north side of the temple on the bank of River Ganges, a big rock named "Brahma Gobalam"; it is believed that if we dedicate Pindam (a ball made of rice) here for the departed souls known as Pithrus, for the next 14 generations people are said to go to heaven and Moksha.
Nearby places: There are pancha Badris, namely, Adi Badri(19 kms from Karna Prayag off the normal route), Yoga Badri(also known as Pandukeshwar at a distance of 8 miles from Joshirmutt), Vridha Baddri (on Joshirmutt- Animath route –off the main route),Bhavishya Badri ( entirely different route from Joshirmutt via Saldhar( 19 kms from Joshirmutt) and from there to go by walk (6 kms), also can be accessed from Badrinath) and Vishal Badri which is the main temple.There are also lot of scenic places such as Valley of Flowers, many water falls, which can be accessed by trekking or with some local support.
It is also significant to visit Mana pass which is few minutes of travel from Badri and it is here we can see Veda Vyasa ashramam, Saraswathi river, Bhim phul. This is the last village of India and one can see the Tibet  border from here.
There are various other places to trek from Badrinath. There is a 10 days trekking camp organized by locals of Badrinath which covers upto Swargarohini via Sath path. This is the path which is used by Panchapandavas and draupadi on their way back to Swargham/heaven. There are also lot of fresh water lakes, glaciers on this path.
Also, its wonderful to have a darshan of Nara Narayana Parvath from Badrinath during Sunrise and suset which looks like a 'Golden Mountain'
Back from Badrinath to Rishikesh
The bus from Badrinath to Rishikesh starts around 6:oo  in the morning. The bus stop is 10 minutes walk from Badri temple and 15 minutes from the Mutts/ashrams. Normally there is a huge rush on the way back from Badri, so its better to book the tickets a day before or to be bit earlier in the bustand.
If Joshirmut is not visited while coming up to Badri, one can get down at Joshirmutt and have a quick darshan and take the next bus within an hour. Normally there are not buses coming down after the morning 2 hours scheduled start.
Thirukkandam – Kadi Nagar(Devaprayag)
This divya deasm is located almost 70 Kms before Rishikesh. On the way back from Badri, one could get down here and visit the perumal here. The importance of this sthalam is that, the great rivers Alaknanda and Bagirathi mingle each other to be called as Ganga. Until this point ganga flows into different streams and in devaprayag alaknanda and bagirathi which flows in two different colors blue and brown, merges here to be names as Ganges. Prayag means the place where two rivers mingle together and since two divine (holy) rivers mingle together, it is said that this sthalam got the named as "Deva Prayag". It is said that in this sthalam Brahma devar, King Dasaratha and Sri Rama have done penance austerities here and an archa-vigraha of Raghunathji is said to be installed by Sri Aadhi Sankara. Periyalwar is the only alwar who has done Mangalasasanam on this perumal in 11 paasurams. The Moolavar of this kshetram is Neelamega Perumal. He is also called with the name "Purushothaman". He is giving his seva in Standing posture facing east  Prathyaksham for Bharadwaja Maharishi. he Thaayar found in this sthalam is Pundareekavalli.
While taking a dip here in the ganges, one has to be really careful. Elderly people and young children, needs proper support and hold before getting in the river, as this place is full of water currents with forceful flow of water. There is a provision to hold an iron chain before getting into the river, but still the devotees has to be alert and careful during the dip here. It is also mentioned that Lord Rama did his pithru tharpanam here and many devotees does tharpanam for their ancestors here in the banks of this kshetram.
The temple is open between 6 AM to 12 Noon and in the evenings between 5 PM to 9 PM
Rishikesh to NewDelhi
On the way back, the devotees can either relax for a day in Rishikesh before getting back to Newdelhi or there are regular buses between Rishikesh and Delhi, almost every 30 minutes. The cost is approximately 150 rupees and it takes 7 hours.
Many devotees traveling to Badrinath also visits Mathura and Vrindhavan after their the way back to Delhi
Also on the way back from Badri to Newdelhi, via roorkie, one could plan a visit for Kurukshetra which is not far away.
We wish the readers of anudinam.org a pleasant journey to this important divya desam
There are few tour operators who organize trips yearly twice during summer season from Newdelhi, with proper Sri Vaishnava food, accomodation etc., we might help our readers in finding those contacts if they are in need of it.
Please look into these links for videos and details stalapuranam: http://anudinam.org/2012/01/17/badrinath-stala-puranam-in-tamil/
For videos about Badri and travel: http://anudinam.org/2012/04/01/badrinath-divya-desam-video/
Another detailed travelogue about Badri from srivaishnavam.com website