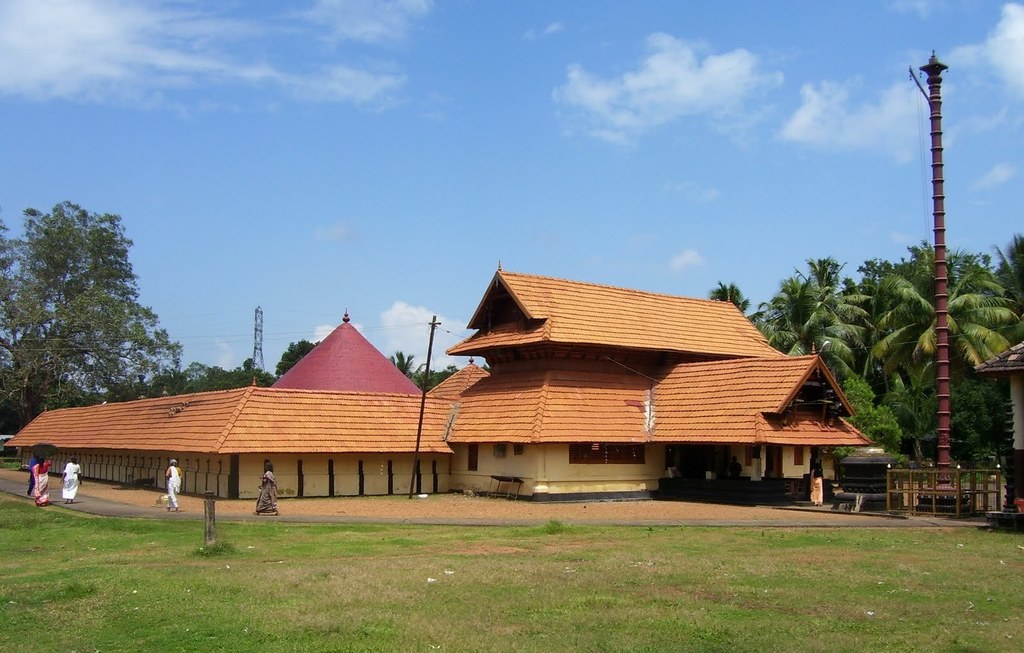 Located 6kms West of Chengannur Railway Station on the Mavelikera State Highway is the Maya Piran Divya Desam in Thiru Puliyur. This is one of the two 'Puliyur' Divya Desams, the other one being Sirupuliyur in Kollumangudi near Mayavaram.
The Pandavas are said to have visited the Divya Desams in Kerala and each of the five Pandava brothers are believed to have built one temple in this region (around Chengannur). Bheema undertook penance at this place and created the Puliyur Divya Desam. Hence, this place is referred to as Bheema Kshetram.  With the five Pandavas creating five temples, these temples have now been come to be referred to as 'Anj Ambalam' ( Five Pandava temples) to folks in this area.
The Story
King Sibhi's son Vrishadarbi faced personal illness and his kingdom experienced drought. He wanted the Saptha Rishis to help him out of his troubles, in return for which he promised to fill their coffers. Unhappy with this move to tempt them with money, the Rishis not only refused the money but also decided against helping him out. Not to be outdone, and angry with their refusal to relieve him of his problems, he undertook a yagna out of which appeared demon whose task it was to kill these Rishis. Fearing for their lives, the Rishis invoked the blessings of Vishnu, who directed Indra to protect them. Indra came on a Tiger and killed the demon. Hence, this place is called 'Puli'yur. Lord Vishnu provided darshan as well as moksham to the Saptha Rishis.
Festivals
Makara Atham Nakshatram – Brahmotsavam
Thiruvonam Makara Sankara Nakshatram- Kavadi Aattam
Quick Facts
Deity : Maya Piran East Facing Standing Posture
Goddess : Por Kodi Nachiyar
Azhvaar : NamAzhvaar- 11(3535-45), Thirumangai Siriya Thiru Madal-2673(71)
Temple Time : 5am-11am and 5pm-8pm
Priest : Unni Krishnan Namboodari
Contact telephone number : 99478 31069, 0479-246 4825
How to reach:
Chengannur is on the Ernakulam-Kottayam- Kayankulam rail route and is about 40kms South of Kottayam. From Chennai, one take the 2695 Trivandrum Express (5am arrival) or 2623 Trivandrum Mail (820am arrival) to Chengannur.
 An auto from the Chengannur Railway Station to the Puliyur Divya Desam will cost Rs50/- ,
Taxi to cover 6 Divya Desams
It is better to take a taxi from the railway station and cover the 6 Divya Desams in one half of the day. The taxi to cover Puliyur, Thiru Chittaru, Aran Mula, Thiru Van Vandur, Thiruvalla and Changanacheri (Arputha Narayana Perumal) will cost Rs.600/-.
For car outside the Chengannur Railway Station, contact: Driver Mohan @ 99466 73868.
A few additional points to note
Almost all the Divya Desams in Kerala open at 5am and close by 11am.  They don't open again until 5pm
Shirts(for men) are not allowed inside these Divya Desams, It is better for men to wear a Veshti and for women to wear saree
The priests in these Divya Desams are non talkers. Hence, do not expect any chatting up with the priests
Those wanting to visit these Divya Desams in and around Chengannur/Thiruvalla should ask for 'Anj Ambalam' if they want any directions (Divya Desams/Azhvaars/108 temples are not references easily understood in these places)
Source: prtraveller
Detailed Description in Tamil