From Slokam 5 to 31, Swamy Desikan used UpajAthi metre in his direct conversation with Lord HayagrIvan, who presented Himself before Swamy Desikan on the top of the hillock (Oushadha Giri) at ThiruvahIndhrapuram. In the 32nd slOkam, Swamy Desikan shifts to the slow moving, majestic MandhAkrAnthA metre for deep meditation on the ThirumEni of the Lord:
MEANING:
In His beautiful, lotus soft four hands, Lord HayagrIvan sports Sudarsanam, Paancha-janyam, Jn~Ana Mudhrai and a Book. He is seated on a freshly-blossomed White Lotus and reminds the UpasakAs of the whitest-white fragment of a freshly cleaved spatikam. His lustre never ever fades. There is no limit (boundary) to His blemishless glories. May This Lord of Vidhyais shower on adiyEn His nectarine, white and cool rays! May He reside and preside over my hrudhayAkAsam in this manner!
The embedded namaskArams here are:
(PraNavam) vyAkhyA mudhrA samEtha KarAya Nama:
(PraNavam) Sankha Chakra HasthAya Nama:
(PraNavam) Bhibrath bhinna Spatika RoopAya Nama:
(PraNavam) Ruchira PuNDarIkE nishaNNaYa Nama:
(PraNavam) amlAna SrimathE Nama:
(PraNavam) amrutha visadhai: amsubhi: bhaktha Janam plAvayAmAnAya Nama:
(PraNavam) anaga MahimAya Nama:
(PraNavam) VaagadhIsAya Nama:
This is the dhyAna slOkam for the enduring presence of Lord HayagrIvan in Swamy Desikan's heart lotus. His presence there would bring kshEmam, Iswaryam, Saarasvatha Vaak and sakala vidhyA to all. In the dhyAnam of the Lord, he is visualized with His upadEsa mudhrA on His right hand, a book on His left hand, a conch and chakram on the upper hands, while being seated on a throne of white lotus like crystal clear spatika gem with His Devi (VaaNi) and drenching every one with His spotless rays and showering His benedictions with unparalleled grandeur.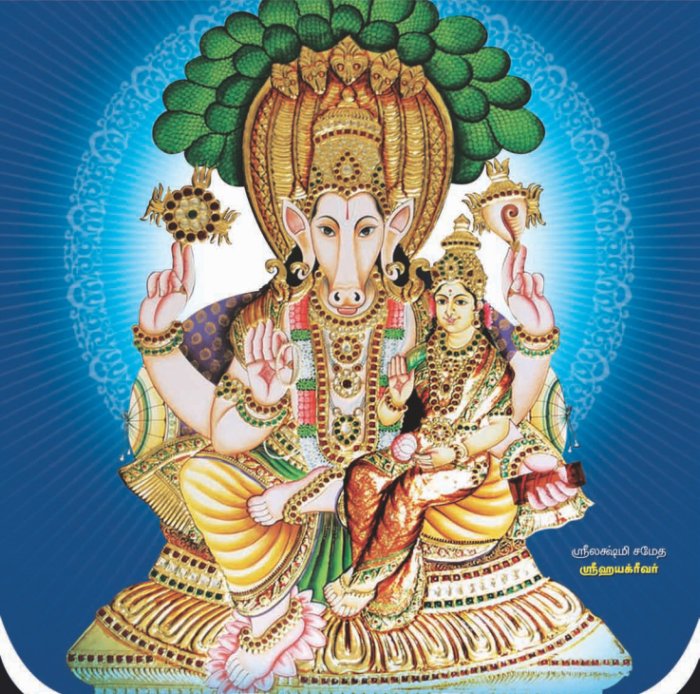 The first slOkam (Jn~Anandha mayam dEvam–) and this MangalA dhyAna slOkam are very important for our daily prayers. The recitation of the entire sthOthram is recommended for all, who can find the time to recite daily to be blessed with Superior Saarsavatha Vaak and Brahma Jn~Anam. If the recitation of the entire slOkam is not possible for whatever reasons, the First and the 32nd DhyAna slOkam should be recited for srEyas and prEyas.
Sri HayagrIvan was one of the NithyAraadhana Moorthy of Swamy Desikan along with Lord VaradarAjan. That is why, Sri HayagrIva Vigraham is joined with Swamy Desikan during prathishtais at Desikan Sannidhis at our temples. Swamy Desikan cannot be without Lord HayagrIvan in his sannidhis at dhivya dEsams.
Source
To be continued…