Today, 9th of December 2011 – Karthigai Month, Karthigai star is the thirunakshatram of Thirumangai Azhwar
Vaazhiparakaalan vaazhikaliganRi, 
vaazhikuRaiyaloor vaazhvEnNdhan — vaazhiyarO
maayOnai vaaLvaliyaal manNdhirangkoL mangkaiyarkOn 
thooyOn sudarmaanavEl.
Thirumangai Azhwar, the youngest (Kadai kutti) and last of the 12 azhwars appeared in Karthigayil Kathigai star as an incarnation of Saarangam(the divine bow of The Lord). His birth place is Thirukurayaloor (near Thiru Nangur) and was affectionately named Neelan due to his colour. He was expert in Vil vidhai, Vaal vidhai(vaal vendan), horse riding and was a great warrior. He was first appointed the Army General and soon was awarded the kingdom of Thirumangai by the emperor of Thiruvali Naadu and hence was called Thirumangai Mannan, Mangayarkon. He was also conferred the title of 'Parakaalan' meaning ' death to his enemies'.
His call to spiritual journey came when he married Kumuthavalli naachiyar, who was divinely and exquisitely beautiful. She made two conditions to azhwar in order to marry her. Firstly azhwar should become a Sri Vaishnava and secondly to serve 1008 bagavataas (devotees) every day for a year. His ardent desire to serve Sri Vaishnavas continued even after the promised one year made him spend beyond his means and caused him bankruptcy.
He had no choice but to resort to theft in order to continue his service. This finally culminated in his getting the grace of Sriman Narayana. The Lord and Thaayar set out as newly wedded couple adorning priceless ornaments and carrying a huge quantity of wealth. Their Lordships allowed NEELAN to rob Him. .When NEELAN could not remove Lord's toe ring, he threatened the Lord with his sword to give him the magic mantra to remove the ring (mayonai vaal valiyal madiram kol). The Lord after affectionately (/mockingly) calling the azhwar 'Nam Kaliyano' (meaning who was proud of being strong/midukkan) and gave the Astakshari     mantram. Thus personally blessed by the Lord, Neelan transformed to Thirumangai azhwar immediately bursts out to sing Periya Thirumozhi consisting of 1084 paasurams(verses) . Azhwar dedicates the 1st ten to Astakshari and says kandu konden Narayana ennum naamam(found the name Naarayana). Azhwar has special affinity towards Archaa avataaram and visited 86 out of the 108 divya desams and blessed us with following 6 prabhadams that are considered equivalent to 6 veda angams (angams for Namazhwar 4 Tamil vedam).
(1)Periya Thirumozhi (1084 paasurams/verses) (2) ThirukkuRunthANDakam (20 verses) 
(3)ThirunedumthANDakam (30 verses) (4) ThiruvEzhukkURRirukkai (1)
(5) SiRiya Thiumadal (40 verses) & (6) Periya Thirumadal (78 verses).
These Six prabhandhams (consisting of 1253 paasurams in total) are set in four types of poetry known as Aasu, Chithram , Madhuram & Vistharam which earned him the name Naalu Kavi perumAl. Among the six prabhandhams, in the two madals Azhwar feeling intense separation from the Lord, azhwar takes Naayaki bhavam and becomes Parakaala Naayaki. His divya prabhandams removes kali's effect (Kali Kanni) and is like yaman for other school of thoughts. Sri Parasara Bhattar at the command of Sri Ranganathar used only a sample of his composition, Thiru Nedunthaandagam to defeat an Advaithic Scholar who later became his disciple named Namjeeyar.
Azhwar performed many kaimkaryams such as the building of the ramparts for the Srirangam temple, construction of the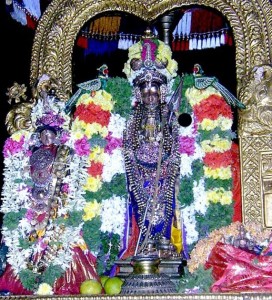 dasAvathAra sannidhi at Srirangam and initiated the Thiru-Adhyayana Uthsavam at Srirangam
Thirumangai Ahzwar believed to have followed Namazhwar closely, not only his prabhandams are angams to Nam Azhwars's prabhandams, like Namazhwar he performed saranagathi to Thirukudandhai perumal and finally attained moksham at Thirukurngudi .(It is believed that NamAzhwar was born as an amsam of Thiukurungudi Perumal.) Just like Vedas need to be understood along with Ithihasam and puraanams, NamAzhwar divya prabhandams need to be learnt along with Thirumangai azhwar's prabhandams.
This Kadai Kutti azhwar is unique in many ways and is so special

He was known for his strength (midukakan), so much so that he threatened the lord with his sword, and received the ashtakshari manthram from Perumal Himself
Not only did he get the mantram he also got the mantra arthams from Thirukannapuram Sowriraja Perumal
He is the one who had great love for archaavataraam and visited most of the divya desams. It is seen clearly in his prabhandams, for every paasuram he calls upon one or more divyadesa perumal. Like a Prince who eats mouth sweetener every time he speaks.

He is Naalu kavi perumal
He has given us nearly more than quarter of the divya prabhandam (1253 out of 4000)

He is the only one who actually did Madal Eruthadahl as Parakaala Naayaki. (Namazhwar only considered taking madal but did not actually perform one)
He is believed to be exquisitely charming as seen even today in his birthplace Thirunagari. Azhwar particularly is very charming when he takes ParakaalaNaayaki vesham.
His prabandhams are full of intense self-repentance & realisation which is a great inspiration to sinners like myself and gives us hope to attain moksam. Azhwar is indeed 'Arul maari' , benign . 
Let us pray at Parakaalan's (remover of enemies in Kali) feet to remove our ignorance (kali duvamsam) and give us the understanding of his arulicheyal. Pongu pugaz mangayarKon eendra marai aayiram thangum manam nee ennaku thaa!